What To Eat & Avoid When Breaking Your Fast, From A Nutritionist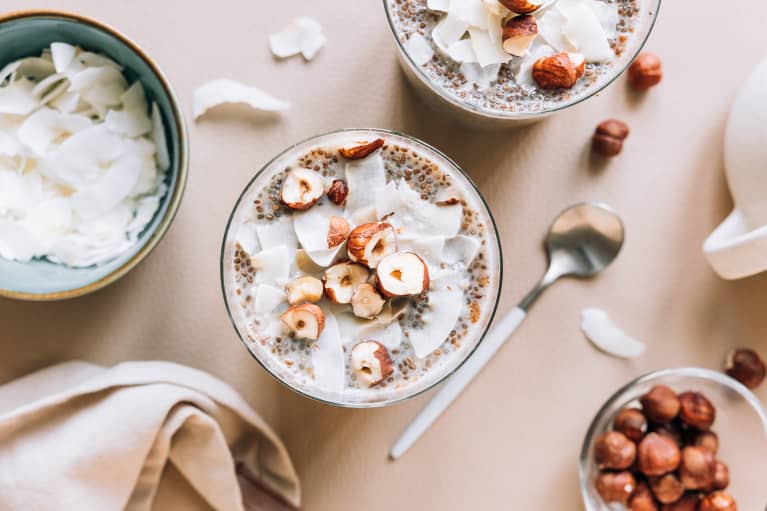 Have you ever thought about where the word breakfast comes from? It literally refers to when you break your fast, aka eat again after a period of fasting. For some people that may be eight in the morning—but for someone who's intermittent fasting, that could be closer to one in the afternoon, in some cases. No matter what your schedule, in all cases, it's important to make that first meal post-fast count.
To optimize that first meal, holistic nutritionist Kelly LeVeque shares a few tips on what to eat and what to avoid when breaking a fast.
What time should a fast be broken each day?
Intermittent fasting has been shown to lower insulin and blood glucose levels, promote longevity, and help manage weight. Exactly how long someone chooses to fast each day varies from person to person.
As for when to break a fast? In a mindbodygreen podcast episode, LeVeque says it's important to eat when you start to feel hungry rather than waiting until you're ravenous. That's when you start making unhealthy decisions, she explains.
"Research tells us if you come out of a fast into a high glycemic meal, blood sugar goes higher, insulin goes higher, inflammatory markers go higher." Combined, these effects reverse any potential benefits you would have gained from fasting. In other words, there are foods to eat and foods to avoid as your first meal of the day—but, what are they?
What to eat to break a fast. 
To keep from negating the positive benefits of fasting, protein-rich meals and easy-to-digest vegetables are a good combination for the first meal of the day. Digestible vegetables include asparagus, cucumbers, zucchini, and cooked carrots—to name a few. When it comes to protein, both animal-based and plant-based sources can be beneficial. Either way, LeVeque says, "protein is the most satisfying nutrient."
However, quality does matter when choosing a protein source. If your protein is coming from an animal, she recommends looking for pasture-raised and regenerative farms. If it's coming from a plant, LeVeque recommends beans, legumes, and other cellular foods rich in phytochemicals and fiber.
LeVeque also has a few go-to meal recommendations:
Egg and veggie scramble with avocado
Warm chia flaxseed pudding
Smoothie containing the "fab four" (fat, fiber, protein, and greens)
What to avoid when breaking a fast. 
Despite their general health benefits, LeVeque recommends staying away from cruciferous veggies when breaking a fast. If you haven't been digesting food for a few hours, these sulfur-rich foods may lead to bloating and abdominal discomfort.
While alt-meats may have certain environmental benefits, LeVeque says to avoid those inflammatory, processed proteins. Sticking with whole foods will better promote satiety and overall health, she explains.
In general, eating a breakfast high in refined sugars or carbohydrates, and low in fiber and protein, will likely lead to a blood sugar crash and increased hunger later on.
Whether you're intermittent fasting or not, the first meal of the day can have an impact on your health, blood sugar balance, and energy levels later on. Making sure you're eating a balanced and nutrient-rich breakfast is always a good idea. Still in need of breakfast inspo? Try these 33 easy and healthy morning meals.