5 Ways To Make Your Nighttime Routine More Meaningful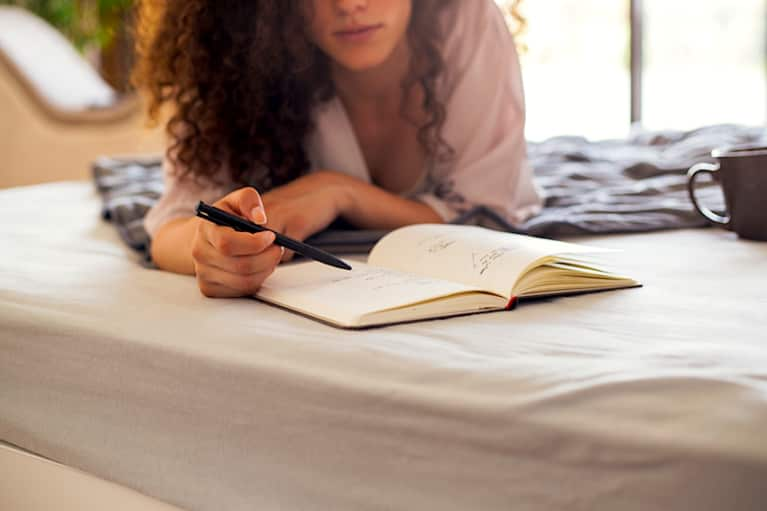 Our editors have independently chosen the products listed on this page. If you purchase something mentioned in this article, we may
earn a small commission
.
No matter your work schedule, you probably know how difficult it can be to maximize the remaining hours of the day. After you've done all of the necessary tasks like making dinner, picking up the house, or maybe getting in some evening movement, you're left with little time to yourself. Yes, you could spend that time scrolling on your phone or watching television (and sometimes that's exactly what we need), but other times you may crave something a bit more meaningful.
If this sounds like you, then listen up because we're giving you five ways to add a layer of meaning and intentionality to your evening routine. As always, take what resonates with you and leave the rest. Your evenings should be personalized to reflect what you enjoy and what makes you feel more fulfilled. So without further ado, let's dive in.
5 ways to make your nighttime routine more meaningful:
1.
Plan out the following day.
Have you ever been told you fall into the Type-A personality category? If so, having a schedule may bring you some peace. For this reason, planning out your day the evening before might help you feel more present for the steps that follow in your wind-down routine.
What does this look like? Well, that depends on you. This could mean a to-do list for work, a checklist of items to complete, or even laying out what you want to wear the next day. Doing so could also save you time in the morning, meaning you can hit the snooze button just one more time.
2.
Write in your journal.
Journaling is a great practice for anyone looking for a way to reflect, process emotions and life events, or even just release some stress. Sometimes writing things down on a page can help you see them from a different perspective, even if it's a seemingly mundane "Dear Diary" entry. There are a few ways to approach this, so here are some ideas to get you started:
Write down a few things you're grateful for
Go through the events of your day
Mindfulness journaling
If you don't consider yourself a spiritual person, feel free to skip over this one. However if spirituality does have a place in your life, then you might enjoy a nightly practice of some sort. There are so many ways to do this, and it may take some trial and error to find something that you genuinely enjoy. Here are a few ideas for you to play around with:
Meditation: This can be anywhere from a minute to half an hour or more depending on your preferences. There are many ways to meditate, so check out this breakdown of the major styles to find which one draws you in the most.
Spiritual reading: Consider yourself a bookworm? If so, reading a spiritual text every night may be a great way for you to practice spirituality daily while doing something you love. Spend a little time in the spiritual section of the bookstore or browsing the web to find something that sparks your interest and give it a shot.
Spend time in nature: Who said daily walks have to happen while the sun is up? Getting in some evening movement and connecting with nature is a great way to nurture your spiritual side. If you're uncomfortable walking in the dark alone, be sure to make this happen before sunset or recruit a friend or family member to join you.
4.
Use a dream mist throughout your routine.
If you're looking to add a bit of ambience to your wind-down routine, you may want to look into incorporating essential oils. There are countless ways to do this, one of which is reaching for an essential-oil-infused linen spray. Our pick, of course, is mbg dream mist. This product encourages restorative rest by inspiring a calm, relaxed mood thanks to the lavender and sandalwood essential oil blend.
You can spray this mist on your pillow before heading to bed, in the room to create a relaxing atmosphere, or spritz it in front of you before meditating; the options are endless. After a while, you may begin to look forward to this part of your evening routine to provide an ahh-worthy ambience.
5.
Enjoy an evening beverage.
If you're one to look forward to your daily cup of coffee, then perhaps sipping on a nightly beverage could offer the same effect. Of course, you'll want to opt for something caffeine-free, like herbal tea.
Some teas have powerful herbs and adaptogens that may encourage better rest as well. One trusty herbal mix is the Harney & Sons Hemp Moringa Tea Blend. This concoction is made up of hemp, moringa, turmeric, coconut, holy basil, and more powerful botanicals.
Just because your 9-to-5 may feel like it's not your own doesn't mean you can't maximize the daily 5-to-9. There are a plethora of ways to add meaning and intention to your evening routine, and now you have a few ideas to get you started. It's important to remember to do what feels right for you and keep experimenting until you find a routine you love. If you're looking to make the most of your morning routine too, check out these tips.