Close Banner
Advertisement
This ad is displayed using third party content and we do not control its accessibility features.
paid content
 for

5 Self-Care Tips and Tricks to Make the Most of Your Morning Routine, From Now 'Till New Years
By Jennifer Tzeses
mbg Contributor
Jennifer Tzeses is a freelance writer who covers home, beauty, lifestyle, travel, and wellness. She received her Masters degree in journalism from New York University and has appeared as an on-air expert for WCBS and WNBC. Her work has been published in The Wall Street Journal, Architectural Digest, Condé Nast Traveler, Wired, Saveur, Cosmopolitan, Marie Claire, ELLE, Barron's, and more. She currently resides in New York.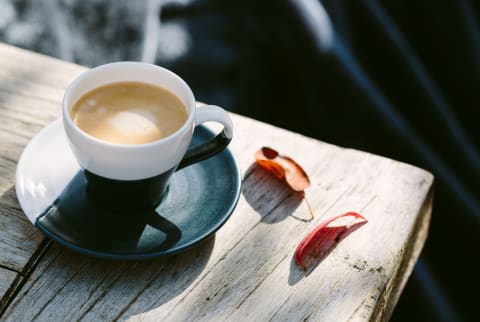 The holiday hoopla may soon be in full swing, but even in the midst of it, there's nothing like a chilly morning to make you want to stay cocooned in your covers all.day.long. Blame it on the outside temps or the darker days: When the seasons change, the struggle of getting out of bed is real. Instead of hiring a forklift to pry you from your covers, all it may take to motivate are some simple pleasures. Here, a few of our favorite things to boost your spirits all season long—and beyond.
A mug full of comfort    
A steamy cup of Starbucks® coffee by Nespresso® for Vertuo stirs up all the warm and cozies on a cold day. Thanks to the Nespresso® Vertuo machine, you can savor the rich, smooth sips of your favorite Starbucks® in-store coffee without having to leave the comfort of home—or changing out of your pjs, for that matter. Praise. From a tall coffee to a short espresso, enjoy your favorite cup any way you like. All are topped with rich crema, the hallmark of high quality.
Just pop Starbucks® coffee capsules by Nespresso® for Vertuo capsules into the single-serve system. At the touch of a button, you can indulge in, for instance, the subtle notes of cocoa and toasted nuts in Starbucks® Pike Place® Roast by Nespresso® for Vertuo, or notes of molasses and caramelized sugar in Starbucks® Espresso Roast by Nespresso® for Vertuo, even the sweet and smooth flavors of Starbucks® Blonde Espresso Roast by Nespresso® for Vertuo. Take your pick from seven gourmet flavors and enjoy them on repeat.
A gratitude journal
Waking up and writing down just a few things you're grateful for each morning can help start your day in a positive mindset. And, it can also have big-time benefits on overall wellbeing. Research shows appreciating what you have and what's meaningful to you helps foster a greater sense of happiness — and what's more, according to studies, regular gratitude journaling increases optimism and helps people feel better about their lives. Keep a cute notebook by your bedside so you can jot down what you're thankful for (even if it's just one line) before getting out of bed. Trust: Gratitude goes a long way, particularly during the holidays.
A refreshing face mask
Who isn't groggy first thing in the a.m.? Morning grouchiness is alive and well in most households. Instead of sleepwalking through the start of your day, try a sheet mask with glow-getting ingredients like vitamin E and essential fatty acids, which can help plump the skin and impart luminosity. If you store your sheet-mask stash in the fridge, they'll feel cool on contact, so, not only will you perk up tired skin, but the tingle will instantly be a gentle wakeup call to get you going. Let it do its thing while you sip your Starbucks® coffee by Nespresso® for Vertuo.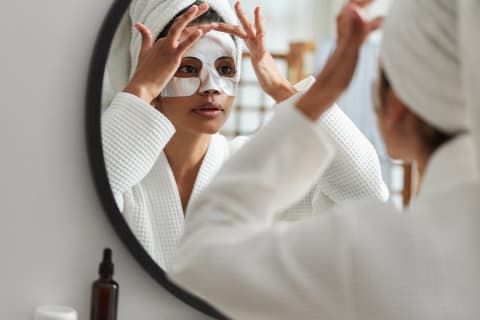 An energizing playlist
Research shows listening to upbeat music improves your mood, particularly if you intentionally focus on feeling happier while it plays. Instead of using a blaring alarm to shock you out of a deep sleep like a rush of icy water on your face, set your smart speaker or phone to rouse you with happy tunes. Then cue up your favorite playlist (greatest hits of the 1980s, anyone?): Dressing for the day while simultaneously singing your heart out could quite possibly be the most fun way to wake up—ever—and will get you in the holiday soiree spirit in no time.
An uplifting scent
Turns out, a way to rise and truly shine may be right under your nose. Certain scents, like citrus and vanilla, can help elevate your mood. Science proves whiffs of lemon and orange can be uplifting and energizing, while vanilla has been shown to increase feelings of joy and relaxation. So, whether you spritz your bedroom (or yourself), light a candle, or keep a fragrant diffuser in your space, the aromas you choose to fill your room can help you sniff your way to cheery feels.
Pike Place is a registered trademark of The Pike Place Market PDA, used under license.

More On This Topic
more Movement
Advertisement
This ad is displayed using third party content and we do not control its accessibility features.
Advertisement
This ad is displayed using third party content and we do not control its accessibility features.