How Often Should You Wake Up At Night? We Asked A Sleep Specialist
mbg Spirituality & Relationships Writer
By Sarah Regan
mbg Spirituality & Relationships Writer
Sarah Regan is a Spirituality & Relationships Writer, and a registered yoga instructor. She received her bachelor's in broadcasting and mass communication from SUNY Oswego, and lives in Buffalo, New York.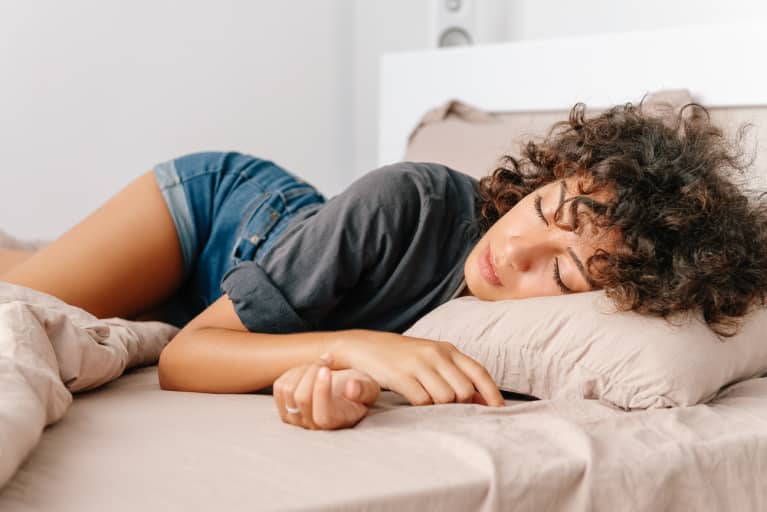 This article was produced to support the mindbodygreen supplements+ line. Our supplements adhere to the highest standards of ingredients and quality. We hope you enjoy these products, for more information
click here
.
It's not uncommon to wake up in the middle of the night, whether from a bad dream or for a bathroom break. Sometimes, we don't even remember waking up during the night come morning. So, how many wakeups are considered normal? To find out, we asked sleep and health psychologist Joshua Tal, Ph.D.
The lowdown on nightly wakeups.
The good news is, it's completely normal to wake up during the middle of the night, even more than once. As Tal explains to mbg, this actually used to be the norm. Before the Industrial Revolution, he says, "We would go to bed a little bit earlier than we do nowadays, and we would basically wake up in the middle of the night, go to the bathroom, hang out, maybe have a cup of tea, and then go back to sleep and sleep in a little bit."
When we began consolidating our sleep post–Industrial Revolution, he adds, is when insomnia rose to prominence. However, he says, waking up in the middle of the night doesn't necessarily mean you're losing out on deep sleep: "Usually you're waking up between stages of sleep, so you're not really interrupting anything." It's easier to wake up during light sleep (stages 1 or 2), from a noise or the need to pee for example, and that's completely normal, he says.
Now, if you're waking up four to five times a night, he adds, that's starting to get excessive and could be a sign of an underlying condition. In addition to that, it shouldn't take much longer than 15 to 30 minutes to fall back asleep. So, if you're dealing with many wakeups or can't fall back asleep, that's when you may need to work with a professional, such as a sleep psychologist.
That being said, Tal reiterates that it's important not to catastrophize waking up. For many people, sleep anxiety (stressing about getting enough sleep) ends up keeping them up longer.
Finally, sleep-supporting supplements, such as mbg's sleep support+ might help you get deeper and more rejuvenating sleep with fewer wakeups.* Those who have tried the product agree, with one reviewer noting, "As a mom, I thought waking up throughout the night was normal. Fast-forward to now; my children are grown and married; [I'm] still waking up throughout the night. sleep support+ provides a full, wonderful night's sleep for me." Another says, "This magnesium works for me, I've been taking it for about a month, and I don't wake up during the night like I used to!"
Long story short, waking up a lot during the night isn't necessarily a reason to worry. There are plenty of solutions out there to ensure you can get to sleep, make it through the night, and wake up feeling rested.