12 Vegan Keto Recipes, So No One Is Left Out This Holiday Season
mbg Spirituality & Relationships Editor
By Sarah Regan
mbg Spirituality & Relationships Editor
Sarah Regan is a Spirituality & Relationships Editor, and a registered yoga instructor. She received her bachelor's in broadcasting and mass communication from SUNY Oswego, and lives in Buffalo, New York.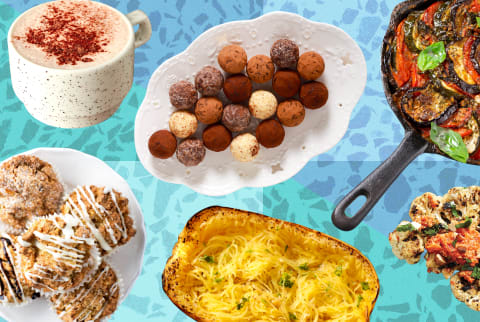 Image by mbg Creative / Various, iStock
December 24, 2019
The year 2019 was a big one for keto and vegan diets, and now, more and more ideas are popping up for how to combine the two.
If you're entertaining this holiday season, there's a fair chance you may be cooking for someone keto or plant-based. And if you're just beginning to branch into keto and vegan cooking, omitting animal products and carbs might seem overwhelming. But it doesn't have to be!
To take some of the stress out of the holiday prep, we rounded up a handful of our favorite recipes that combine both diets' guidelines. These recipes aren't just tasty; they're quick, easy, and your health-conscious friends and family will love them.
That's right—all these recipes are meat-free, dairy-free, and low-carb to boot. Prepare to wow your guests!
Spinach avocado dip
To get your party started, we'd recommend this seriously delicious spinach avocado dip for pre-meal munching. Made with avocado and coconut yogurt, it's creamy, healthy, and perfect for pairing with our next recipe.
Oven-baked zucchini chips
Ah, zucchini a true keto companion. The low-carb veggie is a gem for mimicking heavier carbs like potatoes, which is why we're including this recipe for oven-baked zucchini chips. Between these easy chips and the spinach avocado dip, people will be amazed the tasty duo is actually pretty healthy.
Instant Pot vegetable soup
In case you hadn't realized, we're kind of obsessed with the Instant Pot, and this vegetable soup recipe is no exception. It's everything you want vegetable soup to be: flavorful, packed with a bunch of different veggies, and ready in 45 minutes flat. And of course, it's vegan and keto too.
Cauliflower and turmeric soup
If you like the sound of soup but are looking for something creamy as opposed to chunky (or if you don't have an Instant Pot), give this cauliflower and turmeric soup a try. Coconut milk, along with an immersion blender, gives this soup its smooth texture, and the turmeric gives it an extra anti-inflammatory boost. Can't go wrong with that!
Grilled cauliflower steaks with romesco sauce and toasted nuts
And speaking of cauliflower (another loyal keto-companion), have you heard it makes a great "steak"? We love Will Cole, D.C.'s recipe for cauliflower steak; it's super-simple and takes less than half an hour to come together. Cauliflower never ceases to amaze us in its versatility, but the marinade? Truly the star of the show here.
Tomato mushroom spaghetti squash
This tomato mushroom spaghetti squash recipe would be a great side, but it could stand on its own as an entree, too. And amazingly, not only is the recipe vegan and keto, but it's also paleo, gluten-free, and Whole30-approved. Seriously. But you'd never even think about it because it's just that good.
Brussels sprouts with mushroom "bacon"
We love dressing up Brussels sprouts, and the mushroom "bacon" in this sprouts recipe does a great job of that. Maple syrup, smoked paprika, and smoked salt give a bacony flavor to the mushrooms, which are then combined with the sprouts for a sensationally savory side.
Lemon garlic oven-roasted asparagus
For another great vegetable side, we love this asparagus recipe for its taste and simplicity. Roasting the asparagus brings out its flavor, and a fresh squeeze of lemon just before serving ties it all together for a dish that's fresh and uncomplicated. You don't have to include the vegan Parmesan, but we definitely recommend it.
Zucchini tomato pesto bake
If you really want some oohs and ahs, may we humbly suggest this zucchini tomato pesto bake. It goes without saying that pesto makes just about everything better, and that includes this ratatouille-inspired side. And despite its impressive appearance, it's fairly easy to whip up with the right tools (a mandoline and a cast-iron skillet). If you're looking to impress the vegan and keto people in your life, this is the recipe to do it.
Cinnamon roll muffins
Now it's time to get to the sweet stuff. And amazingly, there is no shortage of vegan and keto dessert recipes out there. This cinnamon roll muffin recipe is one of our favorites because it has no added sugar (yup), and protein powder gives it an extra boost. Plus, it's quick, requiring just a few minutes of prep and a 15-minute bake time.
Dark saltwater truffles
For a small-bite dessert that's easy to grab and go, these dark saltwater truffles are a great choice. Honey complements the dark chocolate, and a pinch of salt goes a long way to really maximize the truffles' flavor. Just one truffle is super-rich—perfect for the guest who insists on "just one bite" of dessert.
Peppermint mocha
And last but certainly not least, we have another recipe from Will Cole, D.C. This keto- and vegan-friendly spin on the peppermint mocha is a great option for any guest, made with coconut or almond milk and sweetened by stevia or monk fruit. Peppermint makes it a great beverage for the holidays, but honestly, there's never a bad time to enjoy a peppermint mocha.
Hosting for the holidays comes with its own set of challenges, but we hope these recipe ideas have given you some inspiration on the keto and vegan front. We promise tackling keto 2.0 only gets easier, especially when you have these keto staples on hand. For more holiday inspo, check out our guide to hosting a great holiday party.
Want to turn your passion for wellbeing into a fulfilling career? Become a Certified Health Coach! Learn more here.
Sarah Regan
mbg Spirituality & Relationships Editor
Sarah Regan is a Spirituality & Relationships Editor, a registered yoga instructor, and an avid astrologer and tarot reader. She received her bachelor's in broadcasting and mass communication from State University of New York at Oswego, and lives in Buffalo, New York.