I'm On A Plant-Based Keto Diet. Here's What I Actually Eat In A Day

Functional Medicine Practitioner
By William Cole, IFMCP, DNM, D.C.
Functional Medicine Practitioner
Will Cole, IFMCP, DNM, D.C., is a leading functional medicine practitioner with a certification in natural medicine and a doctor of chiropractic degree.
Image by Nataša Mandić / Stocksy
October 18, 2018
Over the years my diet has gone through many changes. As a functional medicine practitioner, I've spent years and countless hours studying the human body and how to optimize nutrients in food for thriving health. When I first started my journey toward healthier eating, I was a staunch real-food vegan; however, the more I learned, the more I realized that a typical high-carb vegan diet, depending on sprouted whole grains and legumes for energy, was not optimal for my body long term.
I grew in awareness of what my particular health problems were and what kinds of foods I was missing from my conventional vegan diet and what foods were actually contributing to my adrenal fatigue, poor gut health, and weak immune system. Over time, I realized that, while people respond differently to different foods, three general principles remain the same for everyone across the board:
Advertisement
This ad is displayed using third party content and we do not control its accessibility features.
1. Plant foods are uber-powerful disease fighters1.
2. High-carbohydrate diets increase inflammation2.
3. Diets rich in healthy fats are essential for brain and metabolic health.
Based on these principles, I created a plant-based keto diet that I call ketotarian. A ketotarian diet gets the benefits of a traditional ketogenic diet but gives it a plant-based twist, eliminating the often problematic inflammatory foods from traditional keto (processed meats, dairy, and artificial sweeteners) and plant-based diets (grains and legumes). I actually wrote a book about this plant-based keto alternative, called Ketotarian, but here's a sneak peek of a typical day for me.
Breakfast: Matcha Latte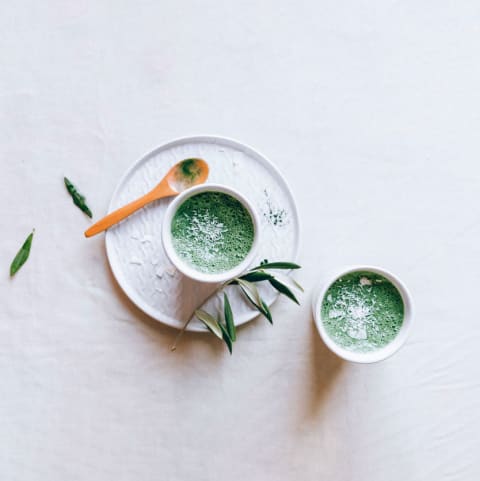 Image by Nataša Mandić / Stocksy
In the morning I typically intermittent fast with a cup of Earl Grey tea with bergamot. Since intermittent fasting has been shown in numerous studies to increase the benefits of ketosis, it is a great way to jump-start my body in the first hours of my day. The added bergamot also increases autophagy3—the "self-cleaning" method of your cells. While there are many different ways to intermittent fast, I find having my last meal at 6 p.m. and then breaking my fast at noon to be an easy yet highly effective form to practice during a typical workweek.
When I am not intermittent fasting, I love to indulge in a matcha latte made with coconut milk for extra-creaminess and enough healthy fats to wake up my brain.
Advertisement
This ad is displayed using third party content and we do not control its accessibility features.
Matcha Latte (Vegan, Vegetarian, AIP)
½ cup full-fat coconut milk
½ cup water
1 teaspoon matcha tea powder
1 tablespoon virgin coconut oil
2 to 4 drops liquid stevia (optional)
Advertisement
This ad is displayed using third party content and we do not control its accessibility features.
In a small saucepan combine coconut milk and water. Heat over medium heat until hot and steamy but not boiling.
Pour into heatproof blender container; add matcha powder and coconut oil.
Cover and blend until frothy. Sweeten to taste with stevia, if desired. Pour into a mug.
Lunch: Spicy Frittata Pizza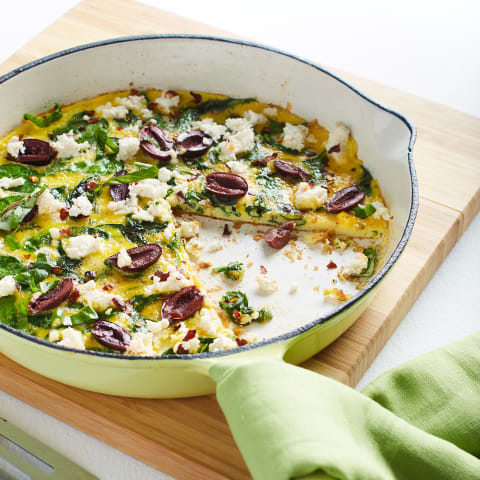 Advertisement
This ad is displayed using third party content and we do not control its accessibility features.
For my personal health journey, I know I need to add in cage-free eggs to my diet on occasion as a vegetarian keto superfood. Eggs contain important nutrients they provide such as choline, calcium, and iron, as well as vitamins A, D, E, and B, which are necessary for healthy hormones and to support methylation pathways, which I need since I am one of the 40 percent who have the MTHFR gene mutation.
This frittata pizza is easy to make ahead and take with me for lunch since all I have to do is reheat it.
Spicy Frittata Pizza with Spinach and Olives (Vegetarian)
5 large eggs
2 tablespoons plain unsweetened almond milk
¼ teaspoon sea salt, divided
⅛ teaspoon fresh-ground black pepper, divided
1 tablespoon extra-virgin olive oil
2 teaspoons minced garlic
⅛ teaspoon crushed red pepper
8 ounces fresh baby spinach leaves, washed well and spun dry
4 ounces soft fresh vegan cheese, sliced or crumbled
8 pitted Kalamata or Nicoise olives, halved
6 fresh basil leaves, finely chopped
Advertisement
This ad is displayed using third party content and we do not control its accessibility features.
Preheat the oven to 375⁰F.
In a medium bowl, whisk together the eggs, milk, and half of the salt and pepper.
Heat oil in a medium oven-safe nonstick skillet over medium-high. When hot, add the garlic and crushed red pepper. Cook for 2 minutes (do not let brown). Add the spinach and remaining salt and pepper. Cook, stirring frequently, until spinach is wilted, about 2 minutes.
Immediately pour the eggs into the pan, and reduce heat to medium. Sprinkle cheese and olives evenly over the top. Cook until the edges of the eggs are just set, about 3 minutes. Carefully transfer pan to oven, and bake until the eggs are cooked through, about 5 to 8 minutes. Sprinkle with basil and serve.
A note about snacking.
Because my meals are so nutrient-dense and high in fat, I usually don't need a snack in the afternoon as the fat content of my meals keeps me feeling fuller for longer. Additionally, intermittent fasting decreases your hunger hormone ghrelin, so incorporating that into my daily routine cuts down on unnecessary cravings throughout the day.
Dinner: Cauliflower Steak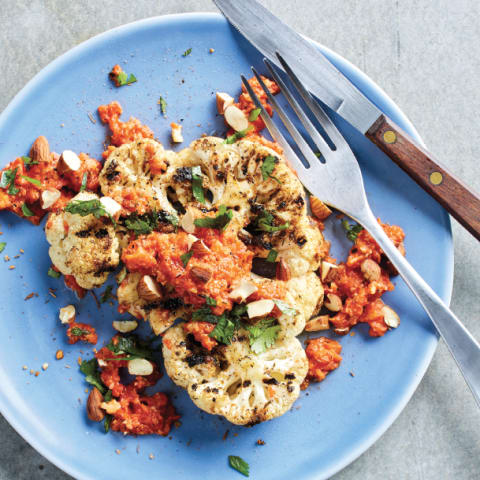 For dinner I like to go completely vegan keto, and these grilled cauliflower steaks hit the spot! As a sulfur-rich cruciferous vegetable, cauliflower provides excellent fuel for my methylation pathways and is hearty enough with the addition of healthy fats from the almonds to keep me satisfied until I break my fast the following day at lunch.
Grilled Cauliflower Steaks With Romesco Sauce and Toasted Nuts (Vegan, Vegetarian)
1 to 2 ¾-pound head(s) cauliflower (for two "steaks")
3 tablespoons extra-virgin olive oil, divided
2 tablespoons sherry vinegar, divided
¼ teaspoon ras el hanout seasoning
½ teaspoon sea salt, divided
¼ cup raw unsalted almonds, lightly toasted, divided
¼ cup roasted red peppers, drained
1 teaspoon minced garlic
⅛ teaspoon black pepper
2 tablespoons finely chopped fresh parsley leaves
Preheat grill to medium-high heat (350°F to 400°F). Hold cauliflower head stalk-side-down on a cutting board. Cut into 1½-inch-thick slabs all the way across, yielding two large "steaks" from the middle of the head, and florets from the edges. Trim and discard green parts from "steaks" and the bottom inch of stalk. (Reserve florets for another use.) Pat both sides of the "steaks" dry.
Whisk 2 tablespoons oil, 1 tablespoon sherry vinegar, ras el hanout seasoning, and ¼ teaspoon sea salt until thoroughly combined.
Brush cauliflower steaks with approximately half of the olive oil mixture.
Grill steaks covered on well-oiled grill grates for 8 minutes until slightly charred. Turn and brush with remaining oil mixture. Cover and continue to grill 8 to 10 minutes or until cauliflower is tender but not mushy. Remove from grill; cover with foil and keep warm.
Meanwhile, add remaining 1 tablespoon oil, half of the almonds, peppers, 1 tablespoon vinegar, garlic, and remaining salt and pepper to a small food processor, and puree until almost smooth, about one minute. Finely chop the remaining almonds, and set aside. Divide sauce between steaks. Sprinkle with the chopped almonds and the parsley.
As you can see, just because you are eating mostly plant-based keto doesn't mean you need to eat like a rabbit. Food is supposed to be enjoyed just as much as it is supposed to be fuel for your body. While everyone's individual macronutrient ratios are going to differ—as well as your choice to include eggs or wild-caught fish—focusing on a diet rich in high-fat plant sources can be both delicious and nourishing.

William Cole, IFMCP, DNM, D.C.
Will Cole, IFMCP, DNM, D.C., is a leading functional medicine expert who consults people around the globe, starting one of the first functional medicine telehealth centers in the world. Named one of the top 50 functional and integrative doctors in the nation, Dr. Will Cole provides a functional medicine approach for thyroid issues, autoimmune conditions, hormonal imbalances, digestive disorders, and brain problems. He is the host of the popular The Art Of Being Well podcast and the New York Times bestselling author of Intuitive Fasting, Ketotarian,The Inflammation Spectrum, and the brand new book Gut Feelings: Healing the Shame-Fueled Relationship Between What You Eat and How You Feel.
Read More