Looking For Insight & Answers? Turn To These 14 Oracle Decks

mbg Sustainability + Health Director
By Emma Loewe
mbg Sustainability + Health Director
Emma Loewe is the Senior Sustainability Editor at mindbodygreen and the author of "Return to Nature: The New Science of How Natural Landscapes Restore Us."
January 11, 2023
We carefully vet all products and services featured on mindbodygreen using our
commerce guidelines.
Our selections are never influenced by the commissions earned from our links.
In wellness speak, a "deck of cards" does not imply a joker, ace, or six of hearts. Tarot and oracle decks are much more popular among today's health-centric crowds, used to relieve stress, decide on next steps, or access the divine, depending on who you're talking to.
A tarot deck is a collection of 78 cards that follow a particular structure, while oracle cards are usually more free-form. Decks typically have anywhere from 60 to 80 cards and come with corresponding guidebooks that provide ways to interpret each one. Beyond that, they can take on any number of themes and aesthetics (motifs of popular decks on Amazon right now span the gamut from Nature's Whispers to Spirit Animals).
While research on market size is limited, sales of tarot and oracle decks have been on the rise for the past five years and anecdotally, they are popping up in more unlikely places like hotels and museums. As to what's causing the ancient tools' modern revival, astrologer Bess Matassa, Ph.D., thinks it has something to do with the fact that it promotes silence and stillness in an increasingly loud, chaotic world.
"In this moment of saturated overstimulation and goal-driven 'out there-ness,' oracle decks, by contrast, return us to the serene self-possession of our internal heartbeats," she says. "Rather than tools of prediction that herald what might happen to us, I see them as present-moment private psychic hotlines, leading us back to the innate knowledge and inherent instincts we can already sense in our blood and our bones."
How to use an oracle deck.
The beautiful thing about oracle decks is you can use them however you want. I've gotten into a routine of pulling a card every Sunday that speaks to how I should be showing up for the next week. I'll sit down and shuffle the deck while visualizing what I have in store for the week ahead, then pull one card. Then you're supposed to intuitively feel into what the card is telling you before resorting to the guidebook for more concrete answers—though I'll admit I skip this step sometimes. Once I read up on that card's meaning, I'll journal on how I think it could relate to my life right now and set three weekly intentions from there.
Whether or not you believe that oracle cards hold any kind of energetic power or magic, the act of thinking of a question and interpreting a potential answer can still be valuable. The cards take you out of your internal monologue for a minute and offer a fresh perspective. I like to think of my deck, The Wanderer's Tarot by Casey Zabala, as a wise old friend who always has answers and is never afraid of hurting my feelings.
I also love conducting more seasonal rituals during transitional moments, like the one we're going through right now! As we leave summer behind and head into fall, it's a good time to check in with yourself by way of the cards. Use them to reflect on how you've been feeling lately: whether you're in alignment with your goals, how you've been showing up to your relationships, etc. Ask your questions, and these five beautiful new decks would be more than happy to help you find answers.
1. Alchemy Elementals: A Tool for Planetary Healing
This new deck by 6th-generation shaman and spiritual guide, Shaman Durek, and illustrator Jason Mcdonald, demonstrates the power of working with the elements of nature. Each card in the 88-card deck depicts Celestial bodies (Moon, Sun, Star, and Earth) and Elemental powers (Storm, Rainbow, Wind, Snow, and Lightning) with the intention of connecting users to their innate intuition and psychic gifts.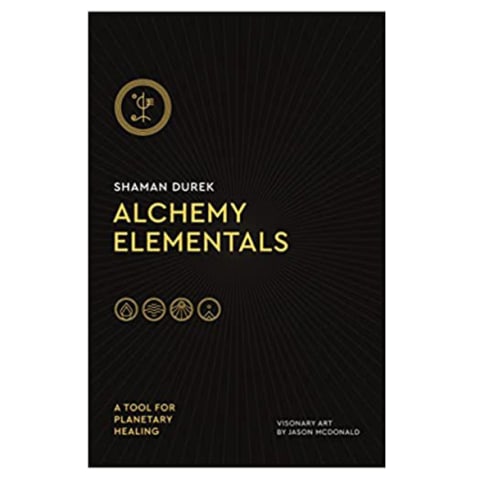 Alchemy Elementals: A Tool for Planetary Healing: Deck and Guidebook / Alchemy Elementals: A Tool for Planetary Healing: Deck and Guidebook
2. A Yogic Path Oracle Deck and Guidebook
These cards are timeless representations of various chakras, spiritual deities, yogic principles, and ayurvedic temperaments. Ayurveda author Sahara Rose created it to be a resource that brings the ancient wisdom of the Vedas, ancient religious texts from India, to the modern day—and she did just that. The principles in it date back thousands of years, but their lessons feel as relevant today as ever (funny how that happens!).
Amazon / Amazon
3. Things Are Looking Up Cards
For those days when every little thing goes wrong, there's this optimistic little deck. The front of each card features colorful, minimalist sketches that bring a smile to the face, while the back has positive psychology exercises from author Deepika Chopra, PsyD. Its content is more rooted in science than other decks you'll find, but it still has that mystical feel.
Things Are Looking Up Cards (39.95)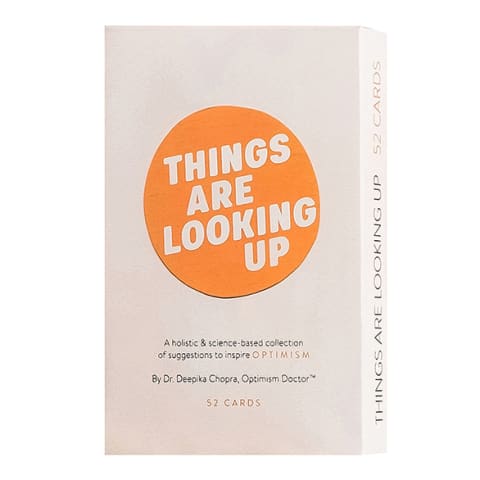 All Things Are Looking Up / All Things Are Looking Up
4. The Numinous Astro Deck
A beautiful guide for the astrologically inclined, each card of this Astro Deck is pegged to a sign, house, or planet of the zodiac. Created by Matassa and Ruby Warrington, journalist and founder of The Numinous, it provides a new way to interpret your birth chart and navigate energies of every point of the year. The corresponding booklet is a straightforward guide to the intricacies of the zodiac that helps users become "fluent in the language of astrology."
The Numinous Astro Deck ($19.96)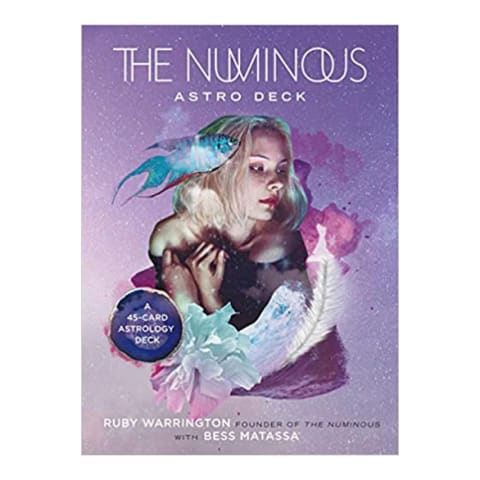 Amazon / Amazon
5. An Ayurvedic Path Oracle Deck
This deck depicts various healing exercises that are inspired by the five elements of Ayurveda. For example, an Earth card might call on you to get outside in nature while a Water one might suggest a spirit cleansing shower. If you're in the market for a new self-care ritual (or 65), this one's for you.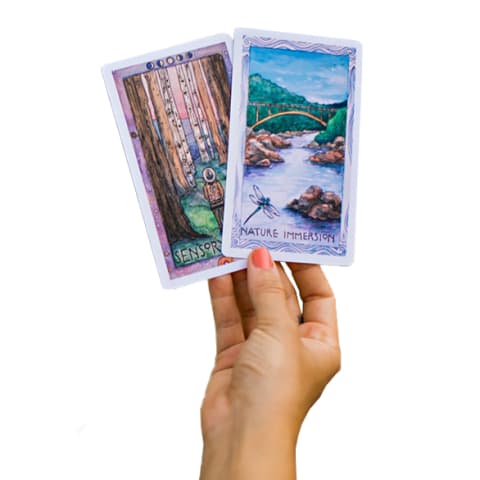 The Guiding Elements / The Guiding Elements
6. Hollow Valley Oracle Deck
Meaningful symbols are all around us, and with this 65-card deck, we can harness the magic of the symbols we see every day. Each card pictures an archetypal symbol across a range of cultures and histories that has withstood the test of time.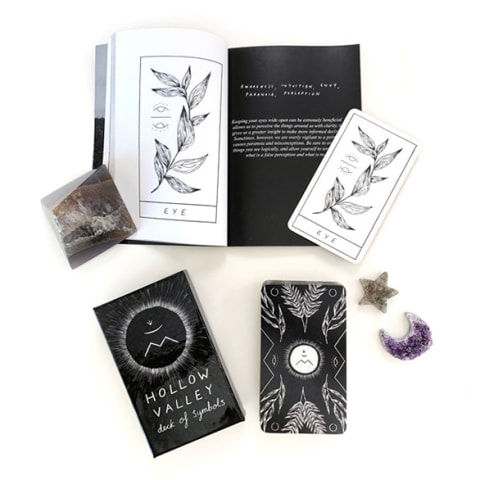 Mama Wunderbar / Mama Wunderbar
7. The Wild Unknown Animal Spirit Deck
This deck, created by tarot and oracle expert, Kim Krans, offers 63 breathtaking cards, along with a hand-lettered and fully illustrated guidebook. Whether you're an animal lover, or want to connect more deeply to animal guides, this one is a great option.
The Wild Unknown Animal Spirit Deck ($28.49)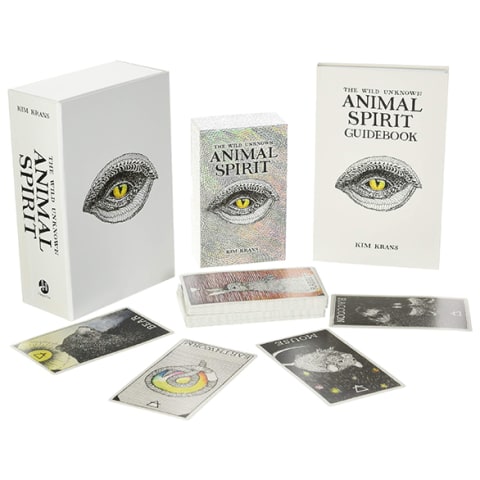 Amazon / Amazon
8. Threads of Fate Oracle - Ascendant Edition
If nothing else, all of the decks by Threads of Fate are simply gorgeous—and their oracle deck is no exception. It includes 32 "elemental" cards (which have an overall message, plus an associated herb, crystal, and animal ally), as well as 23 "ether" cards (which feature larger archetypes and concepts to connect you to your unlimited potential).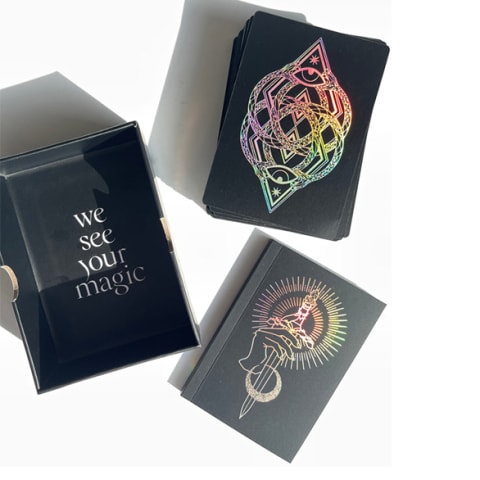 Threads of Fate / Threads of Fate
9. The Sacred Self-Care Oracle Deck
If you're in need of some self-care (or self-care ideas), this deck by Jill Pyle prompts you to ask yourself what you and your body are needing. It includes 55 unique cards, as well as a guidebook that provides extra insight, mantras, and journal prompts, for a well-rounded self-care routine.
The Sacred Self-Care Oracle Deck ($22.49)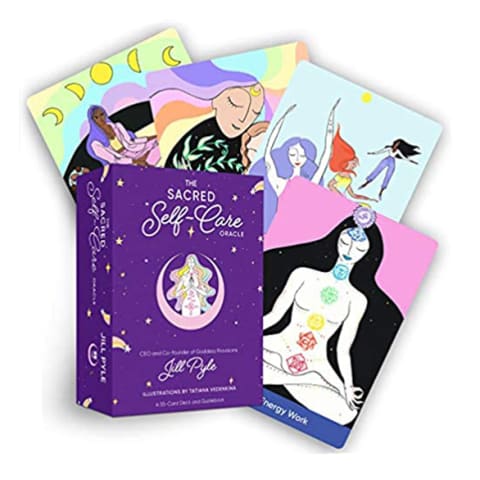 Amazon / Amazon
10. The Elemental Oracle: Alchemy Science Magic
For the alchemists and magic lovers, this Elemental Oracle deck by Stacey Demarco helps guide you to harness the powers of earth, water, fire, air, and air. (And north, south, east, and west.) The 44-card deck couples the ancient key energies of the elements with science, offering unique ways to work with them.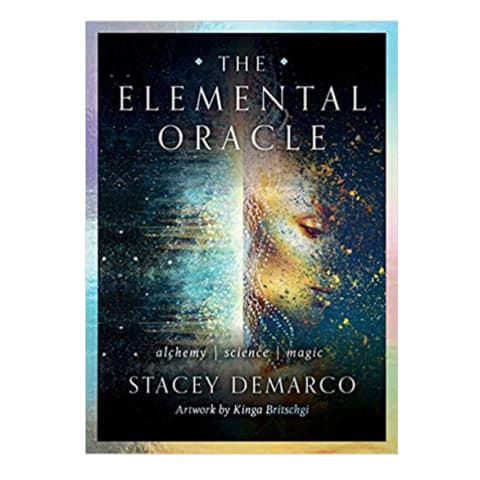 Amazon / Amazon
11. Moonology Oracle Cards
If you've always felt drawn to the moon, this is the perfect deck for you. Each card in the Moonology Oracle deck, by Yasmin Boland, explains how we can use lunar phases (as well as astrology) to connect to the moon and use it for decision making. The accompanying guidebook also explains how to interpret the cards and work with them in your life.
Moonology Oracle Cards ($17.99)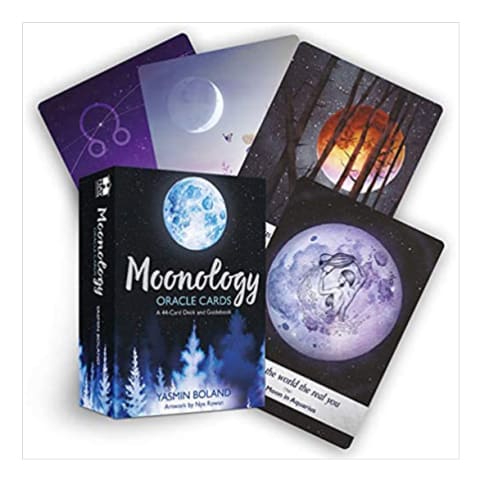 Amazon / Amazon
12. Green Witch Oracle Cards
Calling all witches, herbalists, and cottage-core lovers, the Green Witch oracle deck by Cheralyn Darcey isn't one to miss. The deck's 44 cards showcase a variety of herbs, plants, and flowers, plus explains their folklore, healing properties, garden magick, and hidden messages, so you can incorporate them into your own practices.
Green Witch Oracle Cards ($19.88)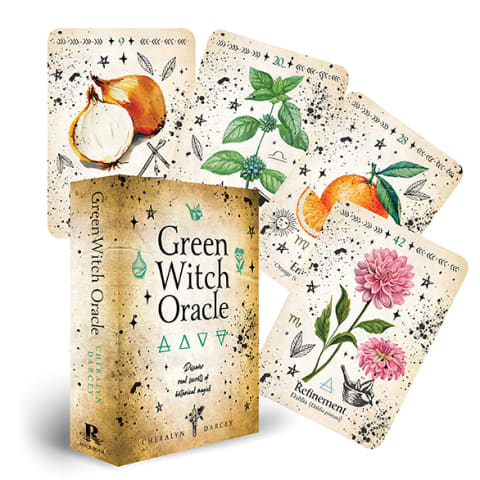 magick.com / magick.com
13. Sacred Symbols Oracle Deck
This straightforward, no-frills deck by Marcela Kroll features minimalist designs and uncomplicated prompts, for a great beginner-friendly oracle option. It includes 50 cards, with cards like "Focus," "Release," and "New Life," plus an accompanying guidebook additional insight. If you're new to oracle cards, consider this simple deck a safe bet.
Ritual Cravt / Ritual Cravt
14. Amenti Oracle Feather Heart Deck and Guide Book
These oracle cards combine striking illustrations with simple, powerful mantras such as "I confirm that all life is sacred" and "I keep my own counsel." Inspired by Ma'at, the Egyptian goddess of truth, balance, order, and harmony, it's a feminist, empowering deck adapted for the modern day.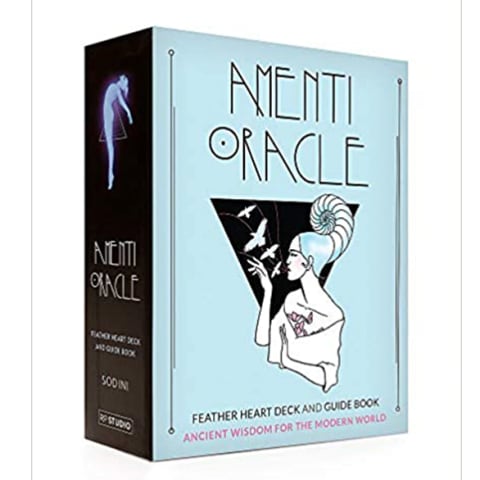 Amazon / Amazon
mbg's Spirituality & Relationships Writer Sarah Regan contributed to this story.