5 Reasons mindbodygreen's HCC Program Is The Best For Aspiring Health Coaches

mbg Sustainability + Health Director
By Emma Loewe
mbg Sustainability + Health Director
Emma Loewe is the Senior Sustainability Editor at mindbodygreen and the author of "Return to Nature: The New Science of How Natural Landscapes Restore Us."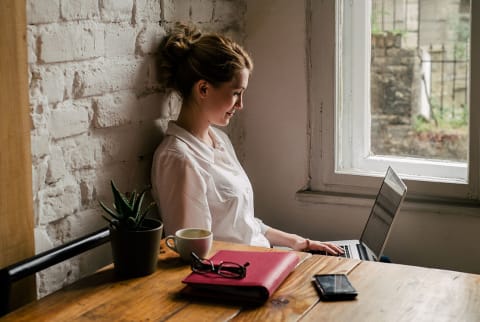 Image by Marija Savic / Stocksy
April 10, 2023
Fed up with an unfulfilling job? Looking to chart a new path helping others meet their well-being goals? Hoping to expand your current wellness or health care practice? Hungry for information on how to navigate a personal health issue? Whatever your reason for exploring a career in health coaching, we applaud you. The world needs compassionate health professionals now more than ever before.
No matter your background, mindbodygreen's Health Coaching Certification (HCC) program can help you find success. Our unique 20-week program is a deep dive into the holistic, 360-degree approach to health and well-being that mindbodygreen has been known for for over a decade. HCC is accredited by the National Board for Health & Wellness Coaching (NBHWC), so graduates have the option to take the board exam upon graduation and become a certified health coach.
Advertisement
This ad is displayed using third party content and we do not control its accessibility features.
One of a handful of health coaching programs that have earned the NBHWC seal of approval, HCC is packed with features that set it apart from the pack. Here are a few hallmarks of the HCC program that make it the best option for anyone curious about health coaching:
What students are saying:
"Words cannot describe the impact that this course program has made in my life... It delivered what it promised, with ample methods and opportunities for practice while encouraging continuous learning through its support system. This certification is the 'Gold Standard' in health coaching. Thank you for creating this important and much-needed course, and for making it easily accessible and affordable." —Tracy, HCC graduate
1.
It's the only NBHWC-approved program under $5,000
Other health coaching programs can set you back more than $7,500. The HCC program is competitively priced at $4,999, with options for payment plans, in order to make the field more accessible. Partial scholarships are available for those who demonstrate a special passion for health coaching and are committed to working with underserved and underrepresented communities.
The cost of tuition also gives you access to mindbodygreen's Functional Nutrition Training (a $2,499 value)—a crash course in functional nutrition led by experts the likes of Mark Hyman, M.D.; Frank Lipman, M.D.; and Maya Feller M.S., R.D., CDN. Bonus: When you sign up with a friend, you get $1,000 off tuition (and a study buddy!).
This initial investment will set you on the path to making good money as a health coach (learn more about the type of salary to expect here) through any number of career paths—from working in a hospital to starting your own practice.
Advertisement

2.
It's faster than any other board-certified program
Students in the HCC program learn the essentials of health coaching in 20 weeks, compared to other programs, which can take up to six to 12 months. These weeks are packed with 75 hours of instruction, interactive coaching sessions, live office hours, and opportunities to practice your newfound coaching skills. The curriculum is rigorous but customizable, meaning that many students are able to take the course while working.
RELATED READ: How To Become A Certified Health Coach: Your 5-Step Guide
3.
It's taught on a hybrid model
The HCC program features a unique hybrid design that combines weekly live sessions with prerecorded content and lesson plans that can be viewed at any time (and are yours to keep after the 20 weeks are up). There is ample opportunity to connect to classmates and teachers in real time and do solo study at your leisure.
Advertisement

4.
It has a best-in-class curriculum taught by leading experts
While some health coaching programs are taught by a single instructor, mindbodygreen's faculty lineup features five certified health coaches as well as a registered dietitian. This ensures that program graduates walk away with an understanding of the many ways to be successful at health coaching. Getting feedback from multiple perspectives is also invaluable for students as they train to work with clients.
5.
It's the start of something greater
Not only do HCC students receive lifetime access to all program materials, lessons, and mbg's private alumni community, but they walk away with a lasting support network. "Perhaps the biggest gift of the program has been building this amazing new network of friends. We are always there to geek out over the latest health news and cheer each other on as we pursue our various careers," HCC graduate Katya Alvarez says of the program. "There are so many ways to be a health coach, and we need all of them. So many people want to take control of their health right now, but they don't know how to. Being able to be a part of that process is the most rewarding thing I can imagine, and I have the HCC program to thank for it."
Learn more about the Health Coach Certification program—and how to sign up to join the next cohort—here.
Advertisement