Why This Health Coaching Program Was One Of The Best Investments I've Ever Made

By Katya Alvarez
mbg Contributor
Katya Alvarez is a former competitive ice skater and graduate of mindbodygreen's Health Coach Certification program.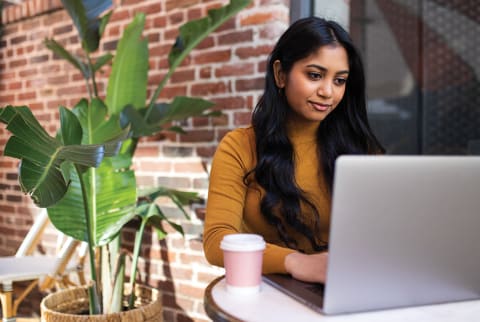 Image by McKinsey Jordan / Stocksy
January 24, 2023
We carefully vet all products and services featured on mindbodygreen using our
commerce guidelines.
Our selections are never influenced by the commissions earned from our links.
As a former competitive ice skater, I've always been very passionate about wellness. But as I got older, my body started shutting down on me. The intense exercises I used to be able to do were now causing injuries, and my joints were constantly inflamed, even to the point of not being able to do basic things like going up the stairs or tying my shoelaces.
I realized that sometimes, working with my body means accepting its limitations. Adding more balance to my life would be critical to lower inflammation, regain my health, live pain-free, and avoid surgery. This experience sent me deep down the path of functional nutrition—and ultimately, into a fulfilling new career path that I couldn't be more excited about.
How I found mindbodygreen's Health Coach Certification program.
Let's back up: I've long been a fan of mindbodygreen's cutting-edge health coverage, and when I saw that they'd teamed up with one of my favorite health experts, Mark Hyman, M.D., on a functional nutrition program, I knew I had to sign up. I completed the Functional Nutrition Training (FNT) in 2018 and walked away feeling inspired to apply my newfound knowledge in my life and my family's lives to keep us healthy and injury-free.
Then, COVID hit, and it was clear to me that so many people outside of my immediate network could benefit from using food and lifestyle changes to build a healthier life. People around me kept telling me to use all this knowledge to help other people. That was right around that time that mindbodygreen launched its Health Coaching Certification (HCC) program: a rigorous 20-week virtual course that builds upon some of the tenets of FNT to train students to actually become professional health coaches.
HCC came into my life at the perfect time. My kids were in college, I was working from home, and I had a flexible schedule that allowed me to fully immerse myself in the material. Though the program was very fast-paced and jammed with information, it was beautifully organized and clearly taught by an impressive faculty roster. The weeks went by in a blur; there was so much to learn that I didn't have a chance to fully step back and see the bigger picture.
What I'm taking away from the program.
Understanding the ins and outs of nutrition, exercise, and functional medicine is really just the beginning. Looking back, I can see that the most valuable lessons I took away from the mindbodygreen program are the ones about how to support clients to achieve their health goals.
The way the HCC class is structured allows you to learn the basics of coaching (nonviolent communication, positive reinforcement, motivational interviewing, etc.) in a classroom setting and then practice coaching in front of professors who provide suggestions in real time. This part of the program was so valuable, and it gave me the confidence that I could actually work with clients.
The HCC program taught me that it isn't about telling people what to do. It's about helping them discover that for themselves. Your clients are really the experts on their own health, and your role is to help them recognize that. The process of guiding people to uncover their strengths, challenge their limitations, and find the courage within themselves to change is beautiful and full of aha moments, and it is a true privilege to be a part of that transformation.
I also just found these lessons to be a treasure trove of information about how to communicate with other people, understand their needs, and work together to find solutions. This is a curriculum that I know will continue to serve me well—in my coaching career and beyond.
Looking ahead.
Since graduating from mindbodygreen's first cohort of HCC students in 2022, I've been studying to take my board certification exam. (While you don't need to be certified to work as a health coach, the NBHWC certification lends credibility, and HCC is one of a few health coaching programs to ladder up to it.)
Once I pass that, there are so many directions that I can take the certification. I'm hoping to continue my own health coaching practice seeing clients while also working for a company as a health coach part time. I appreciate that this career gives me the ability to remain flexible, set my own schedule, and strike a balance between charting my own path and learning from what a more established practice has to offer. I know that as I do, the mindbodygreen team and our HCC alumni network will be there for support and motivation.
All of the graduates from my cohort come from different backgrounds, but we all share a passion for holistic health. Perhaps the biggest gift of the program has been building this amazing new network of friends. We are always there to geek out over the latest health news and cheer each other on as we pursue our various careers. There are so many ways to be a health coach, and we need all of them.
So many people want to take control of their health right now, but they don't know how to. Being able to be a part of that process is the most rewarding thing I can imagine, and I have the HCC program to thank for it.

Katya Alvarez
Katya Alvarez is a former competitive ice skater and graduate of mindbodygreen's Health Coach Certification program.