I've Always Been Interested In Nutrition, But This Program Opened My Eyes To So Much More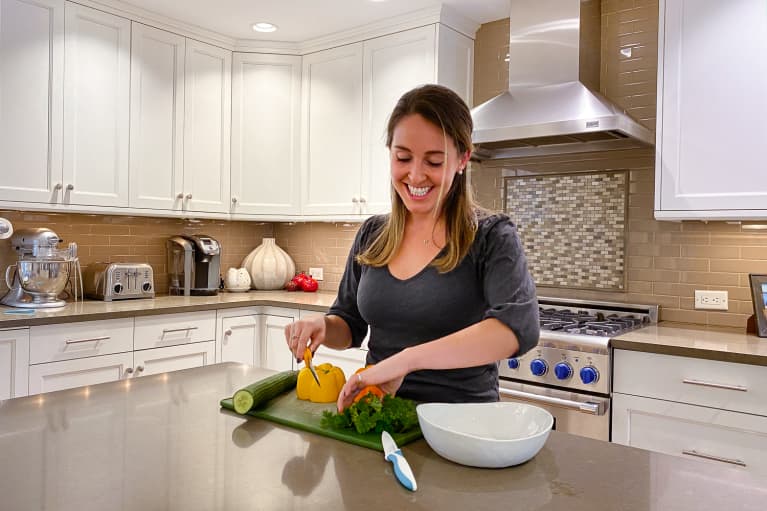 Last updated on October 13, 2020
I have loved nutrition for about as long as I can remember. I'm intrigued by different eating styles, the way different foods affect your body, and how the conversation around nutrition and food is forever evolving.
It was only in more recent years that I discovered my desire to share this knowledge and passion with others: friends, family, co-workers, really anyone who would listen. I actually felt confused when other people did not have the same excitement about the fact that an egg has all 20 amino acids (a complete protein!). When I realized that not everyone wants to hear about nutrition at all hours of the day, I knew I had to find another outlet.
I channeled my excitement into a nutrition program.
I wanted to find a way to satisfy my burning desire to spend time learning and sharing with people who have at least some type of interest in nutrition—big or small.
My next natural step: a nutrition training program. I started my first nutrition training course in 2018, and I loved every morsel of information I was learning.
It was a huge milestone in my nutrition journey, and I still look back through my notes to keep all of the information fresh in my mind.
Then, I discovered the power of functional nutrition.
This is where I truly started to understand the power of food—not just as fuel but as medicine. After being diagnosed with SIBO (small intestinal bacterial overgrowth) a year ago, I took a deeper dive into gut health and focused more on how I can feed my microbes with nourishing foods.
I even started working with a mindfulness specialist to support my stress and anxiety, which was also triggering my flare-ups.
After feeling the positive effects of prioritizing my own gut health, I was inspired and motivated to take the next step in expanding my nutrition knowledge.
My review of mbg's functional nutrition program.
I knew there was so much more I needed and desperately wanted to learn. While still continuing my gut health journey, I enrolled in mindbodygreen's Functional Nutrition Training program. I can be a real procrastinator, but I started this right away.
The experts teaching each module were such inspirations, and I was filled with excitement whenever I got to a new section.
Naturally, I was itching to get to learning about gut health with Vincent Pedre, M.D. I am not exaggerating when I say this section was everything I could have wanted and more—I thought I already knew a lot about gut health, but Pedre opened my eyes to so much more valuable information.
Beyond gut health, I found myself developing an interest in aspects of health I'd never focused on from a nutrition perspective: brain health with Mark Hyman, M.D.; hormone health with Amy Shah, M.D.; autoimmune disease with Will Cole, D.C., IFMCP; and heart health with Joel Kahn, M.D.
Kahn's module very literally had me on the edge of my seat. I loved one of his sections so much that I even made my parents watch it (success!).
This course has helped me feel more in control of my body, helping me through my gut health journey.
mbg's Functional Nutrition Training program has also given me a well-rounded wealth of knowledge to share with future clients, and I cannot wait to do so.