Close Banner
Advertisement
This ad is displayed using third party content and we do not control its accessibility features.
Your Perfect Healthy Cocktail Selections Based On The Zodiac
mbg Nutrition & Health Writer
By Eliza Sullivan
mbg Nutrition & Health Writer
Eliza Sullivan is a food writer and SEO editor at mindbodygreen. She writes about food, recipes, and nutrition—among other things. She studied journalism at Boston University.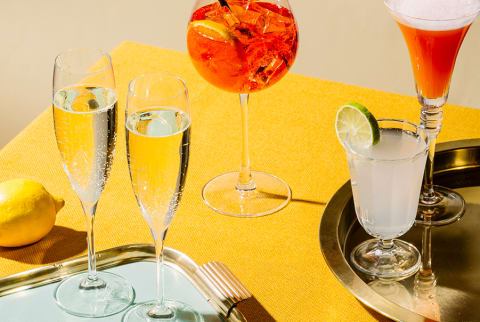 Image by maurese / iStock
Responsibly enjoying a favorite cocktail is a great way to plan a celebratory evening at home. And that's exactly how we're ringing in 2021. Perhaps you'll be gathering with friends and family online, or maybe it'll just be you and your bubble at home—but picking a fun cocktail to make is a perfect way to make it a bit more celebratory, other than the traditional bottle of bubbly.
Turning to the zodiac for a bit of inspiration on our DIY at-home cocktails is perfect because in a year when there are not many other ways to celebrate, the cocktail can set the mood for our mini-festivities. Whether a passionate fire sign, a practical earth sign, a curious air sign, or an intuitive water sign, you're likely to find your perfect better-for-you cocktail to ring in the new year.
Fire: Aries, Leo, Sagittarius
A classic mule is a likely favorite for these fiery signs: The gingery flavor is warming, and this version doubles down on that with loads of the fresh stuff for the best of all the benefits this powerful root has to offer: like supporting digestion and promoting healthy blood sugar levels.
Since the classic might not feel celebratory enough (perhaps if it's been your go-to at-home cocktail all year), have no fear. This cocktail has another fiery ingredient, albeit in a different way. A toasted marshmallow harnesses fire to bring out the caramel notes of the sugar, lending a further warm flavor to the homemade syrup that serves as the root of this cocktail's flavor.
Marshmallow Mule
For the marshmallow and ginger syrup:
10 marshmallows
1 cup (200 g) sugar
1 cup (240 ml) water
½ cup (65 g) grated fresh ginger
1½ ounces (45 ml) vodka (or whiskey or rum)
1½ ounces (45 ml) Marshmallow and Ginger Syrup
Soda water
Lime wedges
1 marshmallow, for garnish
To make the syrup, toast the marshmallows over dying embers until they are dark brown and melted inside. Put them into a heavy-bottomed pot, and add the sugar and water.
Slowly bring to a boil, stirring frequently to dissolve the sugar and the marshmallows. Once you reach a gentle boil, turn the heat down to a simmer and continue cooking and stirring until the marshmallows have dissolved.
Remove the syrup from the heat, stir in the ginger, and transfer to a heatproof container. Cover and allow to cool overnight.
The next day, strain the syrup through a fine-mesh strainer lined with cheesecloth. The syrup will keep in a tightly sealed container in the fridge for at least 2 weeks.
To make the cocktail, in a tall glass filled with ice, add the vodka and syrup. Top with soda water and gently stir. Squeeze in lime wedges to taste. Stick your garnish marshmallow onto a long toothpick. Light it on fire, blow it out, then stick the toothpick into the cocktail, marshmallow side out of the drink, to garnish.
Earth: Taurus, Virgo & Capricorn
This take on the classic gimlet adds earthy matcha tea, with all its antioxidant benefits. A 2003 study1 found that matcha has three times the amount of EGCG (a type of antioxidant) than regular green tea—and keep in mind, that "regular" green tea still has a ton of antioxidants too.
Integrative dietitian Ali Miller, R.D., came up with this recipe and made sure that the matcha isn't the only ingredient to help some benefit: It's based on coconut water to help with electrolyte balance, and Miller even points out that "Gin is quite a medicinal spirit using hundreds of botanicals, with most blends using more than 20."
Matcha Gimlet
2 ounces coconut water
2 ounces lime juice (2 limes)
½ teaspoon matcha
4 ounces dry gin (I use The Botanist)
2 to 4 basil leaves
Reserve basil leaves.
Add all remaining ingredients to a cocktail shaker.
Fill with ice and shake vigorously for 30 seconds.
Strain and pour into 2 glasses.
Serve with a large ice cube and clapped basil leaf or two.
Air: Gemini, Libra & Aquarius
For the air signs, it's all about the inspiration: This "bee's knees" cocktail hits a perfect balance between fun and functional, thanks to the inclusion of apple cider vinegar. This powerhouse ingredient is good for your gut and can help maintain blood sugar balance.
Not only that, but the honey (which makes this cocktail the "bee's knees"—get it?) can also lend health benefits of its own, including calming stomach irritation. Add a bit of lemon juice, thyme, and vodka, and you've got a super-tasty cocktail that will certainly feel celebratory.
ACV Bee's Knees
2 cups lemon juice
3 cups water
4 ounces of vodka
6 tablespoons honey
6 tablespoons apple cider vinegar
6 sprigs fresh thyme
In a medium saucepan, add the apple cider vinegar, honey, and ½ cup of the water over medium-high heat. Bring to a boil, stirring constantly, and turn off heat. Add herbs and let steep for about 3 minutes. Strain.
When ready to serve, transfer this mixture to a large pitcher. Add the rest of the water, the lemon juice, and vodka, and mix to combine. Serve over ice and garnish with fresh thyme sprigs if desired.
Water: Cancer, Scorpio & Pisces
A classic margarita is all a water sign needs, and this healthier keto version is also somewhat simpler to make than a complicated frozen recipe. Make it your own by adding some berries, herbs, or even a bit of jalapeño to your cocktail shaker to infuse those flavors into the cocktail, too.
Keto Margarita
Add the citrus juice, tequila, and sweetener (if you choose) to a cocktail shaker with ice, and shake to combine.
If you like salt on your margarita, run a lime wedge around the rim of a glass and press it onto a plate covered in a thin layer of salt. Fill the glass with ice.
Strain the shaker into the glass (or glasses, if you're making more than one), and top with sparkling water, and serve immediately.
Not planning on cocktails for New Year's Eve? Maybe bring a new coffee shop order into the new year (conveniently also based on your sign).
Eliza Sullivan
mbg Nutrition & Health Writer
Eliza Sullivan is an SEO Editor at mindbodygreen, where she writes about food, recipes, and nutrition—among other things. She received a B.S. in journalism and B.A. in english literature with honors from Boston University, and she has previously written for Boston Magazine, TheTaste.ie, and SUITCASE magazine.