6 Genius Healthy Recipes That Help You Cut Back On Food Waste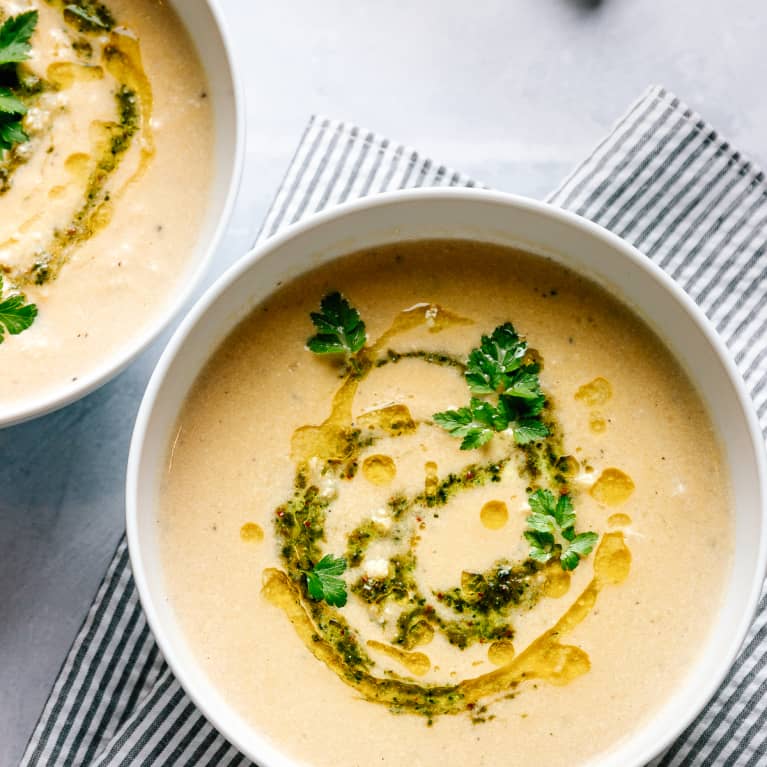 April is Earth Month, and we're keeping our commitment to all home sustainability hacks, from green cleaning all the way to combating food waste in our kitchens. According to a 2020 report, the average U.S. household wastes 31% of the food it acquires. And while the biggest way to prevent that is by making sure we're not buying too much to start with, some ingredients come with inherent waste—like stems or peels—no matter how mindful you are about shopping.
Luckily, there's plenty of clever people in the world who care about helping us cut back on food waste—and we've got the recipes to prove it. Below, find inspo for using all those bits and pieces you may have thought unusable (in super-yummy ways, to boot):
1.
Curried Cauliflower-Stem Soup
We're certainly fans of cauliflower, and this soup recipe offers a delicious, creative way to use the oft-overlooked stems. Since it has a relatively neutral flavor, the veggie really lends itself to the rich flavors of onion, leek, garlic, and curry powder present in this dish.
Get the recipe here.
2.
Zero-Waste Salad With Kale-Stem Pesto
Another essential ingredient (in my opinion) that has seemingly unusable stems is kale. They're tough, even after cooking, but this recipe from Max La Manna makes clever use of kale stems in pesto. Blending them with garlic, nutritional yeast, and walnuts helps make the perfect dressing for a simple salad of kale, cabbage, and endive.
Get the recipe here.
3.
Artichoke Leaf & Stem Soup
With their slightly spiny leaves and tough stems, artichokes can really generate a lot of waste. But with this recipe, by peeling off the outer layers of the stem and sautéing the leaves, the flavor of the artichoke is introduced to a luscious soup with potato and vegetable stock. It seems suspiciously simple, but this soup really lets those spiny green globes be the star.
Get the recipe here.
You may be noticing a trend: Soup and pesto are great options for making use of otherwise wasted parts of foods. This recipe from Local Roots NYC founder and food waste expert Wen-Jay Ying uses the peppery greens from the tops of radishes in a pesto, perfect over your favorite pasta or smeared on some roasted vegetables.
Get the recipe here.
One last pesto, this one uses carrot greens (which are totally edible, even if you've never considered it before). In fact, they've got the same health benefits as many other leafy greens. Carrot tops are a tad bitter, so it helps to combine them with other ingredients to balance the flavor—which means pesto (with olive oil, Parmesan, and walnuts) is a perfect choice.
Get the recipe here.
No specific ingredients here. This soup can feature any veggie scraps: "potato peel, parsnip peel, carrot peel, broccoli/cauliflower stalks, you get the idea," writes Nadiya Hussain. She recommends keeping a storage container in the freezer with scraps, to save until you're ready to make them into this soup.
Get the recipe here.
Outside of the way you cook and shop, there's another essential component to keeping your waste down: storing food correctly. Check out our guide to storing 40-plus types of produce—no plastic in sight.
Want to turn your passion for wellbeing into a fulfilling career? Become a Certified Health Coach! Learn more here.