Put Those Kale Stems To Use With This Super-Easy, Zero-Waste Salad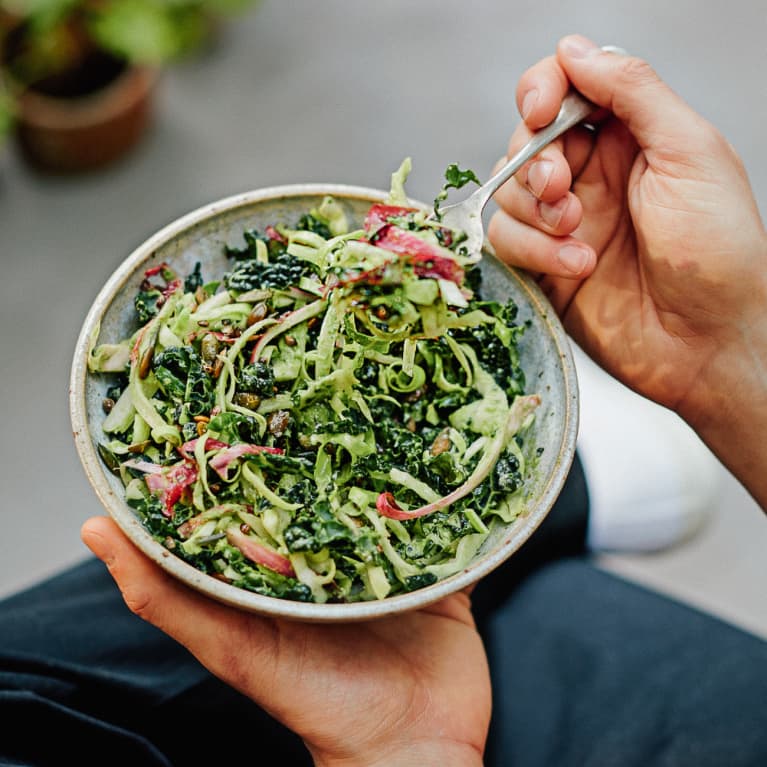 Our editors have independently chosen the products listed on this page. If you purchase something mentioned in this article, we may
earn a small commission
.
Sometimes I just need to refuel and nourish myself with (all these) greens. I have a couple of different approaches to making salads—the loud and colorful or the Zen minimalist approach like this one.
Either way, both are packed with nutrients and flavor to give your taste buds something to talk about. This salad from my new book More Plants Less Waste uses a simple base of kale and cabbage. Topped with fresh pesto, lemon zest, and hemp and pumpkin seeds, this recipe is nutrient-dense, super quick, and, best of all—zero waste!
Zero-Waste Salad With Kale Stem Pesto
Ingredients (serves 4 to 6)
large bunch of kale, leaves removed and thinly sliced (stems to be used in the pesto)
½ medium green cabbage, cored and thinly sliced (you want long strands of cabbage)
2 small endives, cores removed (compost or save for veggie stock) and thinly sliced
grated zest of ½ lemon
hemp seeds and toasted pumpkin seeds to serve
80 g (just under 3 oz.) kale stems, finely chopped
1 garlic clove, thinly sliced
¾ cup nutritional yeast
1 tbsp. fresh lemon juice
60 ml (about ¼ cup) water from the steamed kale
35 g (about 1¼ oz.) walnuts
40 ml (roughly 2½ to 3 tablespoons) extra-virgin olive oil
To make the pesto, add your kale stems to a small saucepan of boiling water and allow to soften.
Once softened, remove with a spoon and place them in a small high-speed blender. Add the garlic, nutritional yeast, lemon juice, kale water, a pinch of salt, and the walnuts.
Give this a good blend and slowly start to add your oil until the pesto is to your desired consistency. Want it to be chunkier? Add more walnuts, or if you want it to be smoother—add more kale water.
For the salad, place the kale leaves in a big bowl; add the cabbage and endives and one heaped spoonful of pesto. Fold and stir well.
Continue to add one spoonful at a time until the greens are nicely coated.
Top with hemp seeds, toasted pumpkin seeds, or avocado slices. Finish by sprinkling over the lemon zest.
And there you have it—a really fresh, zero-waste salad that still packs flavor. For more waste-free ideas, check out this beginner's guide for a greener home.