This Delicious Zero-Waste Soup Will Change The Way You Eat Artichokes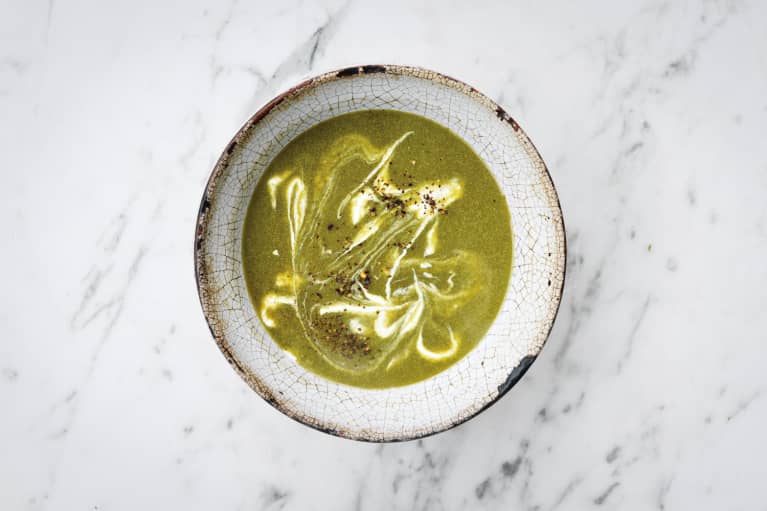 Our editors have independently chosen the products listed on this page. If you purchase something mentioned in this article, we may
earn a small commission
.
It's estimated that Americans waste over $160 billion in food annually and 30 to 40% of the food supply in the U.S. goes to waste. The enormous amount of food waste has ramifications for the environment and food security issues. While these statistics may feel overwhelming, making change starts in our homes and on our plates.
You can do your part by trying to cook without waste—aka using all part of the food products for your dishes. If you're thinking "that sounds hard...I don't know how to use all my ingredients," we understand. To help us out we looked to The Zero Waste Cookbook by Giovanna Torrico and Amelia Wasiliev for a complete guide to cooking without waste, including 100 recipes that ensure nothing goes to waste.
If you've cooked with artichokes, you'll know you have a surplus of hard leaves and the stem that you typically throw away. But with this soup, you'll salvage those scraps. To make this, you'll sauté these traditionally undesired bits and add in the potatoes and vegetable stock. Blend this goodness together, and you'll have yourself a delightful soup and nothing to toss.
Besides supporting the health of the environment by cooking with less food waste, you'll also lower your grocery bill. Next time you're in the grocery store, think about the parts of the produce that often go to waste; is there a creative way you could use these in your next recipe? Chances are Torrico and Wasiliev have thought of it, and their recipes are a great place to start.
Artichoke Leaf & Stem Soup
8 artichokes
2 tablespoons extra-virgin olive oil, plus extra for drizzling
200 grams (7 oz) mixed vegetable scraps, such as onion, celery, carrot, and parsley
200 grams (7 oz) potatoes, diced
1 liter (34 fl oz or 4 cups) vegetable stock
single (light) cream, for drizzling
sea salt and black pepper
Prepare the artichokes by washing them, then peeling off the outer layer of leaves and setting them aside. Peel the stems to remove their tough layer and slice, then rinse everything well.
Heat the oil in a frying pan (skillet) and sauté the vegetable scraps for 5 minutes, stirring occasionally.
Add the artichoke leaves and stems and cook for a few minutes before adding the potatoes and 700 ml (24 fl. oz. or scant 3 cups) vegetable stock
Cook over medium-high heat for 15 to 20 minutes, adding more stock if needed.
Purée the mixture in a blender until smooth, adding some more stock if needed. Strain and then season to taste, and drizzle with cream to finish.