5 Ways To Shine Like The Sun This Summer Solstice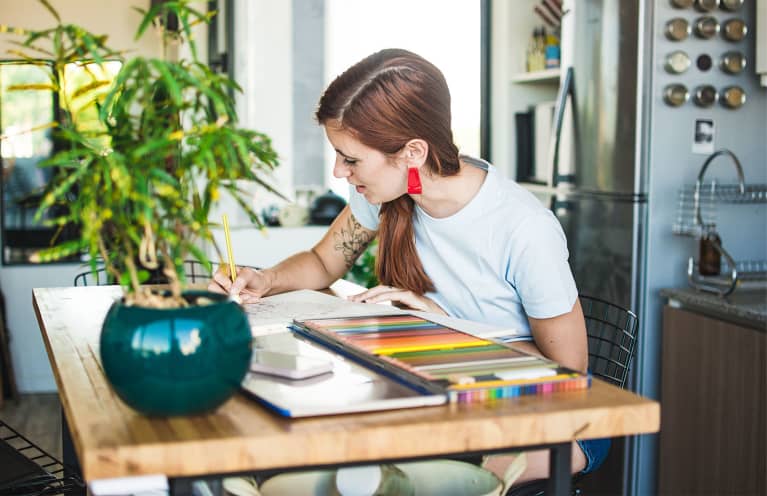 The summer solstice is the longest, brightest day of the year for those of us in the Northern Hemisphere. It's a powerful point in the year that launches us into a new chapter and season. (And if you're in the Southern Hemisphere and heading into winter, this solstice is also thought to be full of Earth-born power!)
Traditionally, this day is celebrated with parties, dancing, bonfires, and rituals that focus on divine love, natural abundance, and the growth of rich crops of food.
Some believe the solstices are the most magical days of the year to set intentions and gather up wishes to be fulfilled. Here are some feng-shui-inspired ways to kick off the solstice and ring in a plentiful summer:
1.
Decide to connect with nature more—and start now!
Spending more time in nature—be it through a weekly picnic outside, a daily walk in the park, gardening (it's a great time to join a community garden if you don't have space at home for a garden), or just hanging out underneath a tree—can be calming, revitalizing, and inspiring.
2.
Use the sun to cleanse and charge everything (yourself included).
The summer solstice acknowledges the life-giving force of the sun and all its motivating fire energy. Use this solar power to light up your life by:
Committing to waking up with the sun or watching the sunrise to really harmonize with the day's cycles. Not only is spending safe time out in the sun great for vitamin D levels, but basking in more sunshine can also support healthier sleep and a more positive mood.
Opening curtains and blinds in the morning to let sunlight flow into your whole home, illuminating and activating your space.
Making some "sun tea" to soak up all that solar power. When the weather is warm and sunny, brew a few bags of tea in a big glass jar full of water and imagine that as the tea brews, the sun's energy is absorbed into it.
Cleansing your crystals, oracle cards, and spiritual objects during the solstice. Even if you don't have outdoor space and can only put them near a sunny window, the sun's rays will still provide a symbolic energetic cleanse as they wash over these precious objects.
3.
Embrace more synergy and celebration.
You might want to welcome the summer by hosting an outdoor solstice party or heading to a farmers market to gather up fruit, veggies, and flowers to celebrate the abundance of nature. While you're at it, take time to celebrate all that you've accomplished and all the ways you've grown in the first half of this year too.
4.
Use flowers as energy boosters.
This weekend is a great time to gather local flowers and arrange bouquets to spread around your house. If you have rosewater on hand, you can also spray that around your home to lighten and brighten everything. (Spraying your face and hair with rosewater is a beautifying supercharger, too.)
5.
Plant seeds for growth.
During this symbolic day, planting seeds (literal or metaphorical) can be a symbol of your own readiness to grow and expand in the season ahead. If you have space for extra plants in your house or garden, now is a great time to get growing!
And as you nurture your plants to life, don't forget to create an environment that supports your growth, too. Some of my favorite ways to do so include:
Decluttering: Carve out physical space in your home for all the new things you want to create and accomplish in the months ahead.
Setting aside time for yourself and taking it: Block out time on your calendar that is exclusively for you to develop your talents and work on your passions. Even 20 minutes a day can lead to major breakthroughs.
Working with the power of nature and your true nature will help you kick off this season from a joyful, grounded, energized, calm, creative, and unique place. I hope you enjoy the start of summer and all the light it brings!