Close Banner
Advertisement
This ad is displayed using third party content and we do not control its accessibility features.
The Ideal Colors To Surround Yourself With At Home, Based On Your Aura
mbg Spirituality & Relationships Editor
By Sarah Regan
mbg Spirituality & Relationships Editor
Sarah Regan is a Spirituality & Relationships Editor, and a registered yoga instructor. She received her bachelor's in broadcasting and mass communication from SUNY Oswego, and lives in Buffalo, New York.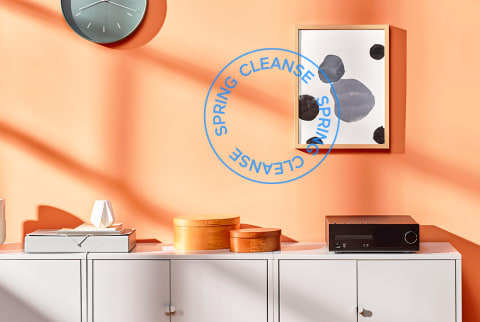 Image by 
Martí Sans / Stocksy
Beyond dust and clutter, there's a lot of emotional debris that's built up all around us in the past year. mbg's Spring Cleanse series is here to help clear it away. Follow along for the first two weeks of April as we share nourishing, sustainable ways to embrace a lighter, brighter home—and toss any lingering heaviness into the (compost) bin.
Colors carry energy, so bringing a new one into your home can instantly change the feel of your space. And if you're in the market for a fresh spring shade, your aura color—or the aura color you'd like to achieve—can provide some fun ideas. (Here's some background on aura colors for those who are unfamiliar, and a quick quiz for uncovering what color your aura is currently exuding.)
Today, aura reader and stylist Susanna Merrick is sharing how to use each soul shade at home, depending on what it is you're looking to call in.
Red:
When it comes to our auras, red has a lot to do with grounding, plus it's got a touch of romance and sensuality. It's a great color to add to your bedroom, perhaps in the form of a soft red lamp. And if you're thrown off by bright reds, have no fear; Merrick notes earthier shades of red, such as burgundy or burnt orange, are also really pleasing in the home. She also likes to add touches of red in the kitchen (think pots and pans or dish towels), particularly when making a luxurious meal for a loved one.
Orange:
"Orange is all about taking a risk," Merrick explains, so if you're feeling the orange vibes lately, she suggests you lean into it. Orange is ideal for pops of color in your living spaces, with things like throw pillows or even candles, which have a warm orange glow themselves. "Things like orange dishes and plates for social occasions," she notes, are great as well, because "it's an energy that's about confidence and being social," she adds.
Yellow:
If your aura is yellow, Merrick notes that you're looking for a certain childlike playfulness and joy. Yellow is also closely related to our self-expression, and its bright energy is nothing short of contagious. As such, she recommends including yellow in the bathroom if you're looking for this fun, childlike vibe. Things like yellow towels, shower curtains, and bath mats will be one of the first things you see when you go into the bathroom each morning, which can help set the tone for a positive day, she says.
Green:
Merrick explains that if you have a lot of green in your aura, it usually indicates one of two things: abundance or healing. Either way, green is a great color to include in your home, through things like plants (of course) but also with paint, wallpaper, or even a nice art piece. It's also a very organized, scholarly, type-A energy, she adds, so if you've got a home office, adding some green in there is a good idea. Merrick is also a fan of painting a green accent wall anywhere you could use some healing or organized energy.
Blue:
Blue auras are very relationship-focused, with an emphasis on communication and holding space. Merrick notes that people who like blue in their home may have chaotic households and intuitively feel called to the serene, calming energy blue offers. Shades like indigo, cerulean, and even light blue will all work, and luckily, lots of shades tend to look good together. You can include blue anywhere, from your bookshelves, with little objects, vases, and the like, to pillows, blankets, rugs, and so on.
Purple:
If you're feeling the urge to invite more purple into your space or nurture your already purple aura, Merrick says there's likely a "deep need for exploration through creativity." It's a great color for an out-of-the-box thinker, "looking subconsciously to convey they're on a spiritual journey." She recommends adding pops of purple in a space that's calm, like a purple meditation cushion wherever you like to meditate or purple art and accents in your favorite room to daydream and create.
Pink:
And lastly, pink is associated with femininity as well as the heart chakra—and it has a very soft, nurturing quality to it. "In the house, it brings this really cozy, nesting vibe," Merrick explains. So with cozy in mind, think things like blankets, pillowcases or throw pillows, and curtains. Go for textures that are soft and gentle, and be sure it creates a vibe that makes you want to stay in and get comfortable at home.
The bottom line.
The best part about decorating your space is it's your space. You can add as many or as few colors as you want; it all depends on what you're going for. So, whether you want to enhance your aura as it is or invite the energy of a different color in, everything from your curtains to your pillowcases can serve to inspire and empower that part of you.
Sarah Regan
mbg Spirituality & Relationships Editor
Sarah Regan is a Spirituality & Relationships Editor, a registered yoga instructor, and an avid astrologer and tarot reader. She received her bachelor's in broadcasting and mass communication from State University of New York at Oswego, and lives in Buffalo, New York.