Yes, Your Hair Texture Changes Once You Go Gray — 5 Tips To Care For Silver Strands
mbg Associate Editor
By Jamie Schneider
mbg Associate Editor
Jamie Schneider is the Associate Editor at mindbodygreen, covering beauty and health. She has a B.A. in Organizational Studies and English from the University of Michigan, and her work has appeared in Coveteur, The Chill Times, and Wyld Skincare.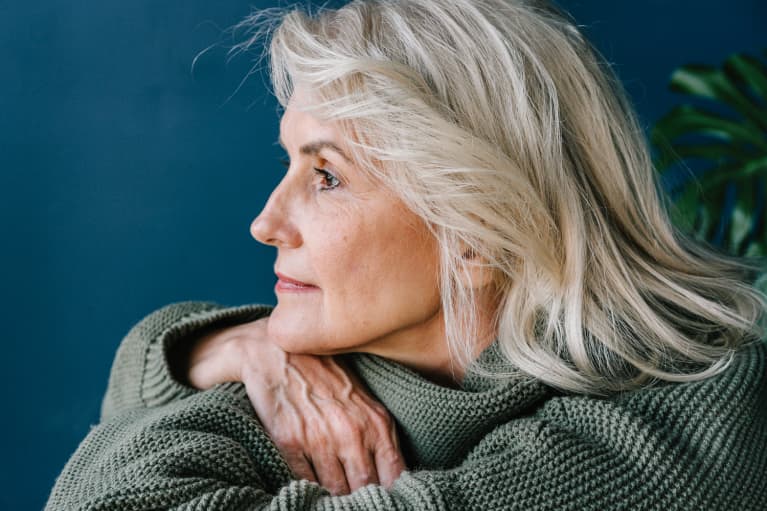 Our editors have independently chosen the products listed on this page. If you purchase something mentioned in this article, we may
earn a small commission
.
We've said it before, and we'll say it again: Your hair changes as you age. Perhaps the most obvious is when the hair loses its pigment over time, resulting in a dusting of grays. Although, a silvery hue isn't the only noticeable change as you go gray: The actual texture of the strands themselves face some shifts as well.
Don't sound the alarm just yet! Sure, you might have to update your hair care routine a bit—especially if you've never dealt with this specific texture before—but it's not so difficult to keep the grays healthy and moisturized.
Allow the pros to break it down.
How your hair texture changes as you go gray. 
Over time, your hair follicles produce less and less melanin—that's what causes the silver to sprout, says hairstylist Sal Misseri of Reverie Salon. But when those follicles produce less melanin, they tend to produce less sebum as well (aka, the natural emollient that gives your skin and hair its moisture). And when both start to dwindle, the hair becomes more fragile and coarse over time.
"With your scalp producing less of these two things, you lose protective layers on the hair strand, resulting in a cuticle that has a smaller diameter, creating a finer texture to your hair," explains Erica Conan, director of education at ColorProof. "Your finer hair will feel more coarse and dry because it is not retaining moisture as well with the loss of these protective layers." And when the hair doesn't retain moisture, frizz often isn't too far behind.
How to care for the new texture.
Of course, if you have coarse, dry hair already, you might not notice a significant textural shift once the grays settle in. But for those who have yet to try their hand with coarser hair, you should know that tending to the texture requires a few tweaks—sorry to say, your usual routine might not cut it.
Ahead, we tapped hairstylists for their tips to handle the easily parched grays:
For dry, coarse strands, hydration is everything. Consider it a sign to give your hair some extra love: Use moisturizing shampoos and conditioners (Misseri loves this shampoo and conditioner for its fatty acid-rich oils and antioxidants), and incorporate a hair mask once or even twice a week (Conan recommends this buttery option with camellia oil and soybean lipids, or you can concoct one of your very own).
2.
Hair oils are your friends.
3.
Mist and seal before stylers.
You might even want to mist the strands before applying your styling products—again, you want to lock in as much hydration as possible, and water tends to evaporate from dry, coarse hair as soon as you step out of the shower. "Use a mist spray bottle during product application, and then apply a layer of protection," hairstylist Danielle Malary of Lumiere Vive Salon tells us about caring for hair that has trouble absorbing moisture.
Specific stylers will vary depending on your hair type, though, so be sure to I.D. your specific strand pattern before piling on products—the grays may feel more coarse, but they don't mess too much with your curl pattern, per se. That said, those with straighter hair should still look for products that allow for movement and breathability, while those with curls or coils might need a bit more hold.
4.
Rework your clarifying routine.
Listen, scalp care is important, and you do need to remove gunk and buildup every once in a while. But if you find your strands parched dry, you might want to rethink your clarifying shampoo or scalp scrub schedule—perhaps extend it to a biweekly basis if you find once a week way too drying.
5.
Supply your scalp with stimulating oils.
Your follicles might not produce as much sebum as when they were young and spry, but you can give them some extra help: "Massage stimulating oils onto the scalp regularly to promote the production of natural oils," says Malary. Try diluting rosemary or tea tree oil with a lightweight carrier oil (like jojoba, which is closest to the skin's own sebum), as both contain stimulating actives.
Yes, your hair texture does change as the strands lose pigment. Typically, the hair starts to feel dry, fragile, and more coarse. If you're well-equipped in dealing with coarser hair, then simply go forth with your usual hair care routine. But for some, dealing with the new hair texture is, well, entirely new—simply incorporate these hairstylist to-do's into your regimen, as well as other guides for coarse and low-porosity hair.