This Energizing, Mood-Supporting Supplement Just Might Replace My Daily Matcha*

mbg Supplement Editor
By Morgan Chamberlain
mbg Supplement Editor
Morgan Chamberlain is a supplement editor at mindbodygreen. She graduated from Syracuse University with a Bachelor of Science degree in magazine journalism and a minor in nutrition.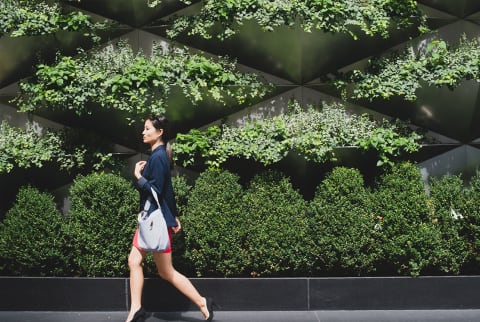 Image by Lauren Lee / Stocksy
July 8, 2023
I have a tough time focusing sometimes. It's not the focusing part itself that's challenging for me but rather hyper-focusing on something else I find interesting, urgent, or just plain distracting and having trouble getting back to that very important thing that I sat down to do.
My relationship with caffeine
That said, I was never one to claim I needed my daily dose of caffeine. I eased into caffeinated beverages the same way people ease into drinking wine: I started with the sweet stuff. Once I grew to love the whipped-cream-topped and syrup-infused flavors of frappuccinos, mochas, and macchiatos, I quickly graduated to lattes and flavored coffees with milk or nut milk.
By college, I was making hazelnut coffees with my Keurig before heading to my morning work shift or grabbing a flat white (OK, and the occasional caramel macchiato—old habits die hard) before heading to the library for a late night of essay writing.
Caffeine wasn't a craving for me but rather a tool. I knew I would be less energized, alert, and attentive without a little help from coffee during those early mornings and late evenings.
Caffeine's focus-supporting sidekick
Since college, I've gone from coffee to black tea to green tea, searching high and low for my perfect caffeinated match. To this day, I still utilize caffeine to help promote focus, energy, and concentration, but I've added an additional compound to my tool kit: L-theanine.*
A potent bioactive found in black tea, green tea, and certain types of mushrooms, L-theanine works synergistically with caffeine to promote focus, energy, and concentration.* It also promotes a calming effect and overall mood support—a "focused zen," if you will.*
I discovered L-theanine's effects when I moved to Hawaii and started drinking matcha. While I've grown to love the earthy, umami flavor of matcha, it wasn't the taste that won me over. Thanks to L-theanine, I enjoyed all the focus and concentration benefits of the caffeine in matcha without any of the jitters or the dreaded caffeine crash I knew all too well in my coffee-drinking days.
I had stumbled upon a whole new world of opportunities. While L-theanine is often associated with matcha and other green teas, some smart nootropic supplements (i.e., supplements that promote cognitive function) also include this naturally occurring compound in their formulas to soothe the central nervous system and support brain performance.* When paired with caffeine, the synergistic cognitive effects are unparalleled, something I have experienced firsthand.*
With all these incredible benefits in the back of my mind, you can imagine my excitement when I discovered that mindbodygreen was launching a focus supplement with an array of nootropic botanicals that included this strategic duo: plant-origin caffeine and the bioactive L-theanine.
The holy grail of concentration
mindbodygreen's focus+ is everything I need in a nootropic and more. With L-theanine and both instant- and sustained-release caffeine (from whole coffee fruit and green coffee beans, respectively), I was in love with the focus+ formula from the get-go.
The incredible ingredients don't stop there, though! Guarana and Panax ginseng are another synergistic duo that work together to support concentration, mental acuity, task performance, and overall mood; while vitamin B12 promotes the production of "feel-good" neurotransmitters serotonin and dopamine, supports ATP energy currency for all the cells in my body, and bolsters overall nervous system health.*
When taking focus+, I feel energized and ready to tackle the day. Whether you're studying for an exam, preparing for a big presentation, or simply trying to optimize your time as you multitask and run errands, the alertness, calm focus, and sustained energy from this premium nootropic are palpable—from mental clarity to mood support, and motivation, I can't stop singing the praises of this synergistic formula!*
If you are pregnant, breastfeeding, or taking medications, consult with your doctor before starting a supplement routine. It is always optimal to consult with a health care provider when considering what supplements are right for you.

Morgan Chamberlain
mbg Supplement Editor
Morgan Chamberlain is a supplement editor at mindbodygreen. She graduated from Syracuse University with a Bachelor of Science degree in magazine journalism and a minor in nutrition. Chamberlain believes in taking small steps to improve your well-being—whether that means eating more plant-based foods, checking in with a therapist weekly, or spending quality time with your closest friends. When she isn't typing away furiously at her keyboard, you can find her cooking in the kitchen, hanging outside, or doing a vinyasa flow.