The One Ingredient A Neurohacker Adds To Coffee To Boost Its Brain Benefits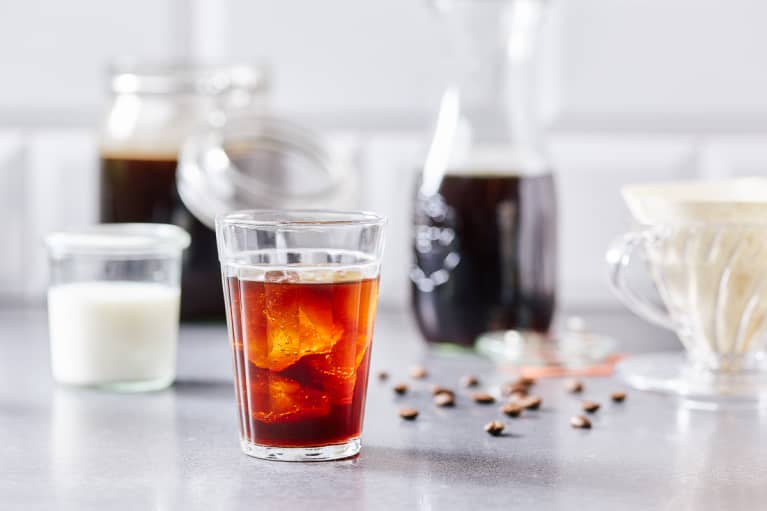 Our editors have independently chosen the products listed on this page. If you purchase something mentioned in this article, we may
earn a small commission
.
One of the first things many people do when they need to get to work is to pour themselves a cup of coffee. But what if there was something you could add to your brew that would boost its focusing effects even more? According to neurohacker and MIT- and Harvard-trained brain researcher Elizabeth Ricker, author of Smarter Tomorrow, there is. Here's what she had to say on a recent episode of the mbg podcast.
In a world of trendy nootropics, Ricker tells mbg she recommends adding one simple ingredient to your coffee: L-theanine. A neurologically active amino acid, L-theanine is a time-tested component of the green tea plant (and white and black tea—but green tea has the most of it).
When it comes to focus, Ricker says you can add 100 milligrams of L-theanine per 100 milligrams of caffeine. This is enough to give your brew a little extra kick, but is still affordable enough to whip up daily (which can't be said for some other nootropics and cognitive enhancers on the market).
In one small study published in the journal Nutritional Neuroscience, a combination of caffeine and L-theanine did, indeed, improve participants' mental performance.
In the study, 27 people were given 50 milligrams of caffeine, either with or without 100 milligrams of L-theanine, and thereafter, their cognition and mood were analyzed (including factors like word recognition, visual processing, attention switching, and more).
After 60 minutes of having the caffeine and L-theanine, participants saw improved speed and accuracy of performance in the attention-switching task compared to the placebo. They were also less easily distracted at both 60 minutes and 90 minutes.
"These results replicate previous evidence which suggests that L-theanine and caffeine in combination are beneficial for improving performance on cognitively demanding tasks," the study authors write.
Bonus: This powerhouse amino acid has other research-backed benefits like helping to ease stress and slowing cognitive decline, too.
L-theanine is generally well tolerated by healthy adults and doesn't come with any known side effects.
If you're looking for a natural way to get more focused and improve cognition, it might be worth trying out L-theanine in your morning brew. And just when we thought we couldn't love coffee any more...