This Concealer Hack Makes Your Eyes Naturally Bright With Very Little Product

Beauty & Health Editor
By Jamie Schneider
Beauty & Health Editor
Jamie Schneider is the Beauty Editor at mindbodygreen. She has a B.A. in Organizational Studies and English from the University of Michigan, and her work has appeared in Coveteur, The Chill Times, and Wyld Skincare.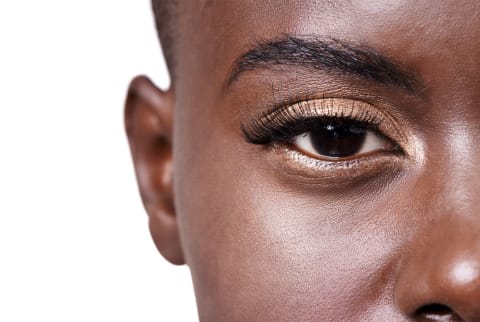 Image by PeopleImages / iStock
April 4, 2022
We carefully vet all products and services featured on mindbodygreen using our
commerce guidelines.
Our selections are never influenced by the commissions earned from our links.
Look, I'm the first to rave about a good concealer hack—but sometimes even your perfect shade match can fall a bit flat. Personally, on days I'm dealing with extra-dark circles and a tired, sallow appearance, a hit of concealer just doesn't cut it. The formula simply brightens up my mauve shadows without actually neutralizing the discoloration; to ensure the cool hue is fully undetectable, I have to layer on extra product, which can look a bit obvious, if not caky.
So for stubborn shadows that need a little something extra, I reach for a color corrector: These actually balance out discoloration so that your eyes appear naturally rested and bright. I've been testing the new High Fidelity Balancing Color Corrector set from Exa, and it instantly fuses to my undertones and cancels out shadows. But the best part? It doesn't look like I'm wearing anything at all.
The new color corrector that makes my eyes naturally bright.
Allow me to geek out on color theory for just a moment: Remember those complementary hues on the color wheel? Purple contrasts with yellow, orange sits opposite blue, and so on. Well, this same logic can help neutralize discoloration in your skin—purple can cancel out sallowness, green can cool down redness, etc. And those are just the highlights: See here for our full guide to using color correctors.
Depending on the type of discoloration you're dealing with, you might reach for a different pigment—for dark circles, you'll likely grab an orangy-peach shade to warm up those cool shadows. Exa includes four shades in the orange family—a pink, peach, deep-peach, and red-orange—depending on your skin tone; for me, the peach number instantly brightens my under-eyes without looking too "done," almost as if I clocked nine hours of sleep. And with antioxidant-rich brightening actives, like marshmallow root, rice bran, and licorice extracts, it even helps treat those dark circles simultaneously.
It has a matte finish (thanks to kaolin clay), but trust me, it doesn't dry down caky. I've always had dry, sensitive under-eyes, which means I gravitate toward the creamiest concealers I can find—for those with perennially parched skin, rest assured this formula is still very plush and doesn't settle into fine lines. In fact, the matte finish is what actually makes the brightness appear much more natural since you wouldn't necessarily shine underneath the eyes.
As for the application, you'll want to spread some of the pigment on the back of your hand first, then take your ring finger (or a small concealer brush) and tap it onto any areas of discoloration. As celebrity makeup artist Delina Medhin tells me over Zoom, it's helpful to diffuse some of the product before blending so it can really melt into your skin. Plus, the doe-foot applicator is a bit too large to reach precise areas, like the inner corners.
Then if you'd like an extra hit of brightness, you can either layer your regular concealer on top or (my new favorite hack) use Exa's yellow corrector as a highlighter: I take a teeny bit on my fingertip and dot it in the middle of my under-eye (right below my pupil), in the middle of my brow bone (right above my pupil), and on the outer corner. I find it adds a bit more dimension and makes the orbs really pop.
The takeaway.
My No. 1 concealer isn't going anywhere, but a good color corrector can level up the natural-looking brightness. On days I crave the elusive "no-makeup makeup" look, I'll use Exa's formula to cancel out unwanted shadows without covering up the dimension completely. It's a game-changer for minimal makeup routines everywhere.

Jamie Schneider
Beauty & Health Editor
Jamie Schneider is the Beauty Editor at mindbodygreen. She has a B.A. in Organizational Studies and English from the University of Michigan, and her work has appeared in Coveteur, The Chill Times, and more. In her role at mbg, she reports on everything from the top beauty industry trends, to the gut-skin connection and the microbiome, to the latest expert makeup hacks. She currently lives in Brooklyn, New York.