I Tried A Continuous Glucose Monitor & Here's What I Learned About My Health

mbg Co-Founder & Co-CEO
By Colleen Wachob
mbg Co-Founder & Co-CEO
Colleen Wachob is Co-Founder and Co-CEO at mindbodygreen.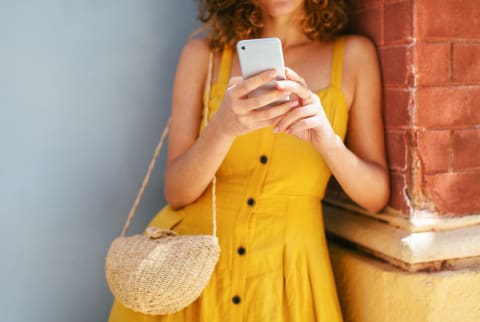 Image by BONNINSTUDIO / Stocksy
October 23, 2021
Our editors have independently chosen the products listed on this page. If you purchase something mentioned in this article, we may
earn a small commission
.
The past 20 months brought the importance of metabolic health to the forefront, as a key indicator of our health and immune resilience. As someone who has centered my life around promoting greater health, I'm always looking for opportunities to better understand my own metabolic health and fitness. That's why I jumped at the chance to try out Levels Health, a technology that enables users to track blood glucose levels, learn more about personal biometrics, and find ways to optimize metabolic health.
Apparently, I wasn't the only person intrigued by this new company, considering Levels now has a waitlist of over 100,000 users. To me, this speaks to the larger trend of people leveraging data to help make better decisions around health and well-being (you can read more about our take on this wellness trend here).
Advertisement
This ad is displayed using third party content and we do not control its accessibility features.
As for my personal well-being choices, I eat nutritious foods, exercise moderately, and prioritize my sleep fitness as much as I can amid my roles as a co-CEO and a mother of two small children. I'm also somewhat of a "data minimalist" as it relates to health.
I'm sharing what my deep dive into Levels' metabolic health technology taught me, and the key insights that I will be incorporating into my health routine.
What I learned after trying out Levels.
First, I want to acknowledge it's an incredible privilege to be able to leverage continuous glucose monitor technology for health optimization instead of health necessity. My experience with Levels is wildly different from someone whose health depends on tracking glucose regularly.
Here's a brief overview of the process: You do a quick online questionnaire and are prescribed Levels by an in-state physician. The Levels welcome kit includes instructions on the Levels App, FreeStyle Libre continuous glucose monitoring (CGM) system, and instructions that work hand-in-hand with the data on Levels. Setup is pretty seamless, and then meals are scored based on your body's response, on a scale of 1 to 10, with 7 to 10 being in the green or "good" zone.
Foods that worked for my body:
I make my own almond milk lattes each morning with MALK unsweetened almond milk, and using Levels, I found this morning beverage is a solid performer that does not raise my blood sugar. Overall, my body responds best to a breakfast that has a balance of protein, fat, and greens. Scrambled eggs with broccoli, avocado, and cheese scored a 9 for my body.
My body also responds well to some of my favorite snack brands like Justin's, Lily's, and Parm Crisps—delivering scores in the 8-to-10 range. My toddlers love pizza, and Cappello's gluten-free pizza is a staple in our house. When I ate this, I scored a 7—also in the green range!
Key insights:
Casey Means, M.D., co-founder at Levels Health, explains why my eggs, avocado, and broccoli breakfast was the perfect glucose meal: "It had no refined or starchy carbohydrates, there's protein and fat from the eggs and avocado, fiber and bulk from the broccoli, and lots of micronutrients that support metabolic health."
Advertisement
This ad is displayed using third party content and we do not control its accessibility features.
Some areas to improve:
Some of my family's fast dinner favorites don't perform well with my body from a blood sugar perspective.
My family loves bean and cheese quesadillas, but they scored in the red zone at a 5. Even when I added healthy fats to this dinner staple, it didn't really move the needle, scoring a 6—still in the red zone. My go-to gluten-free tortillas with hummus similarly scored in the red zone.
Surprisingly, my morning smoothies were scoring a 6, even when I tried to downplay the fruits. This tells me there's still room to optimize them from a blood sugar standpoint.
I discovered my blood sugar response to bread products is highly variable, depending on the type of bread. The combination of wild salmon, tomato, and cream cheese is a 6 when the bread is a bagel—but when I switch it out for Base Culture keto bread, this meal scored a 10.
Key insights:
Even my favorite gluten-free tortillas led to a blood sugar spike. According to Means, this might be because a main ingredient is cassava, which is a starchy vegetable. As for the hummus, Means says a lot of people don't respond well to chickpeas (the core ingredient), so my response was actually typical.
Some of her favorite tortilla substitutions that I could try to incorporate include: "flax tortillas (flax, water, spices), collard green or butter lettuce for wraps, large Nori sheets, or jicama tortillas (Trader Joe's)."
Some results were just puzzling:
There were a handful of meals I perceived to be "healthy," which my body did not respond to from a blood sugar perspective.
Scallops, vegetables, and hummus (with no additional sugars) scored a 6. And while my homemade butternut squash soup logged a 10, my pea soup scored in the red zone.
Key insights:
There's bio-individuality at play, and how one body responds is going to be unique. The daily total health picture matters, as Means advises: "The impact of stress, sleep deprivation, or presence/absence of exercise can have a huge impact on the way you process glucose that day."
Advertisement
This ad is displayed using third party content and we do not control its accessibility features.
My overall takeaways.
My daily scores ranged from 58% (a biscotti-filled day) to 85%. Within a day or two of trying Levels, I found myself being more strategic around mealtimes to optimize better scores (and thus metabolic health). After experiencing it myself, I am convinced this technology has the ability to help people adopt widespread changes in their behavior and insights far beyond just listening to their body. The scoring system can be a powerful tool to facilitate and accelerate change.
For me, however, it was a little too powerful. I cherish our Sunday bagels from Russ & Daughters and weekend meals out as a family, which often include desserts. I found that it was hard for me to enjoy my meals while also recording a score a few hours after the meal. Still, do I have room to improve my metabolic health? Absolutely.
I plan to incorporate cinnamon into my smoothies to promote blood sugar balance, ensure my meals have a balance of protein and fat, and be more mindful about my afternoon snack time. Tracking the scores of my meals took a little bit of the fun out of family doughnuts and bagels, and maintaining these moments of joy is really important always, but especially in 2021.
The good news is that Means confirms this sentiment is something they "are thinking about constantly right now, as [they] want to make the Levels experience as empowering, positive, and educational as possible, not punitive or fearmongering."
While others may experience the technology differently, I found the data to be a fascinating treasure trove of actionable changes. I encourage anyone who is trying to better understand how food affects their blood sugar to give Levels a try.
Want to turn your passion for wellbeing into a fulfilling career? Become a Certified Health Coach! Learn more here.
Advertisement
This ad is displayed using third party content and we do not control its accessibility features.

Colleen Wachob
mbg Co-Founder & Co-CEO
Colleen Wachob is Co-Founder and Co-CEO at mindbodygreen. She graduated from Stanford University with degrees in international relations and Spanish, and spent 10 years working at Fortune 500 companies including Gap, Walmart, and Amazon. Wachob lives in Miami, Florida with her husband, mbg Founder and Co-CEO Jason Wachob and their two daughters, Ellie and Grace. Her first book, which is co-authored with mindbodygreen Founder Jason Wachob, The Joy of Well-Being, is being released on May 23, 2023.