Only 12% Of Americans Are Metabolically Healthy: Here's How This MD Wants You To Change Your Diet

mbg Founder & Co-CEO
By Jason Wachob
mbg Founder & Co-CEO
Jason Wachob is the Founder and Co-CEO of mindbodygreen and the author of Wellth.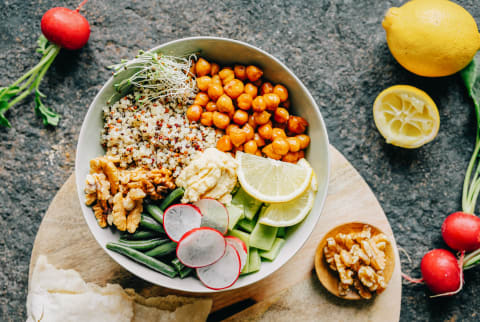 Image by Nataša Mandić / Stocksy
July 29, 2020
Our metabolic health is the foundation for so many other processes in our bodies; for cardiovascular health, in particular, poor metabolic health can leave people more vulnerable to developing type 2 diabetes, hypertension, and high blood pressure (not to mention a weakened immune system). But when you look at the data, only 12.2% of Americans are metabolically healthy. That data point sent shock waves through the well-being stratosphere—especially those who believed a normal weight meant a clean bill of metabolic health.
Needless to say, the number is staggering, which is why we tapped pediatrician and former commissioner of the FDA David A. Kessler, M.D., to learn what we can do to ensure our metabolic health remains in tiptop shape. His answer? Changing the American diet. "There are two things in the American diet that are key: fast carbs and LDL," he shares on the mindbodygreen podcast. "You want to lower both." Seems easy, no? Let's dive into it.
Advertisement
This ad is displayed using third party content and we do not control its accessibility features.
Eliminate fast carbs. 
According to Kessler, simply eliminating carbs won't necessarily help you become metabolically healthy. The real kicker here is eliminating "fast carbs," or the "endless flood of glucose we're pouring into our bodies," as he says. The reason these carbs are considered "fast" is because our bodies digest them quite quickly in the upper GI tract. In other words, the natural starch and sugars are rapidly converted and absorbed in your body, which has its consequences—namely, body fat, with its own cardiovascular repercussions (like hypertension, high blood pressure, and diabetes).
On the other hand, "slow" carbs are digested in the lower region of the GI tract, which is where your satiety hormones become released. (That's why fast carbs usually result in that blood sugar roller coaster we hear about frequently, as you may become irritable and hangry once those carbs are quickly digested.)
So what exactly are fast carbs? Kessler says they're your run-of-the-mill processed foods: "We take wheat, corn, and grain kernel and produce thousands of different shapes, textures, and products from that," he explains. "We took the structure out of food." Even more so, Kessler explains we eat constantly—and that endless stream of fast carbs and glucose can be quite damaging. That's why eliminating fast carbs for good is key for keeping cardiovascular issues at bay.
Lower your LDL.
Sure, a low-carb eating plan can be very effective for losing weight, which is helpful for metabolic consequences, says Kessler. But that's not what being metabolically healthy is all about; he says the goal is to reduce your LDL levels (the "bad" cholesterol, so to speak). "You have to keep an eye on that LDL because it varies for people."
And while eliminating fast carbs is only the first step toward becoming metabolically healthy, it's important to note "when you look at the clinical trials on people who go low carb, you see the amount of LDL increases," Kessler says. "So it's working in the wrong direction."
Which raises the question: How do you get your LDL levels down? According to Kessler, the key is quite simple: a plant-based diet. "That's the most dramatic way to get LDL down," Kessler says.
While Kessler is a champion for going fully plant-based, that's not to say you can't eat animal products from time to time—you just might want to make veggies the star of your plate.
In terms of becoming metabolically healthy, these two doctor-approved tips can ensure you set yourself up for success. But just because it's simple doesn't mean it has to be boring: You can get creative with tons of nutrient-rich plant-based recipes. No matter which specific foods you choose to put on your plate, just make sure they're whole and nutritious. As Kessler notes, "If it doesn't look like food, we have a problem."
Want to turn your passion for wellbeing into a fulfilling career? Become a Certified Health Coach! Learn more here.
Advertisement
This ad is displayed using third party content and we do not control its accessibility features.