3 Skin Hydration Mistakes You Might Be Making & How To Instantly Fix Them

mbg Beauty & Wellness Editor
By Jamie Schneider
mbg Beauty & Wellness Editor
Jamie Schneider is the Beauty & Wellness Editor at mindbodygreen. She has a B.A. in Organizational Studies and English from the University of Michigan, and her work has appeared in Coveteur, The Chill Times, and Wyld Skincare.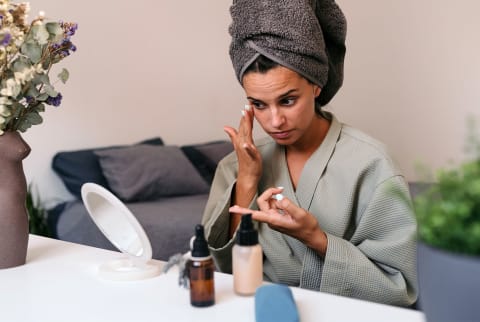 Image by Lucas Ottone / Stocksy
December 20, 2021
Proper hydration is vital in skin care—without it, your complexion can become dry, itchy, dull, and overall uncomfortable. We likely don't need to tell you this, especially now during the wintertime: The arid air can rob your skin of its precious moisture; if you've ever dealt with flaky, chapped winter skin, you know how crucial it is to butter up your skin barrier.
So you need to hydrate your skin. Noted. But drenching your skin in the moisture it needs and keeping it there are two very distinct ventures. Ever spend ample time with your hydrating treatments, only to find your skin just as dehydrated in the morning? Because, same.
Advertisement
This ad is displayed using third party content and we do not control its accessibility features.
Well, it turns out, a few innocent mistakes can easily sabotage a dewy glow. If you're slathering on creams and hyaluronic acid serums to no avail, do be sure you're not unknowingly making one of the following faux pas:
1.
You're ignoring full-body hydration.
You're not alone: Many people who take painstakingly good care of their skin can get a little lax when it comes to body care. That's because in the beauty industry, much of the focus zeros in on the face, given the fact that it's the most visible part of your skin and often more sensitive than other areas of the body.
But completely ignoring body care is a shame, namely because the market has practically exploded over the years—with formulas that rival facial care counterparts. You can find a body lotion that's just as decadent as a pillow-soft night cream, a hand treatment that helps fade dark spots like a brightening serum would. And of course: Your skin barrier doesn't stop at your neck, and moisture plays a vital role in its function. Ignore full-body hydration, compromise your barrier, and your skin won't be as protected from external aggressors—over time, this can lead to premature aging, fine lines, and crepey skin.
The fix.
Consider this your sign to invest in body care, giving the skin some much-needed hydration. So just as you might opt for a thicker moisturizer to help secure a dewy face this winter, it's important to do the same for the skin on your body. Find a dense body lotion with a hydrating base—our postbiotic body lotion, for example, blends aloe, shea butter, moringa seed oil, oat oil, and coconut oil for a variety of healthy lipids and skin-conditioning qualities.
Our formula also contains pre- and postbiotics to help the skin microbiome flourish, as well as coenzyme Q10 and a fruit complex to help fight free radicals and welcome brighter skin. It's a must-have for locking in full-body hydration, if we do say so ourselves.
Advertisement
This ad is displayed using third party content and we do not control its accessibility features.
2.
You're using hot water.
A steamy rinse may feel lovely in the moment, but you're likely not doing your skin barrier many favors. Why? "Hot water evaporates faster," says board-certified dermatologist Purvisha Patel, M.D., founder of Visha Skincare, which means you don't have as long to trap in the water post-rinse. And if the water evaporates from your skin before you can lock it in with a moisturizer, it will leave your complexion even drier than it was before.
Scalding water also has the ability to strip the natural oils and lipids from your skin, compromising your skin barrier—and this, as we mentioned, can lead to cracked, itchy skin.
The fix.
Advertisement
This ad is displayed using third party content and we do not control its accessibility features.
3.
You're not moisturizing damp skin.
"After you cleanse, you want to lock in all that watery goodness," says board-certified dermatologist Angelo Landriscina, M.D., in a TikTok video. "The humectants in your products, like hyaluronic acid and glycerin, will have an easier time holding on to moisture if you're providing it." Remember: Humectants pull in water from the surrounding environment to hydrate your skin, so leaving your skin damp can help them find the moisture they need.
Plus, you may have a slightly smaller window to lock in hydration, especially if you're partial to long, hot showers, and completely toweling off sacrifices some of those precious minutes you do have (board-certified dermatologist Whitney Bowe, M.D., recommends waiting no longer than two minutes to slather on moisturizer).
The fix.
As you can probably guess: Apply your hydrating products on damp skin. After cleansing, simply pat your skin with a towel until it's damp (you can still blot your skin, just not until it's completely dry), then apply a humectant-filled cream to lock in the hydration. "I promise it will leave you glowy and gorgeous," Landriscina says.
Advertisement
This ad is displayed using third party content and we do not control its accessibility features.
The takeaway. 
Sometimes it helps to get granular, especially if it feels like all your hydration efforts are for naught. These three hydration mistakes above may seem simple, but they can easily steal your glow. But don't fret too much: The fixes are genuinely straightforward.