The Best Running Shoes For Beginners, According To Podiatrist's Recommendations & Guidelines
Written by
Kelsea Samson
Kelsea Samson is a writer, content manager, certified yoga instructor and founder of The Mindfulness Program for Kids and Yoga for the Blind in Tampa, Florida.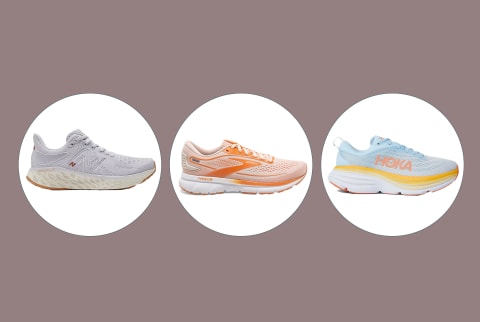 September 19, 2023
We carefully vet all products and services featured on mindbodygreen using our
commerce guidelines.
Our selections are never influenced by the commissions earned from our links.
The best running shoes for beginners:
Before you hit the ground, well, running, let's hear what podiatrists have to say. Below, find out which running shoes are best for beginners with flat feet, wide feet, high arches, and more. Plus, how to get started with running.
What to look for in running shoes for beginners
The earlier it is in your running journey, the more important it is to make sure your feet are protected from impact and comfortable. Robert Kornfeld, DPM, says the single most important thing to consider when taking up running is the stress and increased impact you'll be putting on the muscles of your feet and legs.
"In the beginning, running shoes should be chosen for good cushioning as well as support," Kornfeld explains. "Once you become a seasoned runner, you can consider shoes that are more lightweight, well cushioned, and somewhat less supportive, if you are running longer distances."
Board-certified podiatrist Anne Sharkey, DPM, based in Austin, Texas, adds, "Choosing the right model of running shoe based on your foot type is most important. I see [my patients'] foot pain improve as they are fitted with running shoes appropriate for their foot type."
How should running shoes fit?
Podiatrists say running shoes for beginners (and in general) should provide a secure, snug fit—but you'll want to make sure there's enough room in the toe box to accommodate natural foot swelling during long runs.
Kornfeld explains, "Running shoes need to fit true to size. They shouldn't be too long that the foot pistons inside the shoe, causing toe/toenail injury and they shouldn't be so snug that they cause chafing and blistering and crowding in the toe box."
Our experts recommend always trying on running shoes at the end of the day, when there is a small, natural swelling or increase in fluid buildup in the foot. This will help size you more accurately.
Sharkey recommends a three-step process to determine whether a shoe fits properly:
Trace your foot with a pencil on a piece of paper.
Set any running shoe you are considering wearing on top of the paper.
Your foot should fit within the outline of the shoe. If you foot overlaps the shoe, this shoe is not a good shoe for your foot shape.
How much do beginner running shoes cost?
As with any purchase, budget is an important factor to consider. Hillary Brenner, podiatrist with practices in New York and New Jersey, says how much you should spend depends on the individual's fitness level and how long they have been working out.
An average running shoe for beginners costs around $160, though you can often find good sales on popular shoe brands.
While it might cost more to buy podiatrist-recommended shoes, it can save you in the long run (pun intended) from injuries. It will also make your runs more comfortable and enjoyable.
"My strong recommendation is to see a podiatrist who includes sports medicine in the practice. Learning about your foot type and the shoe requirements will prevent a lot of mistakes and injuries," Kornfeld agrees.
How to choose running shoes for beginners
Beyond picking the right shoes for your gender and personal weight, Brenner advises knowing what type of foot you have (i.e. neutral, flat, high arches, wide). While visiting a podiatrist is best, Brenner says you can also head to your local specialty running shoe store to have an expert help determine important factors such as the stability of your foot and your foot strike.
Kornfeld adds, "Choosing a running shoe for beginners depends on whether you will be running on road, trails, treadmills as well as the distance you are planning on running."
We've included the best running shoes for beginners for wide feet and high arches below—but you can continue to learn more about wide feet and high arches in our other roundups.
How running impacts our health and longevity
According to Brenner, engaging in long-distance running contributes significantly to improved circulation, which, in turn, serves as a preventive measure against chronic conditions like diabetes and heart disease. Additionally, it bolsters bone health and fosters a more positive mood. This particular research study1 has indicated that regular running can extend one's life by around three years.
Equipping yourself with the appropriate long-distance running shoes can have many important benefits, including better posture, reduced impact on your joints, and a decreased risk of injury. All of these factors collectively contribute to your ability to sustain a long-term running routine, thereby enhancing your overall longevity.
How to get started with running
Ready to hit the pavement? You're in luck!
We have a complete guide to running for beginners, where you can learn from running coaches about breathing form (yes, it's a thing!), what to eat before a run, and how to avoid common injuries. You'll also find a running training plan for beginners curated by Danny Mackey, head coach of Brooks Beasts pro running team.
Form, nutrition, and injury-prevention aside, a huge part of getting started with running is motivation. Our marathon-running commerce editor, Carleigh Ferrante, says crossing the finish line takes as much mental training as it does physical.
Some of Ferrante's favorite ways to stay motivated are running with friends (or joining a local running group), signing up for a race (it's always helpful to have a goal you're working toward!), investing in the best running gear, and curating the perfect running playlist.
It also helps to learn more about the mental benefits of running—and, of course, finding the best running shoes for beginners is motivation in itself.
Our picks of the best running shoes for beginners of 2023:
Advertisement
This ad is displayed using third party content and we do not control its accessibility features.
Advertisement
This ad is displayed using third party content and we do not control its accessibility features.
Advertisement
This ad is displayed using third party content and we do not control its accessibility features.
Advertisement
This ad is displayed using third party content and we do not control its accessibility features.
How we picked:
Expert insight
Most of our picks are direct recommendations from the podiatrists we interviewed. Others were chosen by our team based on personal experience, our expert's guidelines, and additional research.
Design
We took our expert's recommendations to heart and focused on shoes that provide ample support, shock absorption, cushion, and flexibility.
Quality
Each shoe we chose is made with durable materials that will stand the test of time (and heavy mileage), so you'll get more life out of your investment.
Price
Everyone's budget is different—that's why we included a wide range of price points, with a few picks that are more budget-friendly.
FAQ:
Are Brooks good for beginner runners?

Yes, podiatrists recommend Brooks for beginner runners.
Should beginner runners wear stability shoes?

Per podiatrist Robert Kornfeld, DPM, "It is recommended until the foot and leg muscles are well conditioned and then they can switch shoe styles as needed."
How much should a beginner spend on running shoes?

"It is possible to spend anywhere between $80 and $150 for really good running shoes," says Kornfeld.
Do new running shoes hurt at first?

"If they get the correct fit it shouldn't hurt. But beginner runners usually get blisters and the shoe might feel stiff in the beginning," podiatrist Hillary Brenner, DPM, explains.
Should you size up in your running shoes?

Kornfeld says, "Yes, to take into account swelling. A half a size up should be fine. Plus make sure to go shoe shopping midway through the day. That's when the feet are true to size due to swelling."
The takeaway
The best running shoes for beginners can make all the difference for new runners in terms of comfort, support, and injury prevention. To start off on the right foot (literally), take the time to assess your individual foot needs, visit your local running store to assess your movement, and invest in a pair of running shoes that will accompany you on countless strides toward your optimal health and fitness. And, since nutrition is a key component of a healthy workout regimen, be sure to check out our comparison of two popular meal kit delivery services.
Meet The Experts
Kelsea Samson
is a writer, content manager, certified yoga instructor and founder of The Mindfulness Program for Kids and Yoga for the Blind in Tampa, Florida.