In Honor Of Father's Day, Here Are The 5 Best Men's Grooming Tips We've Heard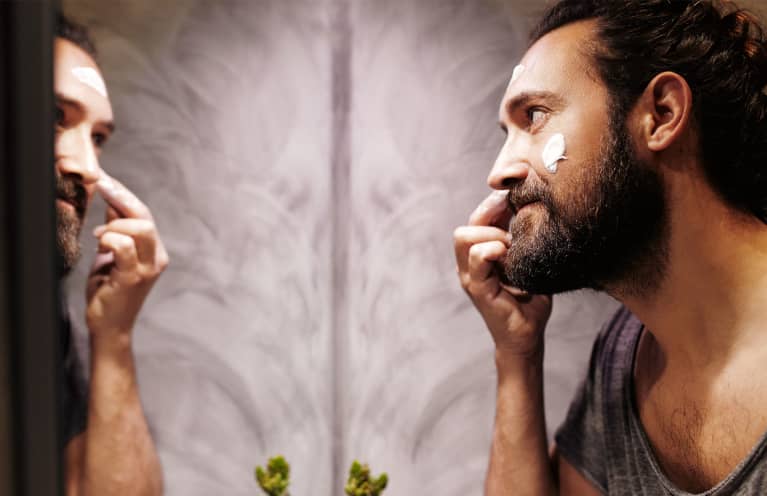 Our editors have independently chosen the products listed on this page. If you purchase something mentioned in this article, we may
earn a small commission
.
We may be biased here at mbg beauty, but grooming products are arguably the most popular Father's Day gifts—you know, other than ties. They're the ultimate crowd-pleasers: For dads new to skin care, a gateway cream or oil can help get their grooming routines on par; for those with a tried-and-true regimen already, you can shower them with new products they wouldn't otherwise snag for themselves (might we suggest a few beauty buys here).
But gifting the men in your life with grooming goodies is only half of the equation—unless he's an avid beauty buff, he'll likely need a bit of coaching. That said, give your gift, then send him here: Below, we've rounded up the best men's grooming tips we've heard from top experts. Now Dad will know exactly what to do with that sleek beard oil sitting pretty on the shelf.
1.
You may be able to handle more exfoliation.
Everyone's skin is different, so not all skin care routines follow the same form. Full stop, end of story. However, men do have some commonalities in terms of skin structure: Generally, men's skin tends to run on the oily side. As board-certified dermatologist Joshua Zeichner, M.D., once told mbg, men can have larger, more concentrated oil glands, as well as more testosterone, which can increase oil production.
That said, "[Men] may do better with an astringent for oily areas as well as a higher strength of a retinoid or an AHA," says board-certified dermatologist Ava Shamban, M.D., founder of Ava MD Dermatology, the SkinFive and The Box by Dr. Ava.
So while how often you should exfoliate ultimately differs from person to person, men may be able to get away with more exfoliation. (One caveat: Shaving is a form of exfoliation, so layering on another acid may not be necessary on clean-shaven nights.)
2.
You need sunscreen—even if you have facial hair.
Gents, don't skip out on sunscreen! Contrary to popular belief, "Facial hair does not do the trick to avoid UVA and UVB rays," says Shamban about building a skin care routine for men. You still need to slather sunscreen on those areas, even if you sport some scruff. Find our favorite mineral-based options here, which include emollients and tints to make blending easier (as zinc oxide can leave a white cast on skin and facial hair).
3.
If you have a mustache: Brush sideways, not downward.
On the subject of facial hair, here's a trick to help keep your mustache looking full and sophisticated: When combing your stache, brush from side-to-side, not downward toward your mouth.
According to barber Mark Tabibov, co-founder of Bonefade Barbers, when you brush the hairs downward, you can accidentally bite the hairs while you eat, which can tear them out and make it more difficult for them to grow in evenly. "It sounds funny, but you'd be surprised by how many people do that indirectly. It happens all the time," he told us about mustache care.
4.
Target dark circles with hyaluronic acid.
Remember when we mentioned the structural differences in men's and women's skin? Well, when it comes to under-eye circles (a gripe for everyone, we should note, regardless of gender), men may have exacerbated shadows as they age. "Men generally have a broader face with less forward projection of the cheek," Zeichner says about the concern. "As a result, with age, men commonly tend to show hollowness under the eyes, perhaps even more so than women."
Fat loss is a common cause of dark circles (along with expanded blood vessels and increased melanin production), and while not all men have the same facial shape and structure, the loss of volume may be more noticeable as they age.
"To improve volume, hydrate, and plump the skin, choose an eye cream with hyaluronic acid," notes Zeichner. (We love Youth To The People's Hydrate + Firm Peptide Eye Cream.)
5.
Moisturize coarse facial hair with beard oil.
Fathers with facial hair: If a beard oil isn't part of your grooming routine already, consider adding one to the rotation. Coating the coarser strands with moisture and fatty acids keeps them soft, pliable, and shiny. Choose a silky option (like this Davines number) to slather on at the last step of your skin care routine, or feel free to combine a few nourishing carrier oils to create your own DIY beard oil at home. "My recommendations are jojoba oil, grapeseed oil, and argan oil," says barber Mitsuru Aota of THE BARBER.
For the recipe, add 3 tablespoons of jojoba oil, 2 tablespoons of grapeseed oil, and 2 tablespoons of argan oil into a glass jar and mix until well combined. Keep closed tightly in a cool, dry place. (Find the full instructions here, which includes a scented option as well.)
Show your appreciation for Dad this year by pairing his beauty gift with a handful of grooming tips. Teach a man to fish, as they say...