The 9 Best At-Home Exercise Bikes Of 2023 To Get Your Sweat In From Home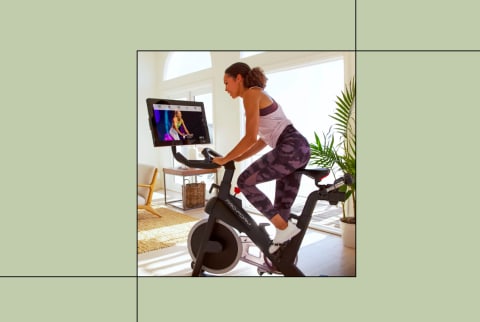 May 19, 2023
We carefully vet all products and services featured on mindbodygreen using our
commerce guidelines.
Our selections are never influenced by the commissions earned from our links.
A quick look at the best exercise bikes of 2023:
From improved cardiovascular health and cognitive function1 to a refreshing boost of endorphins2, biking has a ton of physical, mental, and emotional benefits. The best at-home exercise bikes offer a convenient way to reap these benefits without ever leaving your home—no fitness studio required.
At-home workout equipment is typically not cheap, so we've found the best exercise bikes to fit many different budgets, which means there are a wide variety of features, add-ons, and accessories to consider. Some bikes come equipped with dumbbells, exercise mats, water bottle holders, and mounts, and ports for your tablet or phone. Many have companion apps with access to live or on-demand classes, and a few even have the ability to connect with additional fitness and health apps via Bluetooth.
Here are the best indoor exercise bikes to help you achieve all the benefits of cycling without having to leave your home.
Our picks for the best exercise bikes of 2023:
Advertisement
This ad is displayed using third party content and we do not control its accessibility features.
Advertisement
This ad is displayed using third party content and we do not control its accessibility features.
Advertisement
This ad is displayed using third party content and we do not control its accessibility features.
Advertisement
This ad is displayed using third party content and we do not control its accessibility features.
Comparing the best at-home exercise bikes
How we picked:
Reviews
Positive customer feedback helped us determine which bikes were worth considering and which ones weren't.
Price
At-home bikes are notoriously expensive, which is why this list ranges from affordable to splurge-worthy picks.
Resistance settings
Resistance is what makes indoor cycling so hard. How you add or remove the resistance can make or break whether you like a bike. Some bikes even adjust the resistance on their own without you having to touch a thing.
Tech capabilities
When purchasing an exercise bike, tracking and tech capabilities are among the most important features to consider (if you're prepared to spend a little more). We considered the type of stats that each of these bikes tracks, such as heart rate, resistance, distance, output, etc.
How to choose the right exercise bike
With so many at-home exercise bikes to choose from, it can be tricky to narrow down your decision. In addition to the upfront cost of each bike, these are a few additional factors to consider:
Included tech: "If you are someone who loves to see numbers and track your performance, you will want to look for a bike with a performance monitor," says Stevie Vladic, cycling instructor with CycleBar XPRO for Xponential+. "Different bikes track different stats, like mileage, output of power, how much resistance you have on, etc."
Added subscription costs: While some bikes require a subscription to use the digital content on their display, there are also plenty of online cycling classes to choose from. Consider whether you'd prefer to have your classes all under one roof (e.g., Peloton All-Access subscription with a Peloton Bike) or if you're just as happy streaming YouTube classes from your phone or tablet while you ride.
Cleats vs. cages: Riding with indoor cycling shoes clipped into your bike's pedals can make for a more seamless, efficient ride. However, some people prefer to slide their tennis shoes into cages attached to the pedals, especially if you're hoping to do bootcamp style workouts that involve getting on and off your bike. There's no one right way to ride, so consider whether the bike you're interested in is compatible with the types of pedals you prefer.
Your space: Another consideration, according to NASM-CPT, cycling instructor, and certified group fitness instructor Susane Pata, is the space you will dedicate to your bike. "It doesn't even have to be an expensive renovation of space—just a mental acknowledgment that this sacred space is where the work and fitness gains happen," she explains. "If you have a space dedicated to this mentality where there is a certain activity that is going to happen, you are less likely to skimp out and more likely to be consistent with workouts that really count." You'll also want to make sure to set up your bike on top of a pad if you're worried about scuffing your floors.
Why this matters for your longevity
Indoor cycling is a low impact form of cardio fitness, making it particularly helpful for people who find running or aerobic exercise painful. Recumbent bikes are a great option for those who want to avoid stress on their joints.
These days, there's no shortage of brands who have gamified cycling workouts for a more fun, interactive experience. Even if you typically dread cardio, you might just find a cycling class you enjoy!
FAQ
Which exercise bike is most like a real bike?

Because stationary bikes are, well, stationary, it can be hard to simulate the feel of a real bike at home (unless, of course, you've attached your road bike to a trainer). The closest on our list is the ICG Indoor Cycle 7, as it offers a super smooth ride and the handlebars and saddle can be adjusted to resemble the shape of a road bike. But most high-tech at-home bikes (like Peloton and NordicTrack) also offer virtual outdoor scenic rides that can mimic the experience riding on the road.
Is an exercise bike better than a treadmill?

Both exercise bikes and treadmills offer a stationary form of cardio exercise. Whether one is better than the other will depend on a few factors, such as your preferred workout method and your body's response to impact. Stationary bikes provide a lower impact workout than treadmills, so they may be a better choice for anyone who is just getting started with cardio or those recovering from an injury. But, at the end of the day, the right form of cardio exercise is the one you enjoy!
Can you lose weight just by riding a stationary bike?

Cardio from a stationary bike is certainly an effective tool for weight loss, especially when incorporated into a more robust exercise routine. However, if weight loss is your goal, cardio is only one piece of the puzzle. A healthy diet, building strength, and prioritizing recovery are also key.
The takeaway.
While an at-home exercise bike is a large investment, it is a great way to stay in shape and stay mentally healthy. Having a bike in your home can be highly motivating, and it can save you time and money in the long run. And with many of these companies offering classes beyond just cycling, an at-home exercise bike can be like having a full-on gym membership in your own home—especially if you add on a compact treadmill.