The 7 Best Compact Treadmills Of 2023 To Make The Most Of Your Tiny Workout Space
mbg Deputy Commerce Editor
By Braelyn Wood
mbg Deputy Commerce Editor
Braelyn Wood is the Deputy Commerce Editor at mindbodygreen. She has a B.S. in journalism from Northwestern University, along with a certificate in marketing.

Expert review by
BB Arrington, CPT
Personal trainer & holistic nutritionist
BB Arrington is NASM-certified personal trainer, holistic nutritionist, and sustainability advocate.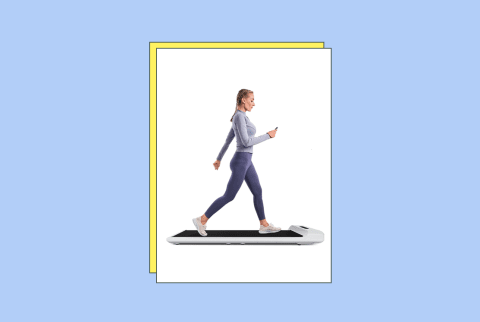 Last updated on March 6, 2023
Our editors have independently chosen the products listed on this page. If you purchase something mentioned in this article, we may
earn a small commission
.
When your guest room doubles as a home gym, finding a cardio machine with a small footprint is key to maximizing the space—and the best compact treadmills are one of the most practical options available.
Designed to fold in half or be stored under furniture, a compact treadmill offers a less bulky alternative to traditional options. Typically smaller than 24 inches wide and 72 inches long, these sleek machines can transform any space into an instant running (or walking) track.
The best compact treadmills of 2023:
The benefits of a compact treadmill.
When a compact treadmill is integrated into your everyday routine, it's possible for you to transform a sedentary activity—like working or watching TV—into one filled with movement. After all, the Physical Activity Guidelines for Americans recommend the average adult should get at least 150 to 300 minutes of physical activity per week.
Better yet, the small footprint makes storage a breeze. Most designs are slim enough to slip under a couch or bed when not in use. Otherwise, these compact treadmills easily fold in half for flat storage against the wall, which allows you to free up important floor space. Luckily, each design boasts its own unique features that makes it worth the investment, whether you prefer to walk or run.
Who should use a compact treadmill?
Most compact treadmills are (of course) smaller (which, again, comes with plenty of benefits). Compact treadmills are perfect for anyone who wants to stay active throughout the day but lives in a smaller space. People who work from home or spend much of the day at home will particularly enjoy having a compact treadmill in their space, as it allows you to incorporate movement into activities that would typically keep you sedentary.
That said, there are a few drawbacks of these smaller machines, depending on your intended use-case. If you're in the market for a treadmill for running, a compact treadmill will (most likely) not be the best option. Instead, compact treadmills are a great investment for people who love to walk—which has its own set of benefits that are certainly worth your attention.
The benefits of walking vs. running:
On that note, let's take a moment to distinguish the benefits of walking vs. running. The two activities have many things in common: both are great for cardiovascular health1 and overall longevity, and can help lower inflammation2, improve metabolic health3, and reduce your risk of developing cardiovascular disease4.
While running can indeed be a quick way to burn a significant amount of calories, walking is lower impact (in other words: easier on your joints) while still strengthening your bone health5. And the list of mental health benefits goes on and on. Walking can boost your mood6, improve cognitive function7, reduce blood pressure8, and help you sleep better9. It's a great activity in itself, but an excellent form of active recovery, too. Certified personal trainer, Bethany Welch, previously told mindbodygreen, "There are so many benefits of walking. It's an amazing low-impact workout that's free and accessible to most people. Walking is perfect for those with injuries who shouldn't have high-impact stress on their body."
How much do compact treadmills cost?
You'll find a wide range of costs on our list of the best compact treadmills. We've included a budget option for $340 and a couple investment-worthy picks up to $1,900.
How we picked:
Smaller treadmills tend to have lower speed settings, but we focused on options that still let you hit a runner's pace (if not a full out sprint). When the max miles per hour was low, we called it out in the cons.
Positive customer feedback helped us vet which treadmills were worth considering—and which products shouldn't make the cut. We also considered designs with fewer reviews if they offered innovative features.
Just because a treadmill is small doesn't mean it should skip the good stuff. We sought options that offered incline for an optional boost in intensity. Otherwise, we ensured they were small enough for under-the-bed storage.
Exercise equipment is one arena we consider worth splurging on, but it's more important to feel comfortable with your purchase. Our picks offer the most bang for your buck, whether budget or high-end choices.
Our picks for the best compact treadmills of 2023:
Advertisement
This ad is displayed using third party content and we do not control its accessibility features.
Advertisement
This ad is displayed using third party content and we do not control its accessibility features.
Advertisement
This ad is displayed using third party content and we do not control its accessibility features.
How to choose:
Still not sure which compact treadmill is best for you? Consider the below factors:
Space: If you're searching for the best compact treadmill, chances are you're trying to make the most of your space. Consider where you will put the treadmill and whether you plan to leave it out or store it. Keep this in mind when looking at the dimensions of each product.
Setup: Most compact treadmills are extremely easy to setup, but it's something you'll want to take note of when making your choice. Every option on our list requires minimal setup and can be used right away.
Weight capacity: One downside of compact treadmills is they tend to have a lower weight capacity than more durable models. We've noted these details on our list, so you can choose one you know will support you.
Cost: Compact treadmills come at a range of prices. To narrow your search, determine the budget you are comfortable with. We've included a variety of options on our list.
Use-case: While most compact treadmills have a lower maximum speed and are meant primarily for walking, there are a few on our list that support running speeds. Additionally, some have incline capabilities. Think about your use-case and choose a model that aligns.
FAQ:
Are folding treadmills worth it?

If you have limited space but still want to get moving, a folding treadmill could be perfect for you. The compact designs take up less space and easily fold up to give back crucial square footage. Just remember a folding design may come with fewer bells and whistles, including lower max speeds and no incline (or at least super reduced levels).
Which treadmill has the smallest footprint?

The Walking Pad is one of the most compact options on our list at just under 42 x 17 inches. It also folds in half to take up even less space.
What is the best 2-in-1 folding treadmill?

Both the GoPlus 2-in-1 and Urevo 2-in1 treadmills made our list; the 2-in-1 designs double as both waking treadmills with optional running speeds. Just note they cap out around 8 miles per hour.
Can you run on small treadmills?

A few factors will impact how easily you can run on a small treadmill. The length of your stride and you max speed will impact whether or not you're able to maximize your workout on a smaller design. However, folding options, like the Echelon Stride, allow a mid-way between top-of-the-line designs and compact ones; it folds up to use minimal space, but it hits max speeds of 12 mph and 12 incline levels.
What we've updated since publishing:
2/10/23: This article was reviewed by certified personal trainer, BB Arrington. We also updated each product to include whether there are decline capabilities and added the product weight.
3/7/23: We updated this guide by adding insights on how to choose a compact treadmill, who should use a compact treadmill (and who shouldn't), the benefits of walking vs. running, how much compact treadmills cost, and how large compact treadmills are. We also added information on each product's warranty and belt length, to help guide your search.
The takeaway.
A compact treadmill is a great investment for making the most of your at-home gym space without dedicating half the room to a bulky piece of cardio equipment. Whether you want to transform your work-from-home setup with an under-the-desk treadmill or simply need a folding option that tucks away into the corner of the room, these customer-loved picks are a phenomenal way to actually walk 10,000 steps a day. Just don't forget to put on your best pair of supportive sneakers.
Meet The Experts
Braelyn Wood
is the Deputy Commerce Editor at mindbodygreen. She has a B.S. in journalism from Northwestern University, along with a certificate in marketing.
BB Arrington is NASM-certified personal trainer, holistic nutritionist, and sustainability advocate.