Close Banner
Advertisement
This ad is displayed using third party content and we do not control its accessibility features.
Is The WalkingPad Worth The Hype? Here's What A Marathoner Says


Expert review by
BB Arrington, CPT
Personal trainer & holistic nutritionist
BB Arrington is NASM-certified personal trainer, holistic nutritionist, and sustainability advocate.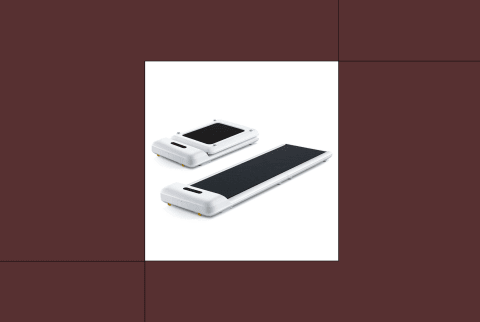 We carefully vet all products and services featured on mindbodygreen using our
commerce guidelines.
Our selections are never influenced by the commissions earned from our links.
In my ideal world, every morning would start with a long stroll outside. I'd take frequent walk breaks throughout the day, and I'd never struggle to hit my daily step goal. While these used to feel like lofty ambitions, I recently found a way to make it happen. Sure, I'm not getting quite as much fresh air as I'd like to—but ever since I caved and added the viral WalkingPad to my WFH space, I've noticed a huge difference in my day. My mood is better, my days are more productive, and my Oura ring has stopped yelling at me to "stretch my legs for a bit" (IYKYK).
The compact treadmill fits seamlessly under my desk, with a belt that's so smooth, I tend to forget I'm actually exercising. It's helped me stay active throughout the workday, and I no longer feel stagnant or unmotivated while working from home. Sounds like a dream come true, right? Better yet, it's currently $100 off. Here's why I recommend the WalkingPad C2 to everyone on the search for an under-the-desk treadmill.
What is a WalkingPad?
Like the name suggests, the WalkingPad is designed primarily for walking. The C2 model maxes out at 3.72 miles per hour, which is fast enough for a brisk, heart-pumping walk (at least for me).
Size is a huge selling point for the WalkingPad C2, especially for people, like myself, who live in small spaces. Unfolded, the WalkingPad measures in at about 57 by 21 by 5 inches. That's already quite small compared to a full-size treadmill, but the real game changer is that the device folds in half. Once folded, it's only 33 by 21 by 5 inches, which is thin and compact enough to slide under most couches.
One callout worth mentioning is that while the WalkingPad C2 does have convenient built-in wheels, the machine itself is quite heavy at 62 pounds. The wheels only work to push it forward or backward—rather than side-to-side—so maneuvering it into storage and back into its place can be a bit of a pain. Personally, I keep mine on display most of the time; this keeps me motivated to use it more often and I don't have to deal with moving it around.
The WalkingPad comes with a remote control to adjust the speed, and the pad itself has a small digital display screen that shows time, speed, distance, calories, and steps. You can also view these metrics within the brand's app, which you'll need to use to start the machine. The upside is this app also tracks your workout history, if you're not a fan of wearable devices. I've found that the app is a bit glitchy, but it gets the job done.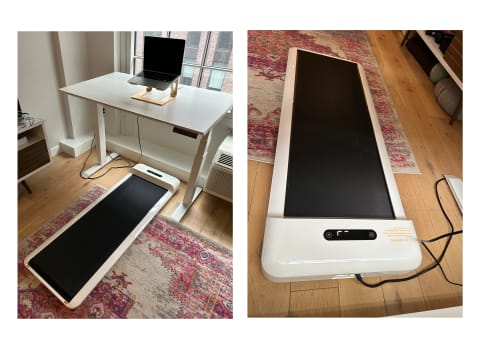 Image by Carleigh Ferrante / mbg creative
Why I finally bought the WalkingPad
I used to sneak out for brief 15-minute walks once or twice per day, but I'd always be stressed about what work messages I might be missing or the amount of time I was losing from my workday. And even with these quick walk breaks, I'd still end the day feeling like I barely moved.
I try not to be too obsessive about my fitness tracker activity scores, but it was hard to ignore the burnt-out feeling I'd have after a day full of sitting. Even when I invested in a standing desk, I still felt stagnant at the end of each workday.
All that considered, when the WalkingPad started taking over my TikTok and Instagram feed, the seed was officially planted. I spent months waffling over the purchase before finally deciding to take the plunge. And honestly, I would have bought it way sooner had I known what a difference it would make.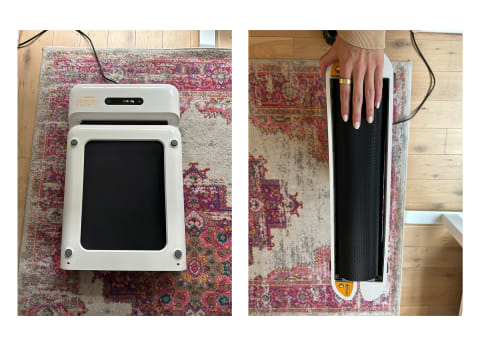 Image by Carleigh Ferrante / mbg creative
How the WalkingPad fits into my day-to-day
The true beauty of the WalkingPad is that it allows you to add movement to your day without interrupting your typical routine. Since adding the device to my home office (aka my living room), I've actually been getting even more work done while increasing my step count exponentially.
Before trying it out, I was skeptical of my ability to type and read while walking on the pad. But, as it turns out, walking doesn't interrupt my workflow at all. In fact, the first time I used the WalkingPad, I stayed on it for nearly two hours without even realizing how long it had been.
Now, I'll typically kick off my workday with about an hour on the WalkingPad while I go through emails and map out my to-do list for the day. I generally use a speed between 2 and 3 miles per hour, depending on how quick I want the pace to be.
That initial hour of walking equates to about 2 miles, or 3,300 steps, and I tend to add shorter 30-minute spurts throughout the day if I want a bit more movement.
While I have the WalkingPad set up right under my standing desk on top of my area rug, it can definitely be used on top of the hardwood floor. Despite the location on top of the rug, I never feel unstable on the belt. You can feel the stability of the high-density fiber running board under the anti-ski and antistatic walking belt. I've run and walked on my fair share of treadmills, and this one really is comfortable to use. Plus, the wear-resistant layer ensures this treadmill will be around for years to come.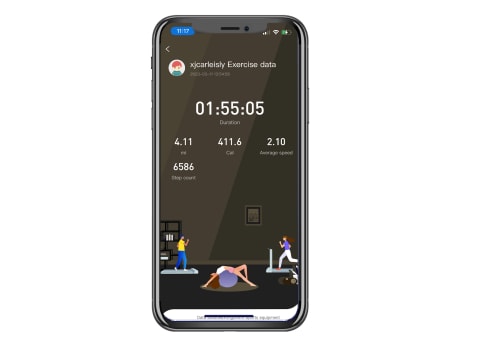 Image by Carleigh Ferrante / mbg creative
A few things I'd change
There's not much I'd change about the WalkingPad. That said, I do review products for a living—so you can always count on me to find at least a couple of things that could be done better. For one, the WalkingPad is a bit loud at 65 decibels or about the sound of a dishwasher. It doesn't bother me, but if I shared a workspace with my partner, I could see how the noise might be disruptive to someone else's productivity.
One more thing that's worth noting: If you don't want your co-workers to know you're on a WalkingPad, don't use it during a video call. My team noticed I was using it within minutes—and while my co-workers at mindbodygreen are all for any activity that improves your physical and mental well-being, others may find it distracting while on a work call.
More WalkingPad models to consider
The WalkingPad X21 ($1,099) is a great option for people who want the option to run, as it supports speeds up to 7.5 miles per hour. This model has a detachable phone holder and an operation panel on the removable handrail.
The WalkingPad C1 ($499) is the brand's lightest model, weighing in at 55 pounds. The C1 has a very similar design to the C2 but is 15 pounds lighter and does not have the same four-layer belt. Both have a 220-pound weight capacity and both fold in half.
The WalkingPad R2 ($899) is a manual treadmill, designed for walking or running. To run on this model, keep the handrail up and simply start running to get the belt going. With the handrails down, you can slide the device under your standing desk and use it as a standard walking pad.
The takeaway
Sure, when the weather's nice I still long to be outside—but being able to stay active while inside my apartment is the next best thing. I used to end the workday feeling lethargic, drained, and stir-crazy. Now, my mood is significantly better, I feel way more energized, and I'm not sacrificing my productivity. If I wrap up work and want to get outside for some fresh air, great. If not, I can hit the couch with a book and not have to question whether or not I got my steps in. My only regret? Not caving to the WalkingPad trend sooner. Save $100 when you order today during the brand's flash sale.

Carleigh Ferrante
mbg Commerce Editor
Carleigh Ferrante is the Commerce Editor at mindbodygreen. She is a certified Health & Nutrition Coach and a born and raised New Yorker with a B.A. in Creative Writing and Psychology. Her work has appeared in Bustle, The Zoe Report, PureWow, The Everygirl, and more, covering topics such as fitness, travel, home, fashion, beauty, and dating, sex, and relationships. When she's not testing and reviewing products and services, you can find Carleigh training for her next World Major marathon, planning her next vacation, or interviewing experts on her dating podcast, Mostly Balanced.