The 9 Best Fitness Trackers To Bring More Intention To Your Workouts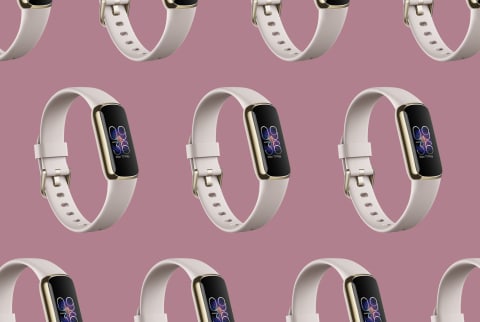 January 20, 2023
We carefully vet all products and services featured on mindbodygreen using our
commerce guidelines.
Our selections are never influenced by the commissions earned from our links.
Data can play a huge role in how well you understand your body, whether you're tracking your sleep or gaining intel on your heart rate variability. And when you're ready to maximize your workout routine, the best fitness trackers offer invaluable metrics that ensure your movement stays mindful—which can mean tracking the intensity of your workout or leaning into recovery.
Below, find our picks for the best fitness trackers of 2022. Plus, experts tell us how these wearable devices can improve your health and well-being, with tips on what to look for when selecting one for yourself.
The best fitness trackers:
The best fitness trackers:
Best with heart rate monitor
The benefits of using a fitness tracker.
The benefits of adding a fitness tracker to your routine ultimately depends on a number of factors, such as the regularity of use, the long-term intention, and the type of activities logged. Some devices are fairly simple with only a few metrics shown, while others offer extensive detail. What really matters is how you use that information.
For example, step count is one of the most common metrics included on fitness trackers, and it's also the favorite of ACE-certified personal trainer Sonia Hare.
"Most of us are way too sedentary, and our bodies are made to walk," explains Hare, who founded The Sonia Series. "A fitness tracker is a great way to accurately track your step count without having to think about it."
Of course, the more data you have access to from a fitness tracker, the better your insights will be for linking your behaviors and overall well-being. According to Peter Athans, a certified strength and conditioning specialist and director of coach development at Noom, fitness trackers with more metrics ultimately "take the guesswork out" of figuring out why you may have struggled during a workout or feel tired despite getting eight hours of sleep.
Plus, most wearable devices don't limit tracking to just your hours in the gym. Many continuously monitor your body to ensure it's recovering, especially after a tough sweat session. While these recovery tracking features can be more complex—like heart rate variability—they can also be as simple as tracking your sleep. After all, "sleep is the foundation upon which all recovery is built," per Athans.
Who shouldn't use a fitness tracker.
Although fitness trackers offer a ton of benefits, they're not for everyone. Below, find a few key considerations to take before choosing one for yourself.
Accuracy of certain metrics: Hare brings up the issue of accuracy regarding certain metrics, specifying that these devices are not always the most accurate at estimating calories burned during a workout. "For example, if you're doing a drop lunge with 30 pounds versus doing body-weight drop lunges, your fitness tracker is going to log the same amount of calories burned because it's reading it as the same amount of movement. However, the drop lunges done with heavy weights are going to have a much greater impact on your metabolic rate and continue to burn calories after the workout is done because the muscles will need to recover."
Some fitness trackers do adjust these metrics based on the type of workout you're doing (i.e., light, medium, or heavy strength training), but it's important to realize that this number is not going to be completely accurate. If you want a more accurate measurement of how your body burns calories with specific exercises, you're better off speaking with a certified trainer or medical professional rather than relying solely on a fitness tracker.
The specific activities you're performing: On a similar note, many fitness trackers don't measure a wide variety of activities. For example, if you're a swimmer, you'll likely want something with capabilities specific to your sport rather than just a waterproof device. Depending on the type of wearable and the activity you're performing, safety is a consideration as well. For a sport like boxing, wearing a device on your wrist or your finger could be more intrusive than beneficial.
How measurable your goals are: Some goals are not easily measurable by a tracker. For example, our testers had some devices alert them to move after sitting for long periods during mat-based Pilates or stretch classes.
Potential obsessive behavior: "The other issue with fitness trackers is that some people can get a little obsessive with tracking their statistics, and those numbers don't show us the whole picture of your health," Hare warns. People who have struggled with overexercise or an obsession with healthy eating might find that a fitness tracker encourages these behaviors. Athans adds that an over-reliance on these devices can "take us away from our intuition."
Physical disabilities or existing health conditions: Most fitness trackers are unfortunately not designed with physical disabilities or health conditions in mind. If you have an existing condition, it's best to speak with your doctor before deciding to invest in a fitness tracker.
Consistency is essential: If you aren't going to be consistent with your tracker, there isn't much of a point in purchasing one. These devices are designed to fit seamlessly into our routines, but if it's only going to sit on your dresser, it's just about as useful as paying for a monthly gym membership without actually going to the gym.
How to use your fitness tracker.
Each device is unique, with different features and considerations, but they all have the same general goal: to fit seamlessly into your day-to-day life and help improve your overall well-being. Most of the fitness trackers on our list are worn around the wrist, while others (the Oura ring) are designed for your finger. Some, like the Polar Ignite 3, are also compatible with chest straps for more extensive data and better HRV monitoring. The right one for you depends on a number of factors, which we'll get into soon.
Once you've landed on a fitness tracker, take time to read through the instructions and familiarize yourself with the device's capabilities. Many brands also offer a ton of helpful information on their websites.
At the end of the day, the best way to use your fitness tracker is to use it consistently. "It's good to wear these devices for as long as it takes for you to gain some insight into patterns of behavior or until you gain an awareness for how you're responding to the activities and choices you make regularly over time," Athans advises. "At the start of tracking with these devices, it's wise to wear them as much as possible, because the data can begin to tell a story about your lifestyle."
How we picked:
Brand reliability
These devices offer a ton of information, which requires top-notch technology. We researched each brand, focusing on those that are known for reliable data and quality designs.
Features
We found fitness trackers for all different activities, to fit a variety of lifestyles and fitness levels. We'll call out the key features and capabilities of each device.
Price
In most cases, these are devices you'll wear all day every day, so they typically come at a higher price point. We aimed to provide options that fit a range of budgets.
Expert advice
We spoke with trainers, coaches, and fitness experts to determine what to look for in a fitness tracker, keeping their advice in mind while researching, testing, and selecting these products.
Our picks for the best fitness trackers of 2022:
Best band: Whoop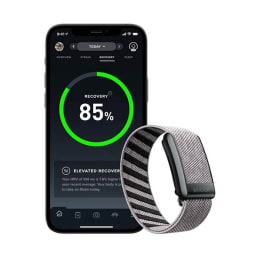 Pros:
Can be worn multiple ways
Lightweight & comfortable
In-app journal
Cons:
Must use app to view any metrics (no screen)
Doesn't track steps
Warranty:
1-year limited warranty
Battery life:
4 to 5 days
Waterproof:
Up to 10 meters
Whoop is a great pick for any fitness level—and your wearing options aren't limited to your wrist thanks to theWhoop Body accessories. The faceless band is comfortable and breathable, almost enough that you'll forget you're wearing it (well, until someone compliments the sleek design). Sensors in the band track data 24/7, sending it to a smart phone compatible app that breaks down the information into helpful insights.
Along with general overviews on your workouts, sleep, and recovery, the app gives dives into exact metrics, like skin temperature, blood oxygen levels, resting heart rate, and heart rate variability. This data can then be combined with an in-app journal to better understand the link between your body and more than 100 daily habits—such as caffeine intake, stress levels, and CBD usage.
Whoop's other unique feature is its subscription model. Instead of purchasing the device, you pay $30 each month to access the app—which could be a plus or minus depending on how long you plan to use the Whoop.
One complaint from testers (aside from the high monthly cost) is that the app can be a bit slow to refresh data. Another thing to keep in mind is that this fitness tracker does *not* track your steps. Instead, it tracks the total strain your body takes on throughout the day and provides a score based on this info. The brand's reasoning is that not all activity is created equal, similar to Hare's earlier explanation.
What our testers say:
"I wore the WHOOP 3.0 for about a year. I loved the intuitive platform and how much data there was to peruse every day. It also just looks cool and is really comfortable to wear. One thing that got in my way, though, was the psychological factor of the Strain and Recovery scores. I didn't love the few days that my mental state (I'm ready to work out!) didn't match what the app was telling me (you actually need to recover). I also don't love sleeping in wearable devices, which is key for getting the most accurate, robust data about your recovery. That being said, I love that the 4.0 is 33% smaller than the last model I wore—which was already pretty sleek!" — Jamey Powell, contributing writer
Best for sleep: Oura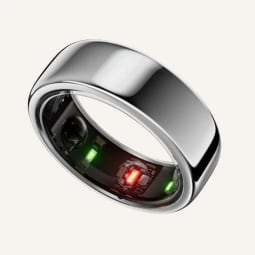 Pros:
Comfortable for 24/7 wear
Waterproof
Excellent sleep & recovery metrics
Cons:
Membership required to view data ($6 per month)
Not a ton of options for activity tracking
Warranty:
1-year limited warranty
Battery life:
Up to 7 days
Waterproof:
Water resistant up to 100 meters
A sleep tracker that stands out among the rest, the Oura ring packs a huge punch for a small device. While it doesn't excel at tracking physical activity like some of the other options on our list, it provides some of the best insights into your recovery, which is an equally vital part of your fitness routine.
Oura's sleep score measures your total sleep, time in bed, sleep efficiency, resting heart rate, and restfulness. It also outlines the amount of deep sleep, light sleep, and REM sleep you get each night, along with how long it took you to fall asleep. The data is all sent to a smart phone compatible app, which provides detailed information on each of these measurements, along with tips on how to improve your scores.
As if that's not impressive enough, the Oura ring showed accuracy levels of up to 92.6% when compared to a polysomnography (PSG) test, a comprehensive medical test used to diagnose sleep disorders. It's also trusted by one of our experts; Athans loves this option and the stellar sleep algorithm. "Its 'readiness' score (aggregated data) really helps make sense of a night's sleep and enables the wearer to make informed training decisions," he says.
The Oura ring also tracks your body temperature, with some standout features in regard to menstrual cycle monitoring. Plus, it will alert you if your data indicates that you might be getting sick—in which case, you might consider a rest day to keep your body healthy.
What our testers say:
"Having recently gotten one myself after researching it for years (I told you, I take this seriously), I can speak to the functionality firsthand. Not to mention, I've started getting lots of compliments on the shiny gold ring I'm wearing night and day. I haven't been too wowed by the ring's fitness tracking per se, but the sleep metrics have changed the way I plan my workouts and my rest days—and the daily sleep, recovery, and readiness scores prove the impact. Through the paid app, you can learn a lot about how your body is functioning and how it's recovering." — Carleigh Ferrante, commerce editor.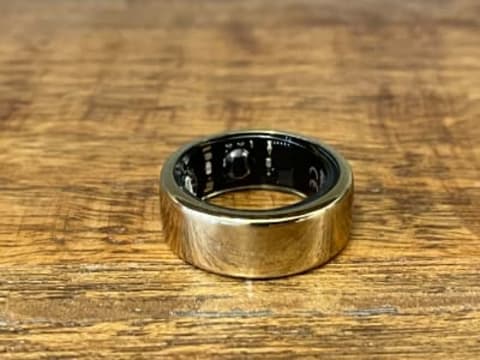 Advertisement
This ad is displayed using third party content and we do not control its accessibility features.
Advertisement
This ad is displayed using third party content and we do not control its accessibility features.
Advertisement
This ad is displayed using third party content and we do not control its accessibility features.
How to choose a fitness tracker.
Device type: Consider how you'd like to wear your fitness tracker. The majority of models are designed for your wrist, but the Oura is worn on your finger, the goggles are worn on your head, and the Whoop can be worn in a number of different ways. Again, you'll get the most impact out of your device the more often you wear it, so you want something you feel comfortable in throughout your daily (and even nightly) activities.
Activity & durability: Depending on the activity you're performing, you'll want to pay close attention to how durable the device is. If you're swimming, it's essential to have something that's waterproof. And although more durable materials tend to come at a higher cost, it's often worth it when you think about how frustrating a cracked or broken screen can be.
Price: You won't get the same capabilities with a budget option like the Halo View as with something like the Fitbit Charge or the Garmin Forerunner. That said, you'll want to get a clear idea of what features are make or break and which you can go without. For beginners, you might be OK with something more bare-bones, but advanced athletes and people who are looking for a bit more data might consider spending a bit more to get it. Keep in mind that many of these do come with an added monthly charge for app access, too.
Intention: Athans recommends continuing to go back to the "why" and thinking about your intention for adding a fitness tracker to your training and recovery routine. "For me, in simple terms, it would be to increase self-awareness so you begin to know yourself better and craft choices and a lifestyle that are serving you and your goals and purpose," he says. Once you have a better understanding of why and how you plan to use the device, it will be easier to narrow down the choices.
FAQ
Which is better, Garmin or Fitbit?

This really depends on what you are looking for in terms of design and functionality. We love the Fitbit app and have heard a few complaints about the Garmin app not being as easy to use. That said, Garmin's devices stand out among the rest when it comes to metrics and features—and there are a ton of different models to choose from, in addition to those included on our list.
Is a fitness tracker worth it?

If you're going to use it, yes. These devices can help encourage you to boost your exercise routine and add more movement to your days. Newer models go the extra mile to focus on sleep and recovery, which is incredibly beneficial for your health and well-being. That said, if it's going to collect dust, it probably isn't worth the cost.
Is a smartwatch better than a fitness tracker?

Both offer great benefits. If you're solely looking for something to track your activity and improve your fitness, you probably don't need to pay the extra money for features like voice texting and calendar reminders—although they can definitely come in handy, especially when you're out for a long run or bike ride.
What is the best fitness watch 2022?

Again, this really depends on what you are looking for. Consider factors such as price, intended use, device type, features, and design to determine which fitness watch is best for you. According to Athans, "Most of them do one thing really well, and other things okay." Meaning, if you want something for sleep specifically, something from a brand that specializes in recovery, like Oura, might be best for you. On the other hand, if you're a runner and want a GPS-enabled device with plenty of on-screen metrics, opt for a watch such as the Garmin Forerunner.
The takeaway.
A great fitness tracker encourages you to get more movement in, helping you approach your exercise routine in a more mindful way. While these devices will never account for every aspect of your health, some provide you with data to optimize your sleep and recovery, too, for a more holistic approach to your overall well-being. To crush your movement goals even while you're working from home, you might consider an under-desk treadmill—and just watch your activity scores go through the roof.