The Best Equipment For Your Home Workouts
Health Writer & Editor
By Kristine Thomason
Health Writer & Editor
Kristine is a writer, editor, and editorial consultant who lives in Long Beach, CA.
Image by megan doty / megan doty
February 15, 2023
We carefully vet all products and services featured on mindbodygreen using our
commerce guidelines.
Our selections are never influenced by the commissions earned from our links.
Gyms and workout studios are incredible places to get stronger, meet knowledgeable trainers, and even discover new types of fitness you love. But if you can't make it to that local class or gym session for any reason, there are countless ways to stay healthy and fit at home. Of course, it helps if you have the right gear on hand to support your goals.
To create a stellar fitness space in your own home, we've curated some of the best home workout equipment, for any budget.
Home workout equipment under $20.
Pilates Ball
A simple Pilates ball can be a very useful tool for your home workouts. Lia Bartha, creator of B The Method, swears by this piece of equipment—she even features it in her workouts for abs, upper body, and lower body.
Mini Exercise Ball, Amazon ($7)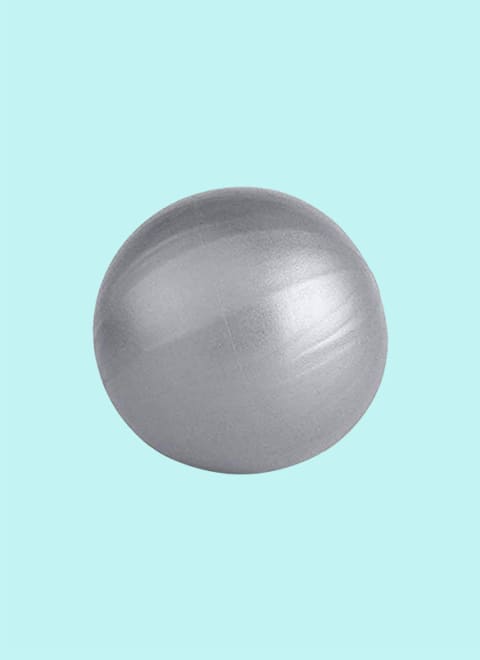 Amazon / Amazon
Resistance Bands
Resistance bands are a fantastic option for home workout equipment or a portable tool to use while traveling. They come in a variety of shapes and sizes, including classic resistance bands with a handle, long elastic bands, and looped mini bands. These looped resistance bands from TheraBand are a favorite among physical therapists, and they're ideal for Pilates, yoga, or strength training.
TheraBand Resistance Band Loop Set, Amazon ($15)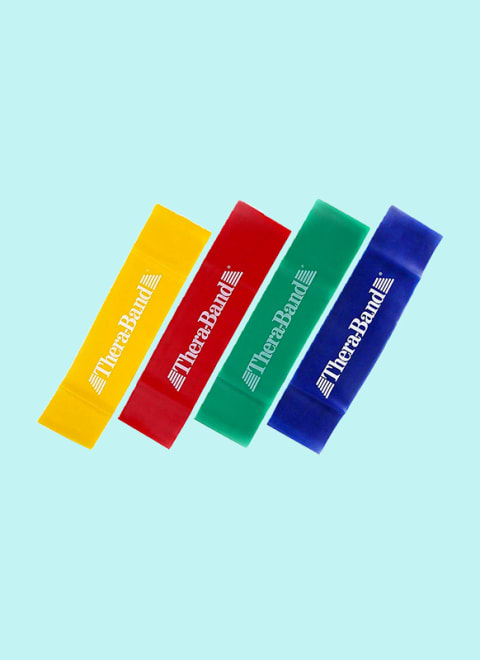 Amazon / Amazon
Dumbbells
Add some resistance to your workouts with a pair of dumbbells. These neoprene weights come in a variety of sizes, so you can choose one, or a few, that will challenge your body to get stronger. (Hint: You'll probably want to go heavier for lower-body workouts, and lighter for upper body.)
4-lb. Dumbbell Pair, Amazon ($17)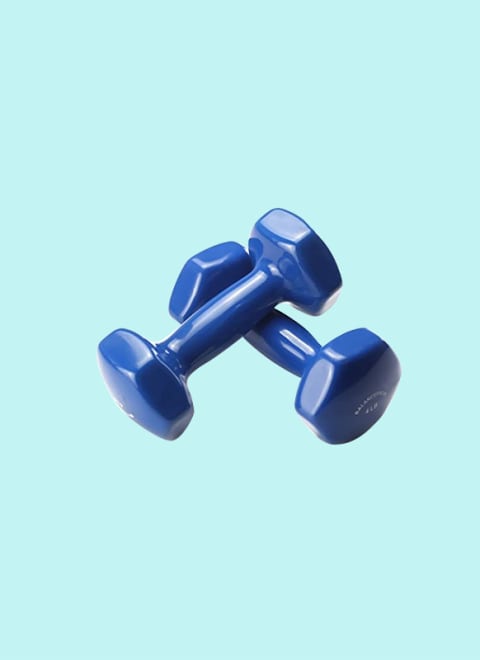 Amazon / Amazon
Yoga Strap
Perfect for stretching or assisting with your practice, a yoga strap is a great addition to any home workout collection. This lovely option from FP Movement features a vibrant, graphic pattern that will add some extra pizzazz to your exercises.
Yoga Strap, Free People ($18)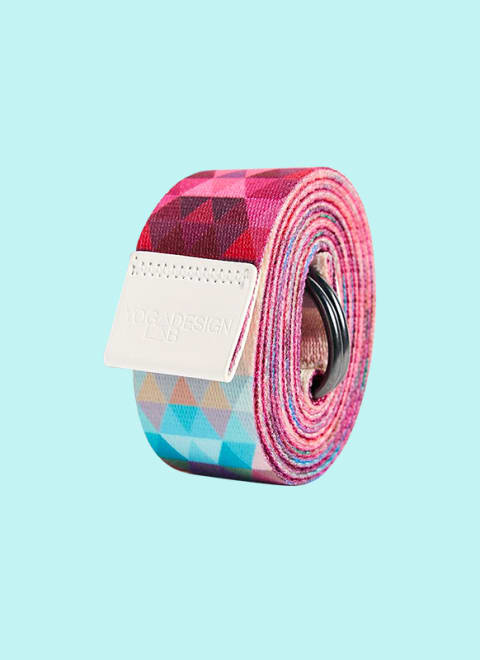 Free People / Free People
Jump Rope
To get a cardio workout at home, a jump rope can be a great tool to rev your heart rate. This one is tangle-free and has comfortable handles, making it perfect for your fitness needs.
Fitness Jump Rope, Amazon ($18)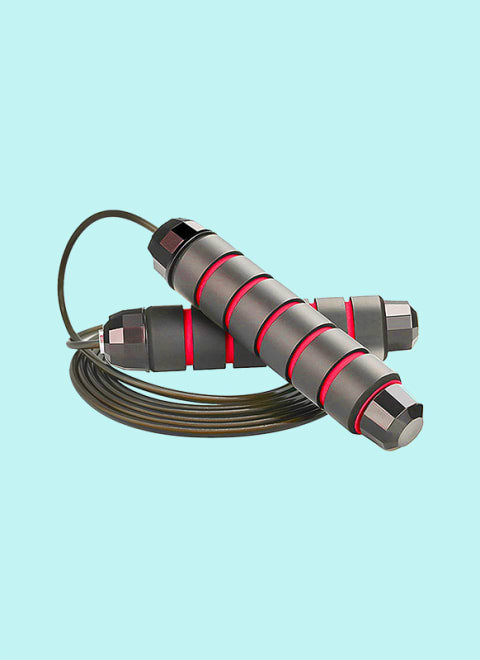 Amazon / Amazon
Home workout equipment under $50.
Yoga Block
Every yogi can benefit from a yoga block (or two) for an at-home flow. Yoga Hustle makes patterned blocks that are pretty enough to display anywhere in your home.
Yoga Block, Yoga Hustle ($24)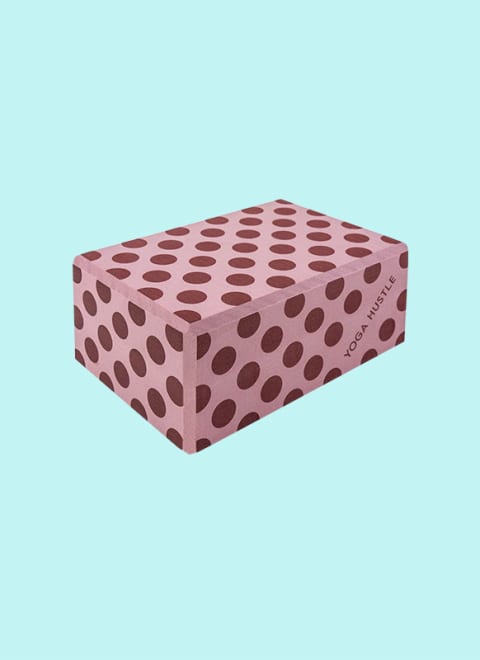 yoga hustle / yoga hustle
Sliders
Simple sliders may not look like much, but they can add a serious burn to your workouts. Like resistance bands, these little discs are also an ideal tool to take with you while traveling. These mint-colored sliders from p.volve are a great addition to your home workouts (check out their other fitness equipment, too).
Sliders, p.volve.com ($29)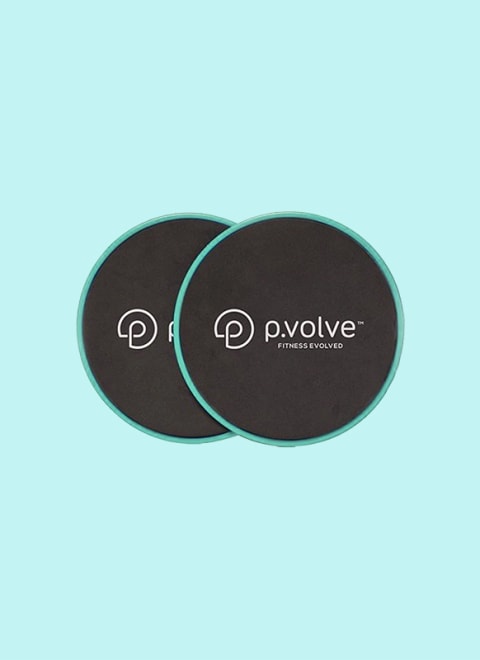 p.volve / p.volve
Wearable Weights
One easy way to add a little extra challenge to your home bodyweight workout is via weights you can wear around your ankles or wrists. These bala bangles come in a number of colors and two size offerings—they almost feel like sporty jewelry.
Bala Bangles Wearable Weights, Bala ($49)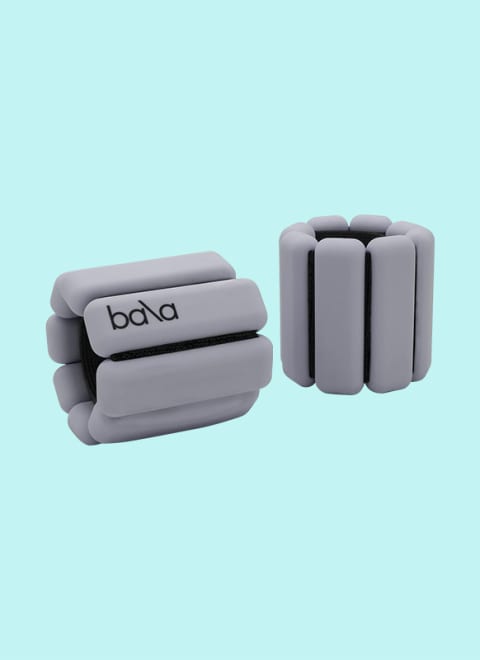 bala / bala
Home workout equipment over $50.
Yoga Mat
Whether you're flowing through a yoga sequence or cranking out a core workout, a yoga mat is an essential piece of gear to have in your home. This Lululemon mat offers ample support between your body and the floor. Plus, it's reversible—so you're basically getting two mats in one.
The Reversible Mat 5 mm, Lululemon ($68)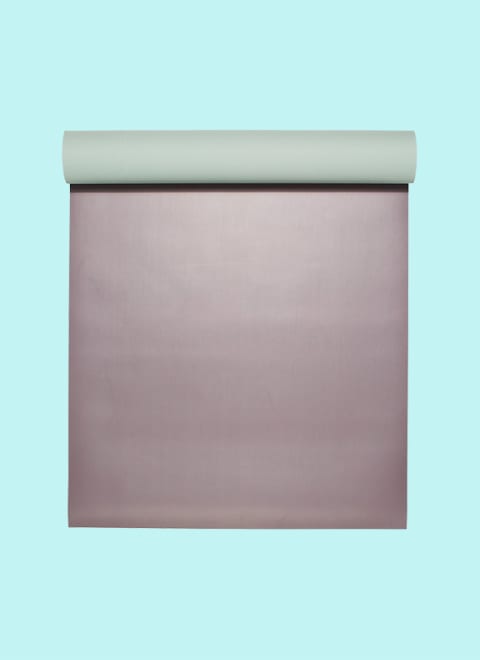 Lululemon / Lululemon
Suspension Trainer
Suspension trainers are a fantastic total-body workout tool—ideal for any fitness level or ability. The TRX system, in particular, is like having an entire gym in your home. It uses your body weight and gravity to help improve your strength, mobility, flexibility, and core stability. All you need is a place to anchor it (think your doorway) and you're good to go.
TRX Go Suspension Training, Amazon ($129)
TRX / TRX
Recovery Tool
Having a number of recovery tools in your home workout equipment collection is arguably as important as any resistance gear. This compact version of the classic Theragun—a percussive therapy device—is ideal for home or travel, when you want to show your muscles a little extra love.
Theragun mini, Theragun ($199)
Theragun / Theragun
Kettlebell
The kettlebell is a classic piece of workout equipment and makes a great addition to any home gym. You can go for singular-size kettlebells, or try this model from JaxJox, which can adjust the weight from 12 to 42 pounds with just the touch of a button.
Kettlebell Connect, JaxJox ($229)
Jaxjox / Jaxjox
Mini Trampoline
Trampolines aren't just for kids. Mini trampolines are having a comeback in the fitness world, and for good reason. They can help rev your heart rate, build strength, and improve coordination. Plus, this one folds away for easy storage.
Mini Fitness Trampoline, Amazon ($521)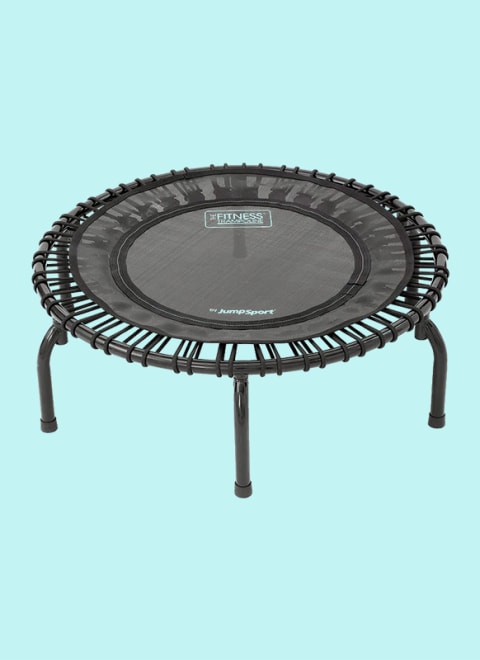 Trampoline / Trampoline
At-Home Gym Unit
There are a number of amazing all-in-one home gym stations available these days, including Mirror, Tonal, and Forme. Another one that just hit the market is Tempo, an A.I. home fitness system that leads you through workouts and even corrects your form in real time to help improve your performance. Plus, it's aesthetically pleasing enough to display in your living room.
Tempo, Tempo Fit ($1,995)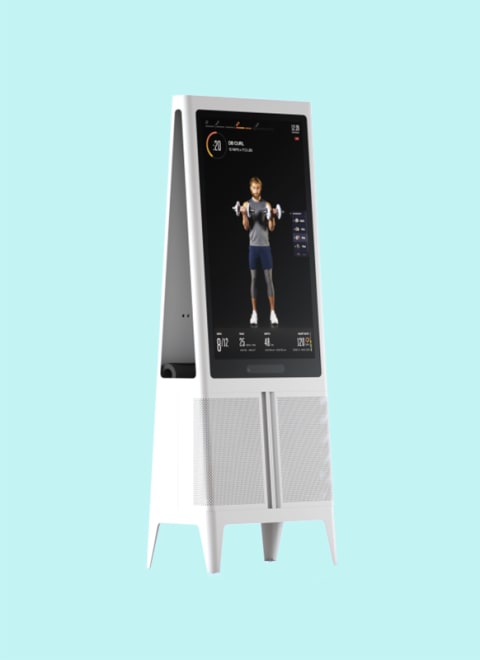 Tempo / Tempo
Rowing Machine
Rowing is a fantastic workout that challenges your entire body, not just your back and arms. If you love the rowing machines at the gym, consider investing in one for your home. Hydrow offers a great unit, which features classes led by athletes from the U.S. National Rowing Team, to ensure you get the best workout possible. Missing the outdoors? This machine gives you the option to virtually row through beautiful, scenic waters around the country.
Hydrow Connected Rower, Best Buy ($2,199)
Hydrow / Hydrow
Stationary Bike
If you're all about those spin classes, you may want to consider adding a stationary bike to your home workout equipment. The Peloton bike is a great choice—it offers live and on-demand classes with great instructors, plus it's compact enough to seamlessly fit into your home.
Peloton Bike, Peloton ($2,245)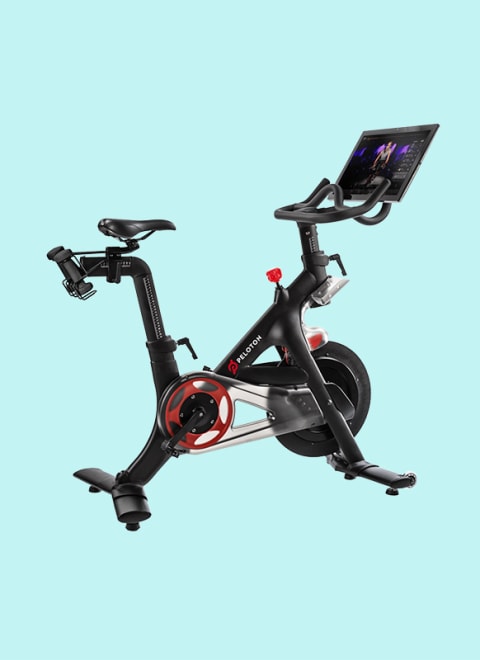 Peloton / Peloton
Kristine Thomason
Health Writer & Editor
Kristine is a writer, editor, and editorial consultant who lives in Long Beach, CA. Kristine is a New York University graduate with a degree in journalism and psychology, and also a NASM-certified personal trainer. She has spent her editorial career focused on health and well-being, and formerly worked for Women's Health and Health. Her byline has also appeared in Men's Health, Greatist, Refinery29, HGTV, and more. In her current role she oversees, edits, and writes for the health, food, and movement sections of mindbodygreen.