Strength Train At Home With This Workout & Tips
By Courtney Ustrzycki
mbg Contributor
Courtney Ustrzycki is a nutrition, strength and confidence coach. She has her advanced certificate in sports and exercise nutrition, as well as a diploma in diet and weight loss management, both from Shaw Academy. Courtney is also an international, competitive powerlifter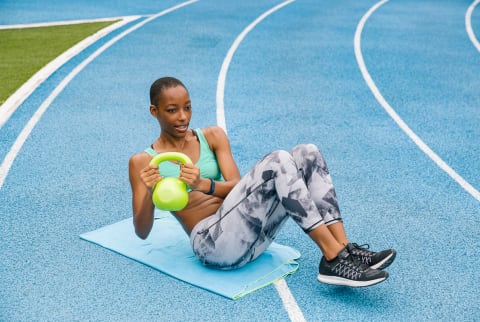 Image by JoJo Jovanovic / Stocksy
Last updated on December 3, 2020
Our editors have independently chosen the products listed on this page. If you purchase something mentioned in this article, we may
earn a small commission
.
Strength training involves using resistance (weights) to promote healthy muscle development. And not only does it make you stronger, but doing it just once a week can support a healthy metabolism and reduce the negative effects of sitting all day.
But what if you want to take advantage of your at-home workout space?
Advertisement
This ad is displayed using third party content and we do not control its accessibility features.
There are plenty of movements that can be performed with simple weights. So if you're curious about dipping your toes into strength training, here's an at-home workout to get you started, plus my favorite choices for equipment and some extra tips and tricks to help you along the way.
Try this at-home workout.
A great, at-home strength-training routine doesn't need to be complicated. This full-body routine involves super set upper- and lower-body movements, in order to keep your heart rate elevated and maximize time efficiency! Use weights that challenge you but aren't so heavy you can't finish the entire workout.
Advertisement
This ad is displayed using third party content and we do not control its accessibility features.
The dumbbell squat is my favorite for training at home. It primarily targets the lower-body muscles, working the quads, as well as your hamstrings and glutes. But it engages your upper body and core, too, because you have to stabilize your core, keep your chest tall without rounding your shoulders, and keep your back in a neutral position. It's easily a full-body move when performed properly!
Rep ranges can help us progress over time without necessarily having to increase the weight for the exercise, by simply increasing the number of reps. And taking a decent amount of rest (one minute is recommended between sets) is critical for full recovery, as without it, we may not be able to exert the same amount of energy in every set, which can result in bad form or injury.
What you'll need to get started.
A few kettlebells or an adjustable dumbbell system would be great, minimal equipment to get started.
Kettlebells, when used properly, can be extremely effective to help promote muscle development. Adjustable dumbbells work very similarly to kettlebells and, again, can be very effective.
In addition to this, other simple and highly beneficial pieces could be a simple squat rack with weight plates (ideally bumper plates for more variations) and an adjustable bench.
Advertisement
This ad is displayed using third party content and we do not control its accessibility features.
Some keys to remember.
There are so many benefits to strength training aside from sculpted muscles. Strength training can improve bone density, boost your brainpower and productivity, and you can squeeze it in every day, whether by carrying all your grocery bags in one trip or picking up your toddler.
When we feel strong, it fuels our self-confidence. We feel empowered and encouraged by our strength gains. Setting realistic short- and long-term goals, following through with plans and programs, sticking to your schedule, and persevering when it's difficult will bring your success to life.
And don't forget about diet; fueling muscle mass is only possible when we're giving our bodies enough calories. The minimum amount our body needs to maintain its current state won't be enough to promote muscle growth—a caloric surplus is necessary.
Lastly, it's always important to train smart. I tell my athletes, "Don't train your ego." Have fun with it, enjoy the process, and watch that form!
Want to turn your passion for wellbeing into a fulfilling career? Become a Certified Health Coach! Learn more here.
Advertisement
This ad is displayed using third party content and we do not control its accessibility features.
Courtney Ustrzycki
Courtney Ustrzycki is a nutrition, strength and confidence coach. She has her advanced certificate in sports and exercise nutrition, as well as a diploma in diet and weight loss management, both from Shaw Academy. Successfully coaching clients online since 2015, Courtney promotes a healthy lifestyle beyond just food and fitness.
As a woman who has a history of mental health issues and mild eating disorders, she has turned these weaknesses into strengths, and uses them to teach others how to thrive in their own journeys. Whether it's through the barbell or nutrition, Courtney approaches her opportunities and challenges head-on and with purpose. She educates her athletes with science-backed research from formal education and certifications, workshops, and seminars from industry leaders, and from her own personal experiences.