The Best Treadmill Brands Of 2023 From Marathoners, Running Coaches & Physical Therapists


Expert review by
BB Arrington, CPT
Personal trainer & holistic nutritionist
BB Arrington is NASM-certified personal trainer, holistic nutritionist, and sustainability advocate.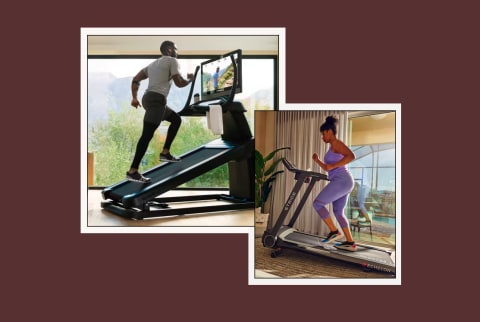 January 15, 2023
We carefully vet all products and services featured on mindbodygreen using our
commerce guidelines.
Our selections are never influenced by the commissions earned from our links.
Freezing, cloudy, stormy, or scorching weather can make running outdoors miserable. Luckily, indoor running equipment has come a long way in the last decade, ensuring even those who swear by outdoor workouts (like me!) can finally enjoy conquering a sweat session inside—and it's all thanks to the best treadmill brands.
We spoke with running experts, coaches, and physical therapists to learn more about how running and walking can improve our health and well-being and how to keep achieving these gains even when we can't get outside. Below, find their expert input, plus our list of the best treadmill brands for every lifestyle and living space—so you can stay physically and mentally fit all year round, no matter where you live.
A peek at the best treadmill brands of 2023:
A peek at the best treadmill brands of 2023:
Best for streaming classes
Best for incline training
Best for distance running
The benefits of a treadmill.
Yes, an at-home treadmill can be a big investment, but if having one in your living space helps you develop a more regular exercise routine, it opens a ton of doors for your health and well-being. "Having a treadmill at home provides you with a safe environment and can be helpful with time management. You don't have to worry about running in the dark or in bad weather," Kathleen Leninger, P.T., DPT, physical therapist and RRCA coach at Custom Performance, agrees. "It also allows you to take breaks when needed, you don't have to map out a route, and it's easy to cut a run short if you need to."
For runners specifically, adding treadmill days to your training plan can be impactful if you don't live in an area with easily accessible hills or running tracks. "Treadmills can help you master your pacing, correct your form, and do effective hill and speed training from the comfort of [a gym or] your home," RRCA, USA Track & Field, and USA Triathlon–certified coach Raj Hathiramani explains.
If you're feeling stagnant and aren't getting the recommended 150 to 300 minutes per week of movement in, a walking pad, a foldable treadmill, or a treadmill desk are all great ways to keep you active throughout the day—potentially even while you're working, reading, or watching TV.
How does running on a treadmill compare to running outside?
Do you ever feel like running outside is harder than on a treadmill? Well, you're not alone. There are many reasons outdoor running might feel more difficult, but most running coaches and experts agree that a combination of the two methods is best. "If you are training for a race, exclusively using a treadmill is not a good idea," Leninger explains.
Treadmills are great because they give you control over your pace, but Leninger says it's important to practice self-pacing, too. "On a treadmill, you can set a pace and you don't have to worry about it, but it is important to learn what different paces feel like outside and how to maintain them without the treadmill doing the work for you," she adds.
Elite marathoner and RRCA-certified running coach Elizabeth Corkum agrees, saying that "How a runner utilizes their hamstrings and glutes when moving on a solid surface vs. a moving belt can change, and treadmill runners often heel strike—which most likely wouldn't happen outside."
"Be intentional about when and why you do treadmill workouts," Hathiramani advises. "I recommend limiting the treadmill to specific incline and speed training unless it is not safe to run outside."
How to choose the best treadmill brand.
Your desired level of activity is an important factor when choosing which treadmill is right for your home—along with how big your space actually is (we've found some great compact treadmills) and how much money you're willing to spend.
When it comes to size, there's more to consider than simply whether the machine will fit. "A lot of treadmills require certain dimensions for the actual machine, but also for clearance, that you will want to consider," explains Leninger. "Make sure you have an outlet that will work in the area that you want to place the treadmill. You will also want to make sure you have enough headroom, and you want to pick a place that you will actually enjoy being in."
As we said, these machines have come a long way in recent years, and each comes with its own features and capabilities (speed, incline, heart rate monitors, screens for streaming classes, to name a few). Once you determine the size you need, Hathiramani says, "From there, you can consider a treadmill's features, including its motor and maximum weight, for sufficient speed and stability." He adds that "Foldable treadmills have increased in popularity, especially for those without a lot of extra space in their homes."
Some brands offer a warranty, and they all have different return policies—both of which should be noted and taken into consideration as you're browsing.
How we picked:
Features
Some treadmills are built for walking only and won't have as many speeds or capabilities, but we considered all levels of activity and analyzed the features offered on each of these machines when selecting our picks.
Price
If you're just looking to get some movement in, you likely don't need to spend as much as if you're working with an advanced training plan. We took all budgets and goals into consideration.
Reviews
Everyone has different preferences, so we read plenty of feedback to gain a wider perspective on each of these machines. This helped us determine which treadmills to include.
Expert advice
We were mindful of our expert's input when selecting our final recommendations and included their advice for you as well.
Our picks of the best treadmill brands of 2023:
Advertisement
This ad is displayed using third party content and we do not control its accessibility features.
Advertisement
This ad is displayed using third party content and we do not control its accessibility features.
Advertisement
This ad is displayed using third party content and we do not control its accessibility features.
Advertisement
This ad is displayed using third party content and we do not control its accessibility features.
FAQ
What should I know before buying a treadmill?

Once you've set price and size parameters for yourself, you should consider other factors, such as tech features, speed and incline capabilities, and (of course) the activities you plan on using your treadmill for. "Read reviews, try out machines, and be honest with what sort of an investment you are willing to make," Corkum advises.
What is the best walking treadmill?

Again, this depends on the amount of space you have and how much you're willing to spend. That said, we love the WalkingPad for walking, or (if you have a bit more to spend) the Lifespan Treadmill Desk for all those walking-and-working multitaskers out there. If you're using your treadmill specifically for walking, you can likely do without some of the tech and speed capabilities, and you probably don't need a treadmill that utilizes an app membership.
How long do treadmills last?

According to Corkum, "This will depend on the quality of the machine, and how well it is cared for." Hathiramani and Leninger agree that, if they're taken care of, high-quality treadmills can last between seven and 10 years.
Are curved treadmills better?

This depends on what you're using your treadmill for. As Leninger explained, curved treadmills are meant for shorter distances. "[Assault or] curve treadmills are NOT meant for long-distance use, so they are not a great idea to purchase for your home," she says.
The takeaway.
Investing in an at-home treadmill will help you achieve all the benefits of walking and running without having to train outside in rainy weather or less than ideal conditions. These machines can also be a great supplement for any existing outdoor training regimen, as many models allow you to adjust to various speed and incline levels. With an app-connected treadmill, you'll even have access to high-quality instructors and fitness classes, plus entire communities of people who are also prioritizing their physical and mental health through exercise. Just make sure you're supplementing all that cardio with strength training, too.
Meet The Experts
BB Arrington is NASM-certified personal trainer, holistic nutritionist, and sustainability advocate.