The 7 Best Adjustable Dumbbells Of 2022, From A Certified Personal Trainer

mbg Contributing Writer
By Marissa Miller, CPT
mbg Contributing Writer
Marissa Miller is a certified personal trainer and holds a certificate in plant-based nutrition and has over 10 years of experience editing and reporting on all things health, nutrition, beauty, fitness, style and home.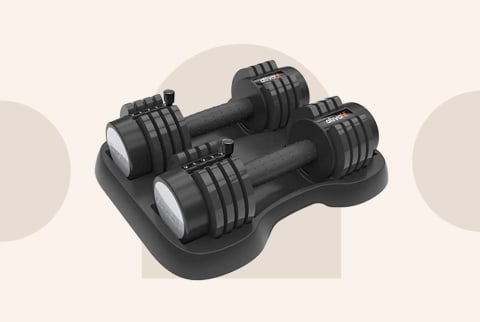 September 23, 2022
Our editors have independently chosen the products listed on this page. If you purchase something mentioned in this article, we may
earn a small commission
.
When building your at-home workout setup, it can be easy to accumulate piles of bulky equipment—fast. Enter: adjustable dumbbells, the equipment hack that takes up the space of a single heavy dumbbell, yet serves the purpose of virtually all types—from light weights for high repetitions to heavier weights for those serious gains.
As an ACE-certified personal trainer with a specialization in orthopedic exercise, I'm a huge proponent of strength and resistance training to help enhance overall daily functioning, improve posture, boost your metabolism, prevent injury, and promote longevity—and science backs me up on this. A meta-analysis from the British Journal of Sports Medicine confirmed that a regular regimen of muscle-strengthening activities can reduce your risk of mortality, cancer, cardiovascular disease, and diabetes by up to 17%.
There are a slew of incredible psychological benefits that come with weight training, too. Research suggests a link between strength training and reduced symptoms of depression and anxiety, as well as improvements in sleep quality, self-esteem, and cognition. Needless to say, finding the right exercise equipment is key for anyone who wants to reap these weight-training benefits from home. Read on for the best adjustable dumbbells to streamline your next workout.
What is an adjustable dumbbell?
An adjustable dumbbell is a single dumbbell with plates or discs that can be added or removed to modify the weight load. These dumbbells are space-saving and omit the need for a bulky dumbbell rack, making them an excellent addition to any home gym. They're also budget-friendly since you get multiple use cases out of a single piece of equipment—and if you need to quickly modify your load during or in between sets, you can easily add or subtract weight mid-workout.
How we picked:
We selected the most high-value adjustable dumbbells with options that fit a wide range of budgets.
The adjustable dumbbells we chose include mechanisms that make it easy to interchange weight plates throughout your workout.
When working with heavy weights, safety is of the utmost importance, no matter your level. Our picks feature specific safety features to help avoid injury.
During a heart-pounding workout, the last thing you need is a confusing device. These dumbbells are intuitive to navigate.
Our picks for the best adjustable dumbbells:
How to choose the best adjustable dumbbells.
When choosing the best adjustable dumbbells for you, you should first determine your level—there's no need to choose the model with the highest weight capacity if you won't actually use those heavier weights. Look for safety features, such as locking mechanisms and soft grips, to help prevent injury and promote comfort and proper hand and wrist positioning. Bonus points for included storage trays to keep you organized and stop your weights from rolling around your closet (or, even worse, potentially hurting someone). If you plan on performing weighted floor exercises (such as planks, man makers, renegade rows, or weighted burpees), opt for square-shaped adjustable dumbbells that will stay put beneath the weight of your body without rolling forward.
FAQ
Are adjustable dumbbells a good investment?

Adjustable dumbbells are a good investment if you'll actually use them. Adjustable dumbbells can be far more practical than standard dumbbells, due to their customizable nature—so there's a lot more potential for finding them useful as you scale down or level up your workouts.
Do adjustable dumbbells break?

As with anything you use over time, wear and tear is quite common with adjustable dumbbells (especially if you opt for less expensive sets). Users report that some plates tend to get stuck when adjusting levels, and lighter and flimsier materials like plastic tend to break off. If dumbbells are slammed down on hard floors and not used with care, they have a tendency to shape-shift as well.
How heavy do adjustable dumbbells get?

Adjustable dumbbells typically peak at 90 pounds per dumbbell. Certain brands like Bowflex and Ironmaster offer extensions that can be purchased separately to increase the weight capacity. These extensions are typically only recommended for advanced weight-lifters.
The takeaway.
If you're still on the fence about adjustable dumbbells, know that it certainly doesn't hurt to give them a fair shot when incorporating them into your workouts. Not only can adjustable dumbbells save a ton of space, but they can help you advance in your workouts—without breaking momentum while you wait for a new pair of weights to arrive. Always be sure to practice proper form with your dumbbells. Keep your core engaged, and bend at the knees (not the spine) when lifting them up from the floor or putting them back down—and always respect your body's limits when adding weight. You've got this!
Reset Your Gut
Sign up for our FREE doctor-approved gut health guide featuring shopping lists, recipes, and tips