This 3-Day Diet Will Reset Your Thyroid & Balance Your Hormones
Doctor of Natural Medicine
By Becky Campbell, D.C., DNM, PSc.D
Doctor of Natural Medicine
Becky Campbell, D.C., DNM, PSc.D is a board-certified doctor of natural medicine, earned her doctorate in chiropractic at Life University, and has a doctorate of pastoral medicine. She is also the author of The 30-Day Thyroid Reset Plan: Disarming the 7 Hidden Triggers That are Keeping You Sick.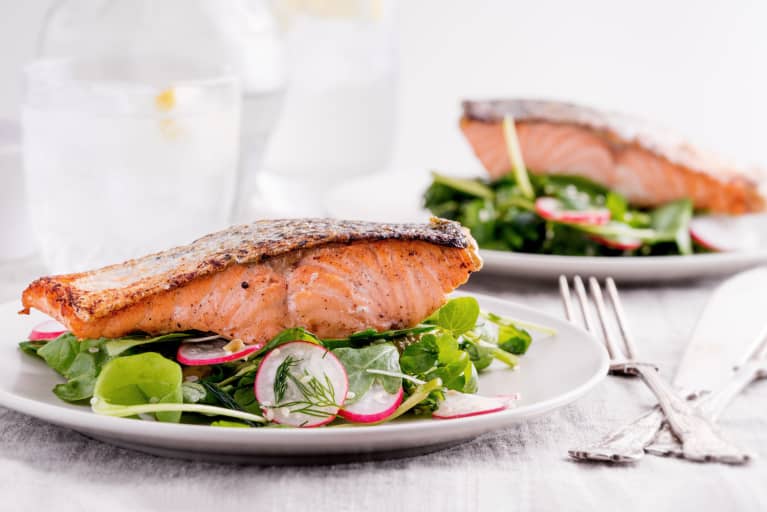 Our editors have independently chosen the products listed on this page. If you purchase something mentioned in this article, we may
earn a small commission
.
Since the thyroid affects every single system in the body, and symptoms can be different from person to person, it is very important to uncover your individual root cause. In my book, The 30-Day Thyroid Reset Plan: Disarming the 7 Hidden Triggers That Are Keeping You Sick, I share a 30-day thyroid reset diet to help you determine which foods work best for your body. In this article, I wanted to provide you with a sample three-day thyroid reset diet since diet has a huge impact on the health of your thyroid.
Supporting gut health is a huge part of supporting thyroid health, so you will find that many of these recipes include gut-boosting foods. It is also important to reduce inflammation in the case of Hashimoto's thyroiditis, which is an inflammatory autoimmune condition.
While this is great for people who have known thyroid conditions, there are a number of symptoms that can indicate you need a thyroid reset. If you are suffering from fatigue, unexplained weight gain, brain fog, depression, dry or rough skin, hair loss, irritability, joint pain (or, of course, you already know you have a thyroid condition), this reset is likely to benefit you.
Here's what the days look like:
Breakfast: Kick-start your morning with a thyroid- and hormone-supporting smoothie with coconut milk, berries, and maca powder.
I like to start my day with an anti-inflammatory smoothie. If you suffer from Hashimoto's thyroiditis, getting your inflammation under control is key. Both berries and dark leafy greens contain powder antioxidants and phytonutrients to help fight off inflammation. Since Hashimoto's is an inflammatory disease, anti-inflammatory foods are a must when supporting the thyroid.
I also like to add collagen protein to smoothies as it helps support the gut, an integral part of treating a thyroid disease. In fact, if you are suffering from an autoimmune thyroid disease like Hashimoto's or Grave's disease, you are more likely to have a gut condition like leaky gut.
Maca powder is a great addition to any smoothie when supporting hormone levels. Maca root is an adaptogenic herb that helps keep our hormones in the proper balance, helping to keep them from going too high or too low.
1 cup full-fat unsweetened coconut milk
1 cup frozen mixed berries
1 handful dark leafy greens of choice
1 teaspoon maca powder
1 tablespoon raw honey or pure maple syrup
1 scoop collagen protein powder
Add all ingredients to a high-speed blender and blend until smooth.
Snack: Balance blood sugar throughout the day with healthy fats.
It's super important to balance blood sugar levels as letting your blood sugar drop allows your hormones to get out of sync. If you find you are hungry in between meals, I recommend snacking on organic hard-boiled eggs; a couple of Brazil nuts and a half a cup of berries; or a shake with spinach, half a plantain, and collagen protein.
Lunch: Fill up on a healthy fat, anti-inflammatory salad.
This salad is packed with superfoods and healthy fats to keep you energized all afternoon. Reducing your overall inflammation is essential when dealing with a thyroid condition such as Hashimoto's thyroiditis since this autoimmune disease is an inflammatory condition. Wild-caught salmon's omega-3s and antioxidants make it is an excellent anti-inflammatory food. I also love to add avocados to my salads since they're rich in healthy fat, magnesium, and fiber. Berries are also great for reducing overall inflammation, and making your own salad dressing with freshly squeezed lemon juice and olive oil is a great way to avoid any inflammatory ingredients often found in store-bought options.
To make it, just combine 1 to 2 cups of arugula, a wild-caught salmon filet, ½ cup of berries, and half of an avocado on a plate. Drizzle with half a tablespoon of extra-virgin olive oil and some fresh-squeezed lemon juice.
Midafternoon: Need a pick-me-up? Enjoy a cup of adaptogenic tea.
This adaptogenic tea recipe is perfect for an afternoon pick-me-up. Adaptogenic herbs are great because they respond the way your body needs. Need an energy boost? They can help you feel energized without feeling wired. Feeling tense and need to wind down? Adaptogens can help calm your nerves. Studies have shown that these herbs are also good for hormone balance, so I often recommend sipping on a cup of this adaptogenic tea or supplementing with specific adaptogenic herbs.
1 organic holy basil or tulsi tea bag
1 cup filtered boiled water
¼ cup full-fat unsweetened coconut milk
1 pinch ground cinnamon
½ teaspoon pure vanilla extract
Add the boiled water to a mug with the holy basil tea bag. Steep for about 7 to 10 minutes.
Stir in the vanilla extract and coconut milk.
Garnish with a pinch of ground cinnamon, and enjoy.
Before dinner: Make time for stress reduction.
Stress reduction is essential to supporting thyroid health. One of the triggers of thyroid disease is HPA-axis imbalance. The hypothalamic-pituitary-adrenal axis is responsible for helping the body adapt to stress. When we are under chronic amounts of stress, this axis will become desensitized to when the body is telling it to calm down and to stop releasing cortisol after we encounter a stressor. This can put a huge amount of stress on the pituitary and the adrenal glands and can lead to thyroid issues.
It is so important to reduce stress in any way that we can and to help our bodies regulate themselves into knowing the difference between a perceived threat and an actual threat so we aren't constantly caught in a fight-or-flight state. To do this, I recommend setting aside time each day for stress reduction. Try yoga, meditation, brisk walking, reading, or even light exercise. In the evening, it is best to stick with calming activities, and meditation or an evening yoga routine is the perfect way to re-center yourself and wind down your day.
Dinner: Enjoy an easy and nourishing crockpot recipe.
This is one of my favorite recipes from my book and a really easy weeknight meal since you can just add all the ingredients to a crockpot!
Crockpot Coconut & Lemon Chicken With Garlic & Basil Rice
4 chicken breasts 
1 can full-fat coconut milk
Juice from 1 lemon
1 tablespoon curry powder
½ teaspoon ground turmeric
½ teaspoon sea salt
1 small yellow onion, diced
2 cloves garlic, minced
1 pinch ground black pepper
Start by whisking together the coconut milk (include the cream) and seasoning.
Next, add the chicken breasts to the base of a crockpot and top with the coconut milk mixture, lemon juice, garlic, and onion. 
Cook on low for 6 to 8 hours or until the chicken is tender and can easily be shredded.
Shred the chicken before serving, and enjoy with a side of cauliflower rice.
2 full heads cauliflower
2 tablespoons olive oil
3 cloves garlic
1 teaspoon fine-grain sea salt
Pinch of black pepper
1 teaspoon coconut oil
3 shallots, minced
¾ cup chopped basil
Additional salt and pepper to taste
Start by adding the cauliflower florets to a food processor. Pulse until it looks like rice.
Preheat a large saucepan with olive oil, and add the shallots; cook for 5 minutes, then add garlic and cook for another 2 minutes.
Next, add the "rice" and continue cooking until it is tender, and add the basil.
Cover with the coconut and lemon chicken. Enjoy!
After dinner: Enjoy a cup of herbal tea and get to bed before 10 p.m.!
I always encourage my patients to get to bed earlier. Try getting into bed before 10 p.m. to prevent an evening cortisol spike. Cortisol is generally higher in the morning to help us get up and tapers off in the evening as we get ready to go to bed. In those with cortisol imbalance, which happens a lot with thyroid issues, cortisol may be higher in the evening, or you may experience a spike later on in the evening keeping you awake when you need to be in bed! To help prevent this, try to get to bed by 10 p.m. and wind down with a cup of herbal tea.
Keep up everything from Day 1, with these variations.
Breakfast: Swap the smoothie for eggs with sautéed collard greens and onions.
Eggs make a great breakfast, and you can swap out plain old scrambled eggs for this recipe instead. Try some over-easy eggs with sautéed collard greens and chopped onions cooked in coconut oil. This is one of my favorite breakfast options and a great way to start your day off right with protein, healthy fat, and a side of leafy greens.
Lunch: Shake up your salad.
Enjoy the same anti-inflammatory salad but swap out the salmon for shredded organic chicken, and add in hemp seeds and chopped fresh herbs.
Enjoying wild-caught salmon is a great way to reduce inflammation, but you don't have to eat it all the time. A couple of days per week is plenty. Add some variety, and use shredded organic chicken or turkey, and add in some hemp seeds and fresh herbs. Hemp seeds are also rich in omega-3 fatty acids, making them great for reducing inflammation. Add some herbs like cilantro, parsley, or dill for a delicious and refreshing salad.
Save yourself the cooking and finish up your chicken and rice leftovers from Day 1!
Keep up your adaptogenic tea and stress-busting practices, and choose your favorite breakfast and lunch from the previous two days.
Dinner: Make an easy grass-fed burger.
Make a grass-fed burger served with lettuce for the "bun" and topped with avocado, onions with half of a sweet potato, and a side of sauerkraut.
It's important to get enough protein in your diet to support blood sugar levels, so remember to add some protein to the last meal of the day. A grass-fed burger is an excellent, easy weeknight meal, and you can add in some veggies for topping. Serve with half a sweet potato to add some complex carbohydrates for a balanced dinner. A side of sauerkraut helps support digestive health, which is one of the most important things you can do for your thyroid.