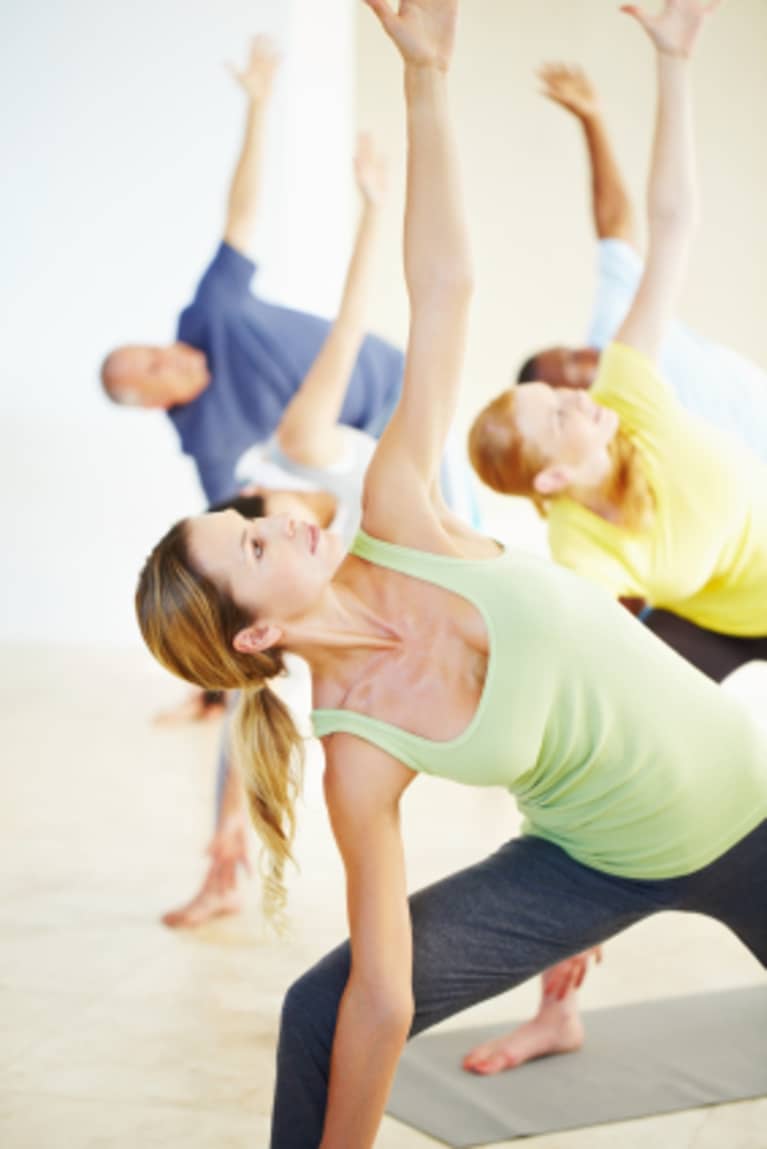 There is something so full of grace and beauty in a room full of people readying themselves for their yoga practice; human beings of all sizes, ages, and stages. As I sit on my mat, amongst these beautiful people settling in, some rushing, some still clearly waking up, many talking quietly to each other as they sit comfortably on their mats, I am filled with a sense of gratitude, awe and joy. This feeling rises in my chest, welling up in me a sensation so strong it almost brings me to tears. All of these people coming to this room to share and hold space for wellness and connection. The communion that comes with group yoga classes is inspired, alight with an energy that is difficult to describe. You will know it when you find it.
When you find a yoga studio or space that has this truly authentic, welcoming vibe – it will become yours: Your yoga home away from home. Finding a safe place to practice your yoga on the mat is a beautiful thing; a place where people come to hold space not only for their own well-being but the well-being of others. Consider the power of this; this yogic movement. Consider what would be possible if more people were to embrace this yogic practice within the space of asana, as well as carrying their practice off the mat into each and every breath – practicing loving kindness as they go about their daily lives. Consider the possibilities for our children, our community, and our world. This connection, the realization of oneness – union – that comes alive through yoga, spreading across the planet: what a reality to consider.
It is moments like this one, caught in my morning yoga class, at my 'home' studio, that reignite my love of yoga and humanity each and every day. Sometimes it will come while resting in child's pose, a deep sense of well-being, connection and joy. This is yoga. This is what I hope to share with as many people as possible as a yoga teacher. Not the perfecting of Warrior I or Triangle pose. Not amazing abs or a tight butt. Yoga is not about perfection; rather, yoga is about being perfectly ok with exactly where you are at. Connecting with people of all backgrounds in a space that is welcoming, authentic and non-judgemental – this is what it is to be a yogi. Creating an environment that embraces each individual as the individual that they are, not who you believe they should be.
If you are hesitant to begin yoga classes or have had an experience with a studio or teacher that has caused you not to return to your asana practice, I would encourage you to give it another try. There are so many varieties of yoga and each teacher will interrupt, teach and share yoga differently. Take the time to find yourself a studio and teacher that fits and feels right to you. The benefits will be tremendous, spilling into so many areas of your life without you even realizing it.
Yoga is union. Find the teacher with whom you can connect, all the while knowing that the greatest teacher is always within you.
Namaste.