What I Eat In A Day: Functional Medicine Doctor Terry Wahls Tells All
Author and Professor of Medicine
By Terry Wahls, M.D.
Author and Professor of Medicine
Terry Wahls, M.D. is a Professor of Medicine at the University of Iowa, where she conducts clinical research on the use of diet and lifestyle to treat brain-related problems. She received her master's in medicine from The University of Iowa, as well as her master's in business administration from the University of St. Thomas.
Terry Wahls, M.D., is a functional medicine doctor, clinical professor, and a survivor of progressive multiple sclerosis who used her own protocol to heal. This week, we're sharing her expertise in a new series on adrenal fatigue and natural techniques to restore energy. To learn more, check out her new mindbodygreen class, How to Heal Adrenal Fatigue: The Food & Habits You Need for Optimal Health & Energy.
As a functional medicine doctor who used diet and lifestyle changes to restore my health after I was wheelchair-bound with MS, I'm often asked what I eat in a typical day. It depends on the time of year. During the winter, I eat the Wahls Paleo Plus version of my diet. During the summer, I'm eating low glycemic index, following the Wahls Paleo version of my diet plans. I eat from my garden and will have more berries and vegetables.
I eat one or two meals a day for the benefits that a 12- to 16-hour fast will do for boost mitochondrial efficiency. For the same reason, I will do a water fast for one to three days twice a year.
Here's what I eat in a typical day for energy and vibrant health: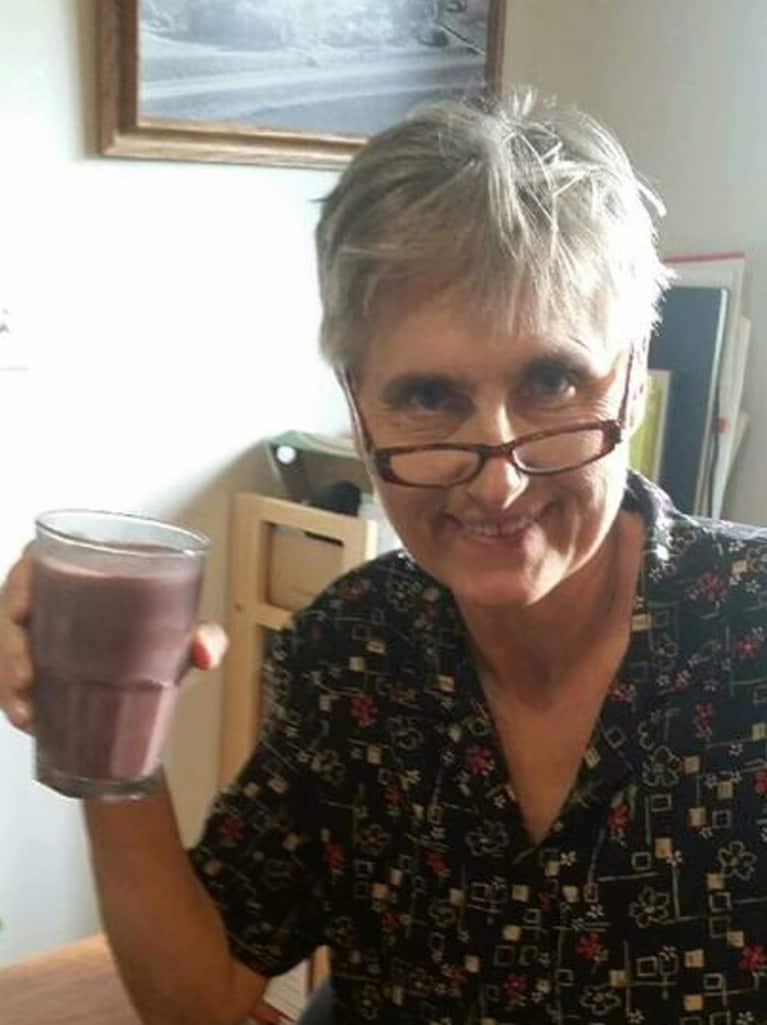 My day starts with a vegetable-based smoothie. I use greens, coconut milk, water, and ice to make a smoothie. I might have this before going to work, or I may have this at noon, depending upon whether I am shooting for 12 or 16 hours between my evening meal and my morning meal. I'll typically make another vegetable smoothie to have later with my evening meal.
One of these smoothies will be based upon greens. The other one may be based upon vegetables such as heirloom carrots or beets. I'm also very intentional about having a wide variety of greens for my smoothies, like wild edibles such as dandelions, plantain, or lamb's quarters, and greens from my garden such as kale, bok choi, lettuce, spinach, radish greens, and beet greens. I also use the herbs from my garden—borage, oregano, basil, savory, thyme, sage, lavender, lavage, parsley, lemon balm, mint, dill, and tarragon.
During the winter, I'll also have a kettle of water with a chicken carcass and chicken feet to make bone broth. I'll blend the bone broth with coconut milk and vegetables to make a morning and evening beverage.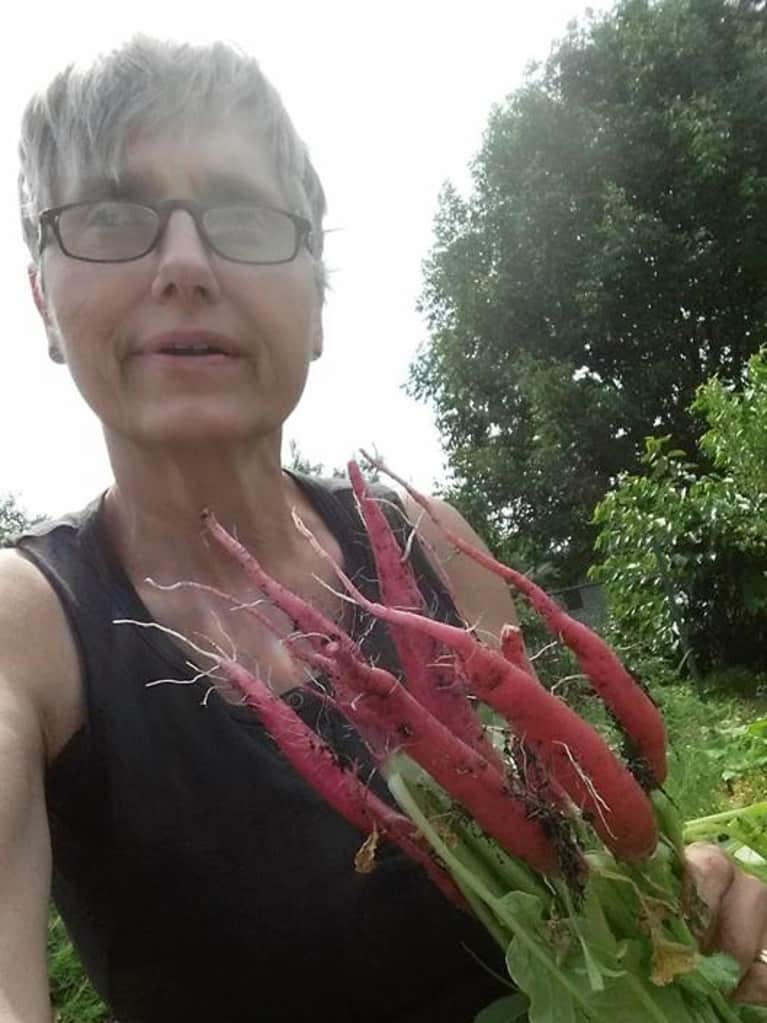 My evening meals will include a smoothie in the summer or bone broth in the winter.
During the winter, we often have soup. I'll start with a bone broth base, then I'll add chopped vegetables, chopped greens, and a can of coconut milk and let it simmer for five minutes. Most often these vegetables are frozen from our garden. I'll add chopped precooked meat and serve. This meal takes just 15 minutes to prepare.
In addition to the soup, I'll often have another vegetable smoothie.
I'll also enjoy a large salad with fresh garden herbs. Or we may have nitrate-free bacon and cooked greens from my garden. My son and daughter say that bacon will fix any vegetable! We will fry up some bacon to the desired level of crispness, turn off the heat, and add the chopped greens; cover and wait two minutes. I'll saute some meat and add vegetables (often onions, garlic, mushrooms, and peppers) for the last two to five minutes. I like to blend olive oil and fresh basil from the garden to make a pesto sauce to add to the vegetables or serve over grilled burgers. It's quite lovely.
Sometimes, I'll put sautéed onions, peppers, and fish with hot sauce over a large salad to make a fajita-style salad. That is currently a favorite meal in our household and it takes only a few minutes to prepare.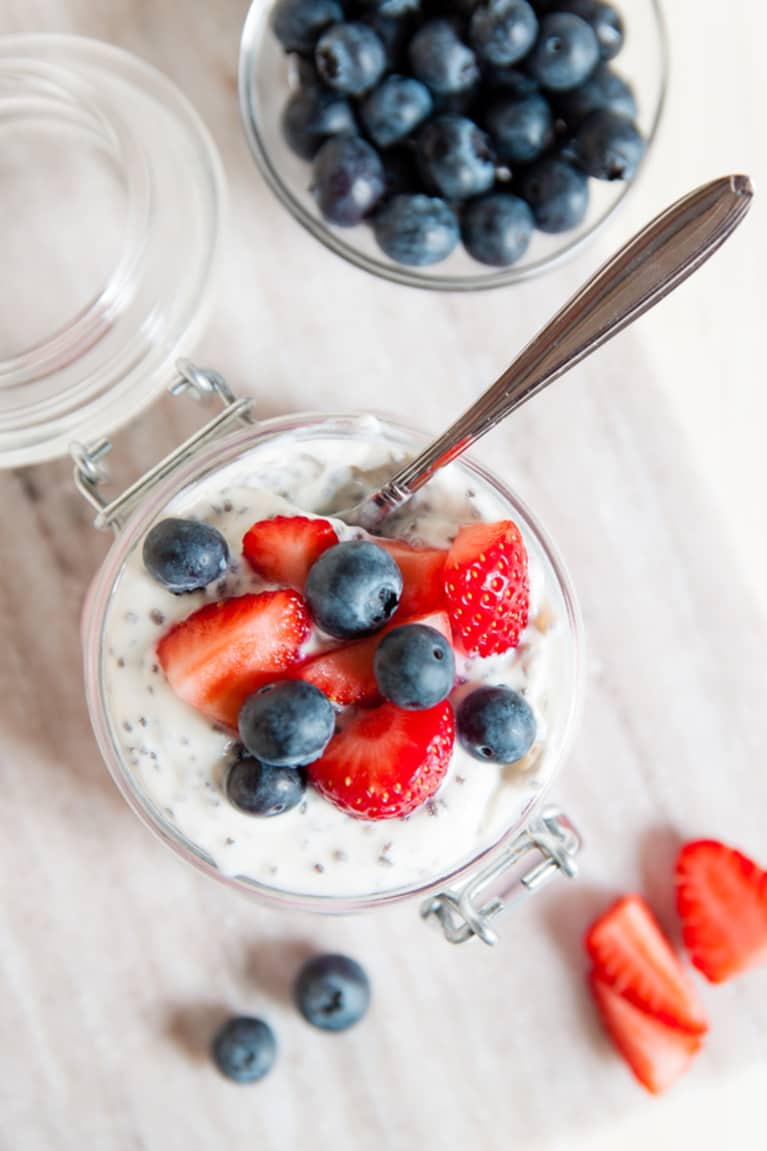 I don't do Paleo desserts. I don't think eating gluten-free pastries, cakes, and other desserts are health-promoting. Nor do I think substituting fructose-based sweeteners (for example, honey, maple syrup, or agave) or artificial sweeteners are health promoting. I avoid sweeteners of all types.
Instead, I'll eat berries and chia pudding as a treat. Or I may have berries with a bit of coconut milk and chopped nuts. As summer progresses, I'll eat the fresh local fruits that are in season, probably one serving a day. Fruit is a treat enough for me.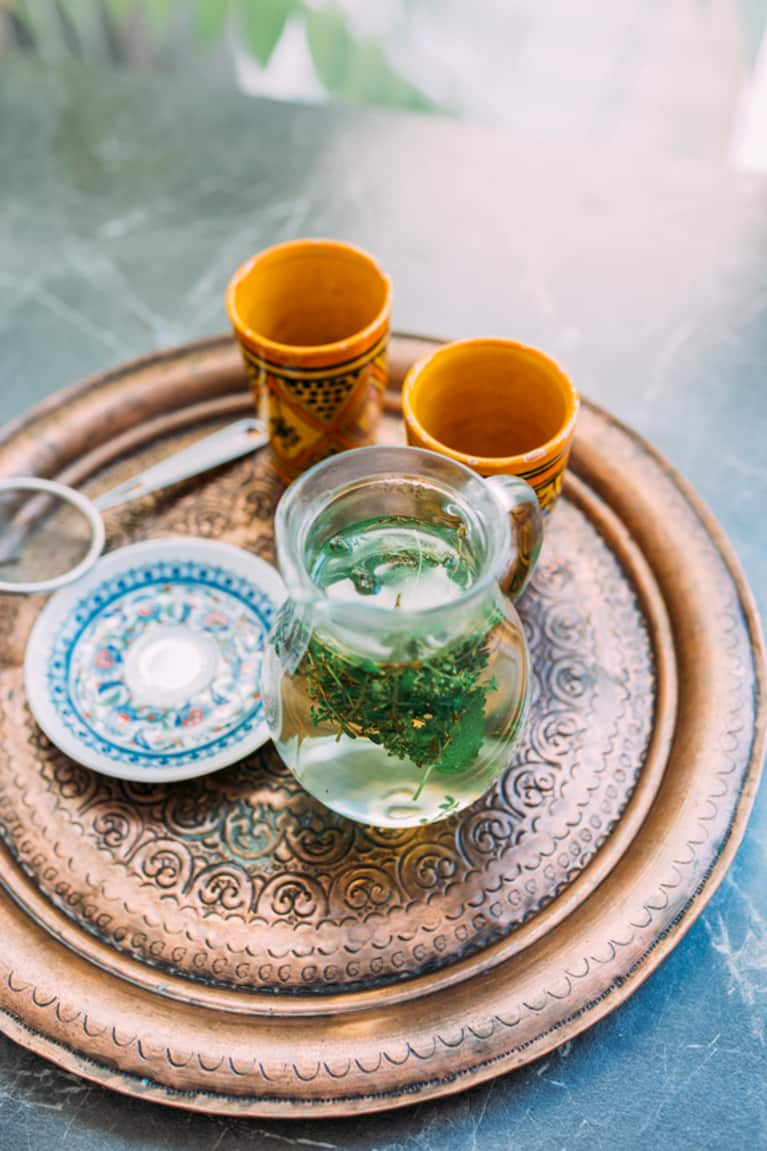 Along with the smoothies, I may have other beverages separate from my meals. My favorites are water with lime juice or lemon juice (without any sweetener), herbal teas, chamomile tea, green tea, and reverse osmosis water. I never developed a taste for coffee.
I will occasionally have a glass of wine. Or I may have chamomile tea with coconut milk and a shot of rum for an evening nightcap.
So, there's a glance at a typical day of eating for me. I believe that taking back your health means taking back your relationship to food and becoming comfortable cooking. I'm publishing a cookbook April 4 to inspire you to prepare your own home-cooked meals.