A Step-By-Step Guide To Dry Skin Brushing To Get The Most Benefits
Medical review by
Sarah Villafranco, M.D.
Founder of Osmia Organics
Sarah Villafranco, M.D., is a natural skin care expert and practiced emergency medicine for 10 years. She received a B.A. from Georgetown University, and then went on to get her M.D. from Georgetown University School of Medicine.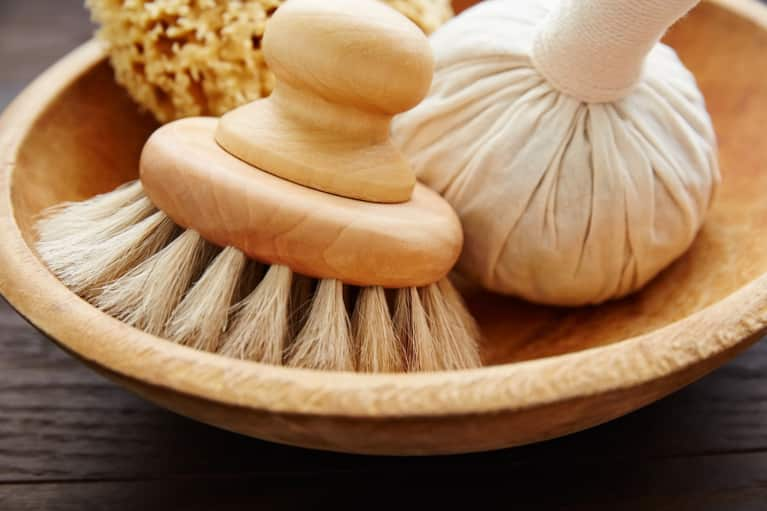 Our editors have independently chosen the products listed on this page. If you purchase something mentioned in this article, we may
earn a small commission
.
Last updated on September 25, 2019
As far as morning routines go, dry brushing is one not to be missed. Here, our easy instructions.
How does dry brushing work?
You might've already heard plenty about dry brushing: It seems to be everywhere in the beauty and wellness world of late. But as a recap, dry brushing is an ancient ritual that works by exfoliating the skin and stimulating the lymphatic system. The lymphatic system works in tandem with the vascular system and is in charge of helping the body detoxify.
Worthy of note: Dry brushing has not been studied significantly. So much, if not all, of the claims and praise are purely anecdotal. So if you want to go for it, know that this doesn't have scientific backing, but if it makes you feel better, that might just be enough.
Here, a step-by-step guide to the ritual, courtesy of holistic esthetician and dry brushing expert Amity Spiegel:
Find your brush: You want a stiff bristle but nothing too abrasive. There are options that have a long handle or none; it's up to personal preference, but many find it easier with a handle. For the advanced-level dry brushers, you can find options with ionic copper fibers as well, which allegedly help to detox the body even more, but those can be too harsh for first-timers. We recommend the Ecotools Dry Body Brush or Beluda Premium Dry Body Brush Set.
Get ready: It's best to do before a shower, and you'll need to be completely nude. Many claim it's energizing, so you might consider switching to a morning shower if you typically do so in the evening.
Master the movement: The strokes should be medium pressure—you want to feel something happening without irritating the skin. Long strokes are the best; you are trying to push up lymph fluid, and that requires a delicate and rhythmic touch. You'll also want to do each pass more than once, and overlap sections while brushing.
Start at the feet and move upward: The point of dry brushing is to encourage lymph toward your upper torso, where the lymphatic fluid will reenter the bloodstream: You always want to follow the circulatory system.
As you get to the top of the legs, continue over the butt, lower back, and stomach: Treat the butt as an extension of your thigh. On your stomach go in circular clockwise motions.
Move to the arms: As you did with the feet, start with the hands and go across (again) toward the heart. Be mindful to treat under the upper arms, where many lymph nodes live.
Finish with neck and décolletage: When you get to the neck and décolletage, this time you'll be dragging downward since that's toward the heart area.
Take a shower as usual: This will help clean the body of the dead skin cells that have come loose during the brushing process.
Moisturize while damp: Smoothing on an oil or cream will seal in water from your shower. Always moisturize with damp skin!
Stick to it: You're not going to see any difference unless you are diligent about your routine, as the same goes for everything from skin care to eating healthy to working out. But if you follow the practice regularly, you'll likely see great results!
Why is it so good for your skin?
Dry brushing is an effective physical exfoliator, meaning it's manually removing dead skin cells from the top layer of skin. The American Academy of Dermatology notes that regularly exfoliating skin "improves your skin's appearance and makes topical treatments more effective." Because the skin will absorb product more readily, it's important to use healthy, high-quality ingredients after dry brushing sessions.
2. Encourages circulation.
It's up for debate whether you actually need to manually stimulate circulation (some studies show lymph pumps can improve lymphatic function) or simply moving your body is enough. Regardless, studies show that improved circulation is better for skin overall. If you experience occasionally swelling of the feet after long days of standing, regular dry brushing could help reduce that symptom over time.
3. Offers a moment of self-care.
If anything, dry brushing encourages you to take a moment and focus on your body. "Anytime you take a moment to pay attention to your body is a good thing," notes Spiegel. "Maybe it won't fix cellulite or be a miracle, but you will look and feel better because you are paying attention to yourself."