Have An Itchy Scalp? You May Be Air-Drying Your Hair Wrong

mbg Beauty & Wellness Editor
By Jamie Schneider
mbg Beauty & Wellness Editor
Jamie Schneider is the Beauty & Wellness Editor at mindbodygreen, covering beauty and wellness. She has a B.A. in Organizational Studies and English from the University of Michigan, and her work has appeared in Coveteur, The Chill Times, and Wyld Skincare.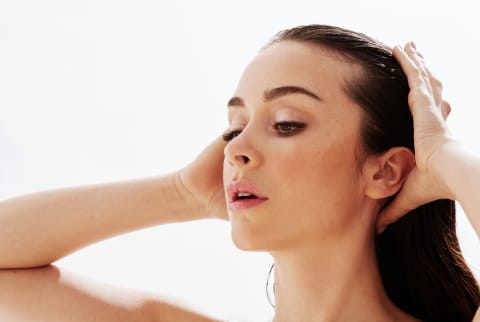 Image by Leandro Crespi / Stocksy
August 7, 2021
By now, we've waxed poetic on the myriad reasons you may face an itchy, flaking scalp: buildup, dandruff, inflammation, and the list goes on. Each cause has its own targeted remedies and product lineups (a salicylic or tea tree shampoo can help tame dandruff, while a good scalp scrub can lift buildup), but before you dive into those treatments, it's important to really understand the root of the issue.
Because according to NYC-based hairstylist Jenna Pitocco, sometimes an itchy scalp has a sneakier cause (with a much quicker fix)—like, say, a botched air-dry. "Sometimes the culprit is that you're putting [the hair] up while it's still wet," she tells mbg. Ahead, she explains how your hair-drying habits can wreak havoc.
Advertisement
This ad is displayed using third party content and we do not control its accessibility features.
Why you shouldn't put your hair up while it air-dries.
It's a hair care lesson you may already be familiar with, albeit for a different reason. After all, your strands are very elastic when they're drenched, so stretching them further (like with a hair tie) can cause those wet tresses to snap and break with the added tension. If you want to gather your hair away from your face while it's sopping wet, experts recommend a loose bun or braid to avoid breakage as much as possible.
But Pitocco takes it a step further: By air-drying your hair in a high pony or bun, "you're banking on it drying while [the strands] are completely compacted together," she says, which traps moisture into your scalp. And as you've probably heard once or twice before: Water creates a fertile breeding ground for bacteria. So if your scalp never fully dries with all that hair piled on top, it can produce a bit of bacteria, which, in turn, can cause some itch.
"Think of it like laundry," Pitocco explains. If you fold up your clothes while they're still a bit damp from the wash, they can become a bit mildewy with odor-causing bacteria. "So with your head, you want to make sure that you are letting your scalp and hair dry 100% before you throw it up into a bun," says Pitocco. "Because a lot of the itchiness can come from not letting your scalp properly dry."
The takeaway. 
Admittedly, the itch likely won't happen after a single air-dry. (And if you're partial to heatless curls or twists, you'll actually need damp hair to create more of an impression.) But the key here is to keep sopping strands away from the scalp while it dries: If you routinely throw your wet hair into a high pony and face some scalp irritation, you might want to wait before grabbing the elastic.
Want to turn your passion for wellbeing into a fulfilling career? Become a Certified Health Coach! Learn more here.
Advertisement
This ad is displayed using third party content and we do not control its accessibility features.