Reviewers Call This Beauty Supplement A "Genius Product" For Aging Skin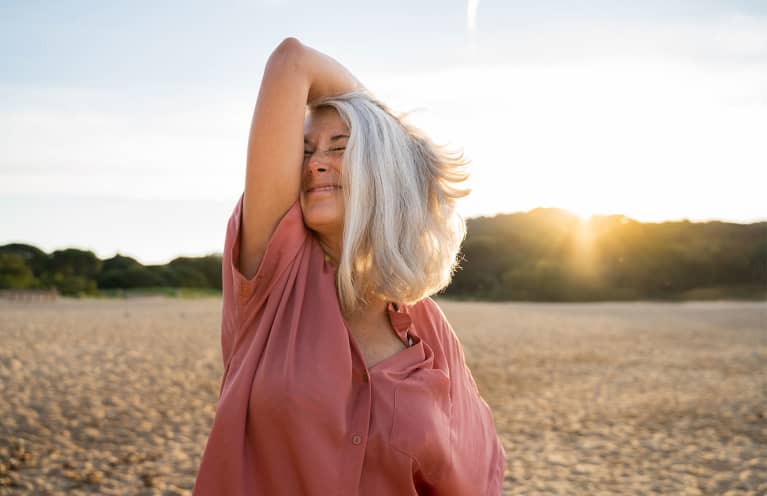 When it comes to addressing aging skin, there are no quick fixes. After all, skin longevity is about caring for long-term skin health rather than focusing on immediate gratification; keeping your complexion supple and glowing is certainly a long game. It can be difficult to know exactly which methods to prioritize, but many find success by going internal—specifically, reviewers rave about this beauty supplement for healthy aging.
"As I get older, I've been overwhelmed by the sheer volume of topical products and aesthetic treatments marketed to women my age," one shopper, Cece, writes in a review. "This is a genius product!" Here, find out what makes it so praise-worthy.
A "genius" beauty supplement for aging skin. 
What you put on your skin can certainly impact its quality, but you should also think about how you fuel it from the inside out. See, several key nutrients, phytonutrients, and specialized bioactives can support your skin, hair, and overall health as you age—so your body not only feels young but looks and acts younger, too.*
For example, we use phytoceramides (as Ceramosides®) in cellular beauty+ to support a healthy skin barrier structure and promote a supple complexion.* Taking ceramides orally, it turns out, has been clinically shown to ease wrinkles after only 15 days, with even greater benefits after eight weeks.* It also includes astaxanthin, a potent antioxidant that comes from microalgae, which has been shown to reduce wrinkles and age spots in as little as six weeks.*
Astaxanthin's antioxidant properties also make it a wonderful free radical fighter—and free radicals can contribute to physical signs of aging (think skin sagging, fine lines, and wrinkles) over time. That's why you'll find polyphenol-containing pomegranate whole fruit extract in the formula as well for even more antioxidant support and photoprotection.*
Finally, there's ubiquinol CoQ10 to promote skin cell "cleanup" (aka, getting rid of debris) and rejuvenation; it helps your skin cells literally act younger and has been clinically shown to reduce biomarkers of oxidative stress after eight weeks.* What's more, CoQ10 has been found to improve skin elasticity and smoothness and reduce wrinkles and fine lines after 12 weeks.*
Essentially, this cutting-edge formula ticks all of the boxes when it comes to healthy skin aging—hydration, photoprotection, and cellular energy and function—with just one daily serving.*
And the reviews are, shall we say, glowing: "I was excited to try an easy, daily supplement that could help tackle some of my main concerns: fine lines, dryness, UV [exposure],"* Cece writes. "With cellular beauty+, my skin feels hydrated, my wrinkles appear less noticeable, and I've got a glowy feel I can't believe is possible from a supplement!"*
Skin longevity requires smart, targeted approaches, which includes caring for your skin from the inside out. Many reviewers call mbg's innovative formula the ultimate beauty supplement for healthy aging, and fueling your skin with the ingredients it loves is never a bad idea.*