Vegan Skin Care: What It Is, Ingredients To Avoid & Brands To Try

Contributing writer
By Emily Rekstis
Contributing writer
Emily Rekstis is a freelance writer who has worked at Harper's Bazaar, Self, And UsWeekly. Her bylines appear in Healthline, Byrdie, Women's Health, MyDomaine, BuzzFeed, The Cut, Allure and many more.
February 27, 2022
Our editors have independently chosen the products listed on this page. If you purchase something mentioned in this article, we may
earn a small commission
.
Clean beauty is nothing new, but it is continuously rising in popularity. There are so many great facets of clean beauty—from five-free nail polishes to cruelty-free makeup—and today we're highlighting vegan skin care. Many people choose to follow a vegan lifestyle for ethical and/or health reasons, eliminating animal-derived ingredients from their diet, beauty routine, or home care. If you're interested in taking this step, there are tons of great vegan skin care brands to help you get started. Keep scrolling to check them out, as well as some of their bestselling must-haves.
Advertisement
This ad is displayed using third party content and we do not control its accessibility features.
What is "vegan skin care"?
Vegan beauty products are products formulated without any animal-derived ingredients, like honey, beeswax, or collagen. With that being said, just because a product doesn't contain animal-derived ingredients doesn't necessarily mean that the products weren't tested on animals. Cruelty-free is a totally separate entity. When a brand is cruelty-free, it means that the brand does not undergo animal testing. Though they do go hand-in-hand most of the time, a vegan brand is not always cruelty-free and a cruelty-free brand isn't always vegan. Same goes for clean beauty. Just because a brand uses clean, natural ingredients doesn't mean that it steers clear of animal-derived products or animal testing.
Advertisement
This ad is displayed using third party content and we do not control its accessibility features.
Ingredients to avoid in vegan skin care.
While we did the work and found several vegan brands to shop from, it's always good to know what the red flag vegan ingredients are.
Honey
Honey can be a wonderful humectant for those who do not subscribe to a vegan lifestyle, reducing inflammation and controlling breakouts. However, since it's derived from bees, it cannot be a part of a vegan skin care line.
Advertisement
This ad is displayed using third party content and we do not control its accessibility features.
Beeswax
A bit self-explanatory, but beeswax is derived from bees, so a product containing this ingredient could not be classified as vegan. Oftentimes, beeswax is found in balms to moisturize the skin.
Pearl/pearl powder
Pearl powder contains lots of minerals, amino acids, and antioxidant boosters, making it a beneficial addition to skin care products. But since pearls are made by marine oysters and freshwater clams, they do not technically adhere to a vegan lifestyle. With that being said, some vegans find it acceptable to still use pearl powder as an ingredient. It's a personal choice.
Advertisement
This ad is displayed using third party content and we do not control its accessibility features.
Animal-derived collagen
Collagen itself is only present in the animal kingdom, meaning that it must be sourced from animals. Therefore, there's really no such thing as vegan collagen. Though there are collagen boosters like vitamins C and E, which help support the body's natural collagen production, the protein itself is most commonly found in cows, chicken, and fish.
Animal-derived squalene
Squalene (or sometimes squalane) is a great skin ingredient, enhancing and supporting skin's natural barrier. However, the way it used to be extracted was through shark livers. Luckily, squalene can be botanically lab-produced from ingredients like olive oil, rice bran, and sugar cane.
Advertisement
This ad is displayed using third party content and we do not control its accessibility features.
Best vegan skin care brands
mindbodygreen personal care
Our personal care line is not only vegan but also cruelty-free, clean, and dermatologist-approved. They're free from parabens, phthalates, mineral oils, petrochemicals, common allergens, and over 1,000 other ingredients regulated by the E.U. We strive to create the cleanest, most-effective products. This includes our postbiotic body lotion. Not only does it provide hydration, but it also helps protect skin against free radicals using antioxidants and supports the skin's microbiome with advanced biotic ingredients for overall healthier, youthful skin.
postbiotic body lotion, mindbodygreen ($30)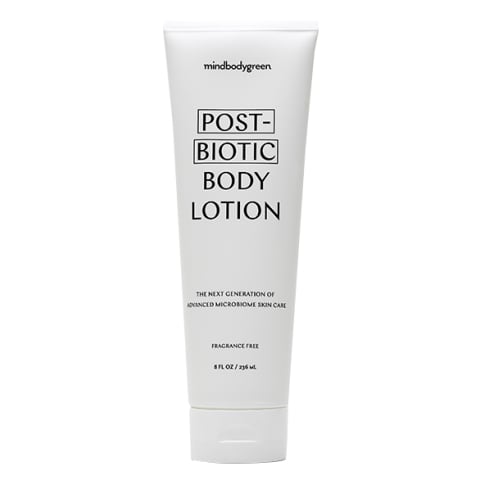 mindbodygreen
Biossance
As previously stated, squalene is a celebrated skin care ingredient with impressive hydrating abilities, but because of ethical reasons, it fell a bit out of fashion. With so much skin care innovation, now there are all kinds of great ethical squalene alternatives, such as Biossance's renewable, sugar-cane-derived version. Though there are a ton of great products to pick from this also Leaping Bunny–certified cruelty-free brand, a cult favorite is the squalene and Vitamin C Rose Oil. The lightweight, absorbent oil brightens, firms, and hydrates the skin without leaving an oily residue. Meanwhile, the Damascus rose petal extract leaves a lovely light scent while soothing the skin for an even, radiant complexion.
Squalane and Vitamin C Rose Oil, Biossance ($72)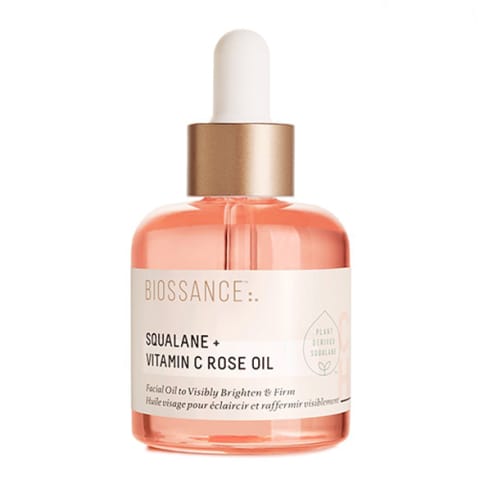 Biossance
Herbivore Botanicals
Effective, natural, and safe, Herbivore's products embody what it means to be a modern-day clean beauty brand that's as approachable as it is ethical. It's also Leaping Bunny certified and 100 percent vegan. There's nothing we don't love about this brand's identity. We're also partial to one of the brand's newest launches, the NOVA 15% Vitamin C + Turmeric Brightening Serum. It uses a highly stable form of vitamin C to target dark spots and improve hyperpigmentation. If you want a brighter, more even skin tone, this is the serum for you.
NOVA 15% Vitamin C + Turmeric Brightening Serum, Herbivore Botanicals ($64)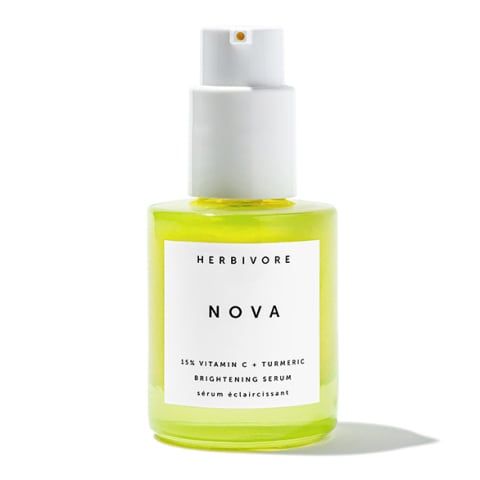 Herbivore Botanicals
Youth To The People
Youth to the People has been pushing the standard in the beauty industry forward since its launch in 2015. It depends on superfood ingredients sourced from local suppliers in California, where they formulate their products. These vegan and cruelty-free formulations are then housed in sustainable glass packaging that's equal parts chic and planet-friendly. As a staple in the brand's catalog is the Superfood Cleanser, which uses a blend of kale for its vitamin C and E benefits, spinach for moisture, and green tea for its anti-inflammatory essential fatty acids.
Superfood Cleanser, Youth To The People ($36)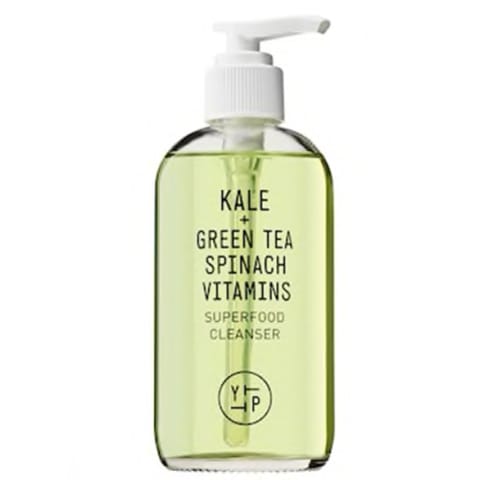 Youth To The People
SeSpring
This K-beauty brand is new to the clean beauty scene, but there's lots of reasons we already love them. The no-fuss formulas are clean, vegan, cruelty-free, efficient, and free of harsh ingredients. As if that weren't enough, everything is under $30. You could fill out your entire skin care routine with just their products—no matter your skin type! If you just want to dip your toes in the SeSpring water, we recommend the So Rich Moisturizing Cream. It uses hyaluronic acid, lavender, and tea tree oil to leave skin feeling, soft, plump, and insanely hydrated.
So Rich Moisturizing Cream, SeSpring ($24.99)
SeSpring
Beia Beauty
When a brand only sells one product, you know it's got to be a good one! Beia encourages women to indulge in regular self-care. What better way to do this than with a lovely little spritz of good-for-your-skin ingredients? This mist is made with calming aloe, green tea to fight breakouts, and hyaluronic acid to deliver a boost of moisture to the skin. Whether you're using it to lock in makeup before stepping out the door or at your desk for a midday pick-me-up, this cruelty-free and vegan skin care product is an absolute treat.
Daily Hydrating Mist Set, Beia Beauty ($48)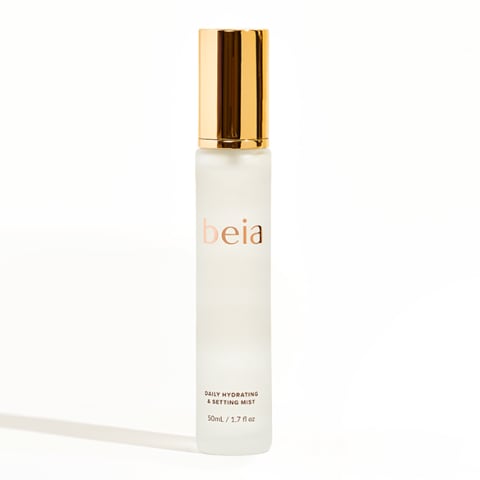 Beia Beauty
27Rosiers
27Rosiers set out to tackle common environmental skin care damage like stress, UV rays, blue light and pollution through vegan, cruelty-free, gluten-free products. No matter your skin type, these products are made to protect and improve skin. This includes fan-favorite Ma Creme. It goes on like a balm but turns into a hydrating cream that balances the microbiome and leaves a cooling sensation for softer, plumper, healthier skin.
Ma Creme, 27Rosiers ($59)
27Rosiers
Banish
For people who struggle with acne more than any other skin care concern, this vegan skin care brand is the one for you. Banish is an independent skin care company that develops small-batch acne-fighting formulas that are housed in recycled glass bottles. One of their bestsellers is the All Clear Mint Cleanser. Unlike lots of the other cleansers that target breakouts, this one won't leave skin feeling stripped and dry. However, it does still contain acne-healing anti-inflammatory and antibacterial properties thanks to plant-based ingredients like aloe, chamomile, peppermint, and spearmint.
All Clear Mint Cleanser, Banish ($39)
Banish
Naturally Serious
Everything you could possibly want from a clean beauty brand Naturally Serious has. Not only is it vegan, but it's cruelty-free, eco-conscious, and uses natural ingredients that are clinically tested to show results. One of our favorites is the After-Dark Natural Peptide Sleeping Cream. It uses Flaxseed Peptide to minimize fine lines and wrinkles for a more youthful complexion and apple extract to provide hydration. Use it overnight and you'll wake up with skin looking healthier, younger, and just overall stunning.
After-Dark Natural Peptide Sleeping Cream, Naturally Serious ($34)
Naturally Serious
Thrive
Using plant-based ingredients grown in Costa Rica, Thrive developed vegan, cruelty-free products free of harmful ingredients like parabens, phthalates, and synthetic fragrances. Even though there are so many great products to choose from, every good skin care routine needs a good sunscreen. The Daily Defense Sunscreen Balm uses SPF 30 to protect against UVA and UVB rays while also hydrating the skin and reducing irritation.
Daily Defense Sunscreen Balm, Thrive ($25)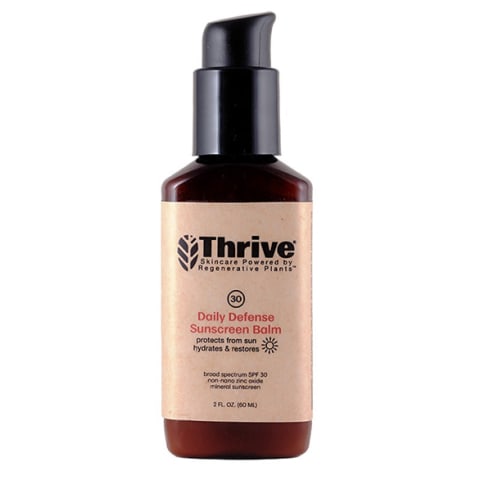 Thrive
Pai Skincare
Here we have another great vegan, cruelty-free skin care brand for those with sensitive skin. Pai Skincare formulates and manufactures all of everything themselves from start to finish in the London HQ using organic, ethical ingredients. This results in safe, quality products that you can depend on. One of their bestsellers is the Lotus & Orange Blossom Soothing Tonic, which reduces redness and improves skin's overall tone and texture for a refreshed, hydrated complexion.
Lotus & Orange Blossom Soothing Tonic, Pai Skincare ($39)
Pai Skincare
mbg's review process
At mbg, high standards are earned—and there are no shortcuts. Our beauty editors stay up to date on the latest ingredient research and innovation. It's a dynamic, continuously evolving space, and it's important we look into the science so we can make informed choices about which formulas earn our stamp of approval (figuratively speaking).
Our high standards also come from testing products—many, many products. Our editors and writers rigorously test and research the products featured in our roundups to offer you the best, most informed recommendations. When we write reviews, you can trust we spend quality time with the formulas: We don't simply rave about products we've slathered on the back of our hand. We endorse products we've tried and loved.
Learn more about our testing process and clean beauty standards here.

Emily Rekstis
Contributing writer
Emily Rekstis is a freelance writer, editor and content creator. After serving as the beauty assistant at Harper's Bazaar and Self magazine, she went on to cover celebrity beauty and fashion as UsWeekly's Style Editor. Consistently curious and always willing to learn, she indulges in her variety of interests writing about everything from beauty trends to health habits to design tips for publications like Healthline, Byrdie, Women's Health, MyDomaine, BuzzFeed, The Cut, Allure and many more.