Round Nail Shape: How To Get The Look + Nail Care Basics
Assistant Beauty & Health Editor
By Hannah Frye
Assistant Beauty & Health Editor
Hannah Frye is the Assistant Beauty Editor at mindbodygreen. She has a B.S. in journalism and a minor in women's, gender, and queer studies from California Polytechnic State University, San Luis Obispo. Hannah has written across lifestyle sections including health, wellness, sustainability, personal development, and more.
June 12, 2022
We carefully vet all products and services featured on mindbodygreen using our
commerce guidelines.
Our selections are never influenced by the commissions earned from our links.
While some nail shapes seem to have a moment in the spotlight every few years, there are a few common shapes that are timeless, versatile, and for the most part, at-home friendly. Of course, each shape has pros and cons, but a rounded tip is an easy classic.
Round nails are foolproof for a few reasons: They're simple to create, can be done on any nail length, and seem to hold up better compared to the more complex shapes. If you live a hands-on lifestyle but still want a polished look, this might be your holy grail shape.
What are the different nail shapes?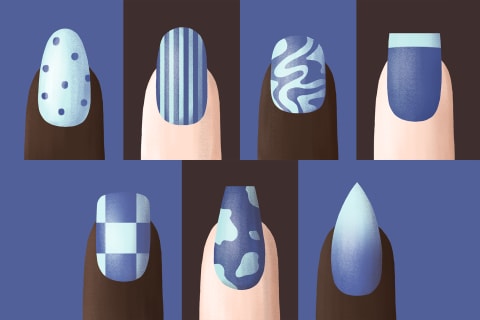 There are seven common nail shapes to choose from, all with a slightly different visual effect. Want to make your fingers look slimmer? There's a nail shape for that. Are your nails on the thinner side? There's an optimal shape for that as well.
First, we have square nails, which are fairly self-explanatory: The tips are squared off on the edges to give a clean, sleek look. If you like the square shape but prefer something a bit more subtle, squoval may be a better option.
Then, there's almond and stiletto. Almond-shaped nails are the softer of the two and much easier to achieve on a natural nail. Almond nails have a rounded tip but flare out toward the bottom giving the illusion of a point, without any harsh tip.
Stiletto nails, on the other hand, do come to a point. This shape can technically be achieved on a natural nail, but that nail would have to be pretty long and strong to hold up.
Coffin nails are another, edgier option. This shape consists of round sides with square edges and a flat top. It's essentially a happy medium between almond and square nails.
Now if you're looking for something on the natural end of the spectrum, oval and round nails are the way to go. Especially if you like to keep your nails trimmed shorter but still want to shape them, a rounded tip is perfect. This shape isn't too complicated to achieve and it's certainly more practical than many of the other looks.
What is a round nail shape?
"The round nail shape is rounded along the entire tip, and it works well on all nail lengths," said Amy Lin, founder of sundays—a nail care brand focused on wellness. This is what makes the round shape so great. Whether you've been growing your nails out for a while or keep them on the shorter side, a round tip is an easy go-to.
Further, "Round nails don't break as easily compared to oval or pointed nails," Lin said. Oval nails are similar to round nails, but they have longer sides, which makes them more flimsy. So if you're constantly using your hands and want to avoid snags, tears, or nail breakage in general, then round nails will be the best bet.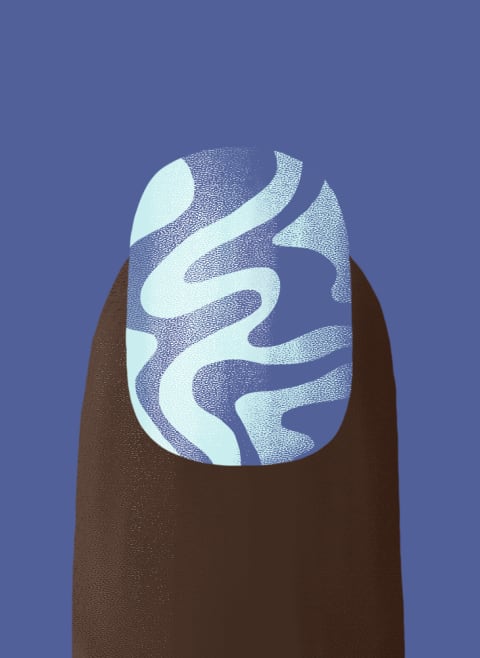 Fun fact from Lin:
"In Chinese tradition, we turn our nails round as it is a symbol of good luck and good fortune."
How to achieve it: 
For at-home manicures, prep work is essential. You'll want to clean your nails of any residual polish or excess dirt. That's right—cleaning your nails is best practice to prep for your new manicure, whether they were painted previously or not.
You can use nail polish remover on a cotton pad or cotton round and dip a Q-tip in some remover to get those hard-to-reach edges if needed. Remember not to press too hard on the tip of your nails, especially if yours are on the thinner side.
If you're working with longer nails to begin with, then cut your nails to your desired length. Because the round shape is simpler, you don't need to leave too much extra length, but definitely leave a bit of room for filing. You don't need to cut your nails in a round shape, though—the filing will take care of that step.
Now it's time to grab your nail file. Here's what Lin recommends: "You can start at the sides of your nail and file toward the center, switching back and forth between sides and moving in the same direction." Continuously going back and forth between both sides will ensure your shape is even.
"Then, put your file underneath your nails to check each side carefully to make sure it is evenly filed. It is very common when we file round shapes and overly file one side versus the other," Lin said.
Nail care tips:
1.
Make sure your tools are clean and fresh.
When you step into a nail salon, you'll likely find a sanitizing station. This is where nail experts clean all of their tools to avoid spreading infection. Even though you may not be sharing your tools with others, it's still best practice to cleanse your clippers, cuticle scissors, and any other tools in your at-home manicure kit that touch the skin.
It's easy to get small tears around the cuticle when you're filing, so you'll want to keep that area as clean as possible in case that does happen.
If you do tend to get tears and cuts around the cuticles, you should invest in cuticle oil. If you already use a cuticle product and haven't seen the desired result, you may not be applying enough.
You can use cuticle oil a few times a day, especially when you're washing your hands often. Not sure which oil to buy? Here are a few of our go-to cuticle products.
3.
Always use a base coat.
While consistent manicures would be great for your nails, that's not always a realistic option. In addition to keeping up with at-home nail care, using a high-quality base coat can work wonders for the nails. Lin recommends the Nail Strengthening Base Coat from sundays. "It has all the vitamins you need and helps your nails grow stronger within a couple of weeks," she said.
"Vitamins are essential," Lin said. "Biotin is important for protein metabolism and cell renewal, which is key to strong nails, as well as healing brittle nails."
Whether you want to grow your nails longer, stronger, or just want some extra support, nail supplements are a great way to ensure you're getting the nutrients you need.* Here's a list of the best supplements for nail health if you're on the hunt.
The takeaway. 
If your day-to-day activities involve some hands-on work, rounded nails may be the most practical option. You can achieve this shape at any nail length as long as you have a file and a bit of patience, as an even finish can take time to achieve. If you tend to have fragile nails, this shape may give you some extra protection against breakage as well. Looking for a more adventurous look? Give almond nails a try to switch it up.
Hannah Frye
Assistant Beauty & Health Editor
Hannah Frye is the Assistant Beauty & Health Editor at mindbodygreen. She has a B.S. in journalism and a minor in women's, gender, and queer studies from California Polytechnic State University, San Luis Obispo. Hannah has written across lifestyle sections including skin care, women's health, mental health, sustainability, social media trends, and more. She previously interned for Almost 30, a top-rated health and wellness podcast. In her current role, Hannah reports on the latest beauty trends and innovations, women's health research, brain health news, and plenty more.