It's Time To Banish Your Bloat With These Simple Steps

Registered Dietitian Nutritionist
By Molly Knudsen, M.S., RDN
Registered Dietitian Nutritionist
Molly Knudsen, M.S., RDN is a Registered Dietician Nutritionist with a bachelor's degree in nutrition from Texas Christian University and a master's in nutrition interventions, communication, and behavior change from Tufts University. She lives in Newport Beach, California, and enjoys connecting people to the food they eat and how it influences health and wellbeing.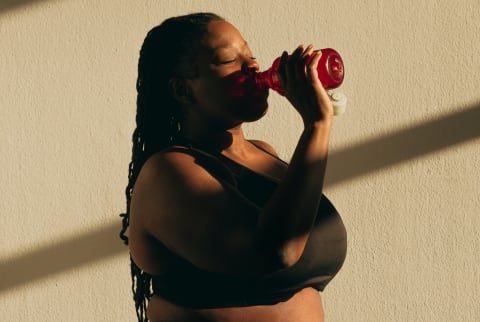 Image by Death to the Stock Photo
August 14, 2023
Bloating is frustrating and uncomfortable to deal with. And there are a lot of things that can lead to your belly feeling overly full and stretched—so pinpointing the actual cause and how to effectively address it may feel like a guessing game at best.
If bloating is a regular issue for you, it's always a good idea to talk with a health care provider to figure out what's behind it (as it may be related to gut issues, food sensitivities, or personal considerations).
But if you're dealing with occasional bloat, there are steps you can take on your own for relief.
Tips to ease bloat 
There seem to be two main contributors to bloat: having too much gas and the poor movement of gas. Here's what you can do to relieve that pressure:
Go for a 10- to 15-minute walk after you eat: This can prompt your digestive system to get things moving along.
Drink lots of water: Dehydration can slow the movement of food in the digestive tract, leading to a buildup and unwanted distension in your abdomen.
Eat slowly and chew your food: Help your body digest the food you eat by chewing it thoroughly. Scarfing down your food often means air gets trapped with it and promotes bloat.
Try a probiotic supplement: Bloating can also be linked to a suboptimal balance of bacteria and other microorganisms in the gut microbiome. In these cases, probiotics can aid digestion and reduce bloat.*
The kicker to the last tip is not all probiotics target bloat. There are certain probiotic strains (aka species of beneficial bacteria) that have been clinically shown to help support gut health in this way.*
mindbodygreen's probiotic+ is a one-of-a-kind formula that delivers four probiotic strains to support regularity and ease bloat.* These strains include:
If consistently taken, this probiotic can help tackle bloat in as little as three weeks.*† Still skeptical? That's fair. Lots of probiotic supplements claim to help with bloat, they just don't contain the right strains (in the right amounts) to do so.
But a quality, research-backed product can make all the difference. And don't just take our word for it. Here's what probiotic+ reviewers are saying about how the supplement has helped banish their bloat:*
"Noticed a big difference in the first month of taking it!"
Within a couple of days, my gut issues were getting better and almost a month in I'm feeling great. Highly recommend it!*
"I feel less weighed down"
I love this product, it makes me feel less bloated and more energetic!*
"A great addition to fermented foods"
I try to get as much probiotics as possible in my diet, but this is a great supplement when I can't get enough in a day!*
"It got my system back on track"
This probiotic took only two weeks to reset my system. What a relief to have my system back on track so quickly.*
"I'm no longer ambivalent about my probiotic"
I've tried several other supplements and always felt ambivalent about the results. I feel like these are actually having a notable impact.*
"I can't believe how much this has helped me!"
Before I had trouble with bloating and gas after I ate but now oh wow! It's like this supplement has regulated my gut. I do have the occasional gas but it doesn't even last as it used to. I can definitely say I'm a very happy customer and I'll continue with the supplements!*
"It delivers results!"
The probiotic+ definitely has helped with my gut health. Ever since taking it, I'm more in control of any bloating that might have occurred before and no longer feel inflamed in my gut.*
"These are worth it because I actually notice a difference"
I have tried many probiotics and with these I've really noticed a difference. They are worth the money. My stomach feels less bloated and I feel much less gas and digestive issue. I have been taking these for over two months now and will continue with them.*
The takeaway
If you're experiencing occasional bloat, there are several steps you can take daily to help combat it. Going on post-meal walks, staying hydrated, chewing slowly, and taking a probiotic supplement with bloat-banishing strains, like mbg's probiotic+.* And if you have persistent bloating, it's a good idea to talk with a health care provider for personalized support.
If you are pregnant, breastfeeding, or taking medications, consult with your doctor before starting a supplement routine. It is always optimal to consult with a health care provider when considering what supplements are right for you.

†Benefits assume daily use and are evidence-based estimates rooted in clinical science at the ingredient level. Individual results may vary.
Want to turn your passion for wellbeing into a fulfilling career? Become a Certified Health Coach! Learn more here.