7 Public Figures On The Hair Care Choices That Make Them Feel Powerful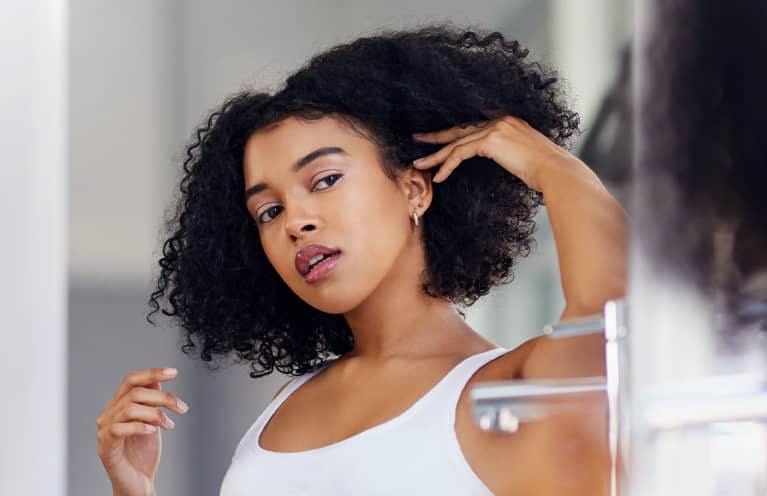 This article was produced to support the mindbodygreen supplements+ line. Our supplements adhere to the highest standards of ingredients and quality. We hope you enjoy these products, for more information
click here
.
Hair is one of our most important identity signifiers, communicating taste, politics, and social standing without us needing to speak a word. After years of conforming to societal norms, it's experiencing its moment of self-expression. "Hair is super-important, especially for people of color," says DJ and creative Honey Dijon, "because we have taken something we've been oppressed with—our naturally curly hair—and made it an art form."
For perfumer Maya Njie, growing up mixed-race in Sweden and having Afro hair was a challenge because few products were available, and nobody local knew how to work with her curl texture. The answer eventually was to cut it all off when she arrived in London, an act that proved liberating. Now, she focuses on scalp care using moisturizing jojoba, coconut, and baobab oils with her own blend of bergamot, neroli, and ylang-ylang essential oils to make it smell good.
In fact, the self-care for hair movement has gradually been gaining traction, with scalp care, brushing, and conditioning taking on a less burdensome, more therapeutic role.
How to practice self-care for hair.
Like skin, hair shows the effects of stress and hormonal changes, which are reflected in thinning, shedding, and lackluster condition. Lifestyle habits can also affect it. If you're struggling with your hair, look at whether you're getting enough good-quality sleep, protein, and relaxation in your life. Gua sha, an ancient Chinese healing modality, can also help to improve circulation in the scalp. For a daily boost to drive nutrients to the follicles, place a gua sha comb in the center of your skull at the front hairline and sweep gently backward down to the neck, repeatedly.
Scalp scrubs and regular brushing are other pleasurable rituals that you can embrace to improve and maintain the well-being of your hair. Try the reviving scrubs by The Body Shop and Christophe Robin and handmade combs by Crown Affair, a company created by its founder, Dianna Cohen, to make hair care more holistic.
Hair care can feel empowering—and brands are taking note. 
For a long time, society has forced women of color to emulate Western hair while damaging theirs in the process. Flipping the switch on chemical straightening treatments, a new generation of brands has emerged to help restore the health of natural curls and coils. Curly hair needs moisture, something that sulfate-heavy shampoos end up stripping away. Newcomers include Pattern Beauty, Dizziak, and Bouclème, owned by naturally curly-haired founders and offering products that use gentle ingredients to hydrate and treat.
Joining this movement are haircare brands such as Chāmpo (pronounced shar-pour, meaning "to press and knead the muscles" in Hindi) that combine new technology with botanical ingredients to promote the Ayurvedic principles of mind and balance. This aligns with the trend for "co-washing," a process that swaps shampoo for a conditioner with mild cleansing agents to clean and condition hair without depleting its natural oils. A great option for dry hair, it prevents the damage that can be caused by regular sulfate-laden shampoos.
As with skin care, a relatively new entry to the world of Western haircare is the conditioning oil. While some may have a morbid fear of this all-natural substance, it's a much-loved secret weapon of many beauty ritualists. Artist and jeweler Arpana Rayamajhi learned about the advantages from her mother while growing up in Nepal, and continues the tradition: "Nepalese women are really big into oiling. On my hair I use everything from olive oil to mustard oil, almond oil, and amla oil, which comes from the Indian gooseberry."
Japanese massage therapist Ryoko Hori also champions the power of oils. For her, the magic ingredient is tsubaki oil, which comes from the seeds of the camellia flower. It's the oil that is used to give sumo wrestlers' hair its incredible strength and shine. Try it as a calming leave-in treatment, working in a generous amount after towel-drying.
Or go the everyday low-maintenance route: The Brazilian footwear designer Mari Giudicelli does very little to her naturally wavy hair, but after a shower, she applies the traces of Costa Brazil body oil that are left on her palms to the ends of her air-dried hair.
It doesn't stop there. You can also consider the wonders of oil as an eyebrow- and lash-boosting treatment. Wellness coach Isa-Welly Locoh-Donou extols the benefits of humble castor oil: "I put it on my lashes and brows before bed. I've done that for several months, but the lashes get silkier. I buy castor oil and put it in an empty mascara tube and add vitamin E."
Should we cover gray or flaunt it?
With all the talk about natural and holistic hair care, where do we stand on the (aptly colored) elephant in the room? To cover up gray hair, or not to cover it up?
Despite all the progress in the beauty industry, ageism is still rife, and costly dyed hair is considered standard. "Hair speaks volumes about the confidence of a woman," says the 70-something boutique owner Linda V. Wright, possibly the coolest woman I know. "Women become almost belligerent when discussing the decision to continue this ritual of dyeing their hair. Ladies, going gray and growing older is a privilege we should embrace!"
Her tactics took her to the salon chair of David Mallet in Paris, who cut her hair super-short and allowed the gray to grow in while continuing to cut it until it was its natural de-pigmented shade. She then tied her hair into a signature updo, aided by a choice of Leonor Greyl shampoos, moisturizers, and masks: "I have never looked back."
Adapted from Face Values: The New Beauty Rituals and Skincare Secrets by Navaz Batliwalla, illustrations by Shira Barzilay. Reprinted with permission from Laurence King Publishing © 2021. All rights reserved. No part of this excerpt may be reproduced or reprinted without permission in writing from the publisher.