I've Tested Tons Of Face Oils: This One Moisturizes Without Ever Clogging Pores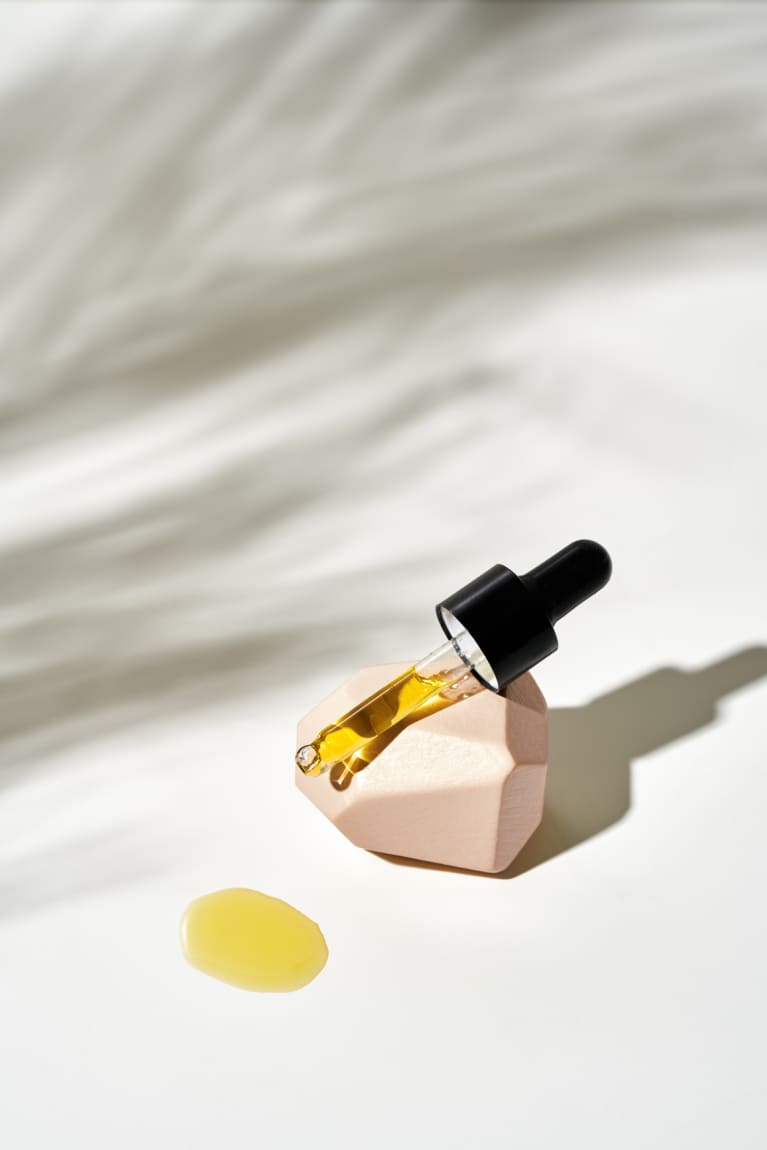 Our editors have independently chosen the products listed on this page. If you purchase something mentioned in this article, we may
earn a small commission
.
I officially know autumn has arrived, not when the leaves bleed amber or when the entire city smells faintly of pumpkin spice, but when I wake up with a dry, raspy throat. My beloved AC unit keeps me cool throughout the night, providing the optimal temperature for sleep, but when the weather turns crisper, it effectively sucks all the moisture in the room, dehydrating my vocal cords and creating a hoarseness I now associate with drier seasons. (For those who are concerned: It ebbs quickly with a few spritzes of throat spray and some warm water.)
This lovely anecdote also affects my complexion: I have the most textbook combination skin, which means in the summer, my T-zone is oily—like, really oily—to the point where I need a face scrub to effectively wipe away sweat and grime. But when fall approaches and the humidity subsides, the tables quickly turn—my skin turns perennially dehydrated; dullness and rough texture becoming my main concerns.
I've been testing Pai's Carbon Star for a while now, and I can confidently say it's the ultimate game-changer, locking in moisture without clogging the oilier portions of my face. Allow me to explain why this is the No. 1 face oil I trust.
The face oil I trust to lock in moisture without clogging pores. 
Let's get this disclaimer out of the way: Any skin type can benefit from face oils, oil- and acne-prone skin included. In fact, when your skin is dehydrated, your sebaceous glands can actually produce more oil to compensate for that lack of moisture—and with the excess slick, breakouts often aren't too far behind.
So, yes, a good face oil can actually help stabilize oil production and keep your skin balanced—it's just about selecting the right type of noncomedogenic oil to help retain moisture and feed your skin barrier without clogging your pores. That way, your complexion appears supple and dewy, never greasy or congested.
Now, "noncomedogenic" falls on a spectrum (i.e., everyone's skin reacts differently to certain ingredients), but black cumin seed oil is generally considered a safe bet—and it's one of Carbon Star's main players. The amber-hued oil has been used for thousands of years (it's even rumored as the star of Cleopatra's skin care routine), and one 2015 review study in the Journal of Dermatology & Dermatologic Surgery found that applying a lotion of 10% black seed oil positively affected acne after two months, thanks to its anti-inflammatory properties.
The charcoal powder also helps absorb excess oil—and it's responsible for the product's inky hue. This may sound counterintuitive, given how face oils are meant to keep precious moisture inside the skin, but think of the charcoal as paving the way for a supple complexion: It effectively draws out the thicker, waxier sebum associated with oil overproduction, but because the face oil simultaneously feeds your skin with healthy fatty acids, it'll leave a lightweight veil of moisture.
Then to round out the formula, it features antioxidant-rich andiroba oil, açai oil, and vitamin E to help temper inflammation and heal any scarring. As someone who struggles with hormonal acne and the subsequent stubborn hyperpigmentation, I welcome the added brightness.
How Pai's Carbon Star has helped my skin. 
When I use Carbon Star, my skin looks and feels effervescent. Instead of dry and dull, my complexion has a fresh, glass-like layer—where the oil itself appears clear and healthy, reminiscent of a dewy glow. I've been sticking to a three-times-a-week regimen or whenever I feel my skin is especially parched, and I use it as the last step of my skin care routine: post cleanser, niacinamide serum, and moisturizer.
I'll admit I have dripped the pipette down my face just to make it look like I've cried some witchy, midnight tears. (Who can resist?) On less cinematic nights, I warm the oil between my palms before pressing it onto my skin—it still leaves a slight gray cast, but that typically goes away with a couple of extra presses. I follow with a thorough cleanse in the morning to ensure I don't pile up my products and create buildup, but my skin retains that velvet-like quality even after I pat dry.
Anyone can benefit from a facial oil in their routine, but Pai's Carbon Star is extra special for breakout-prone skin types. At $59, it does fall on the pricier side, but to me, the glowy results are worth it: It helps calm inflammation and clarify pores while simultaneously shielding the skin as you snooze, resulting in dewy, bright skin come the a.m.