I Found A Surprising Hero For My Sweaty, Congested Skin & I'm Never Looking Back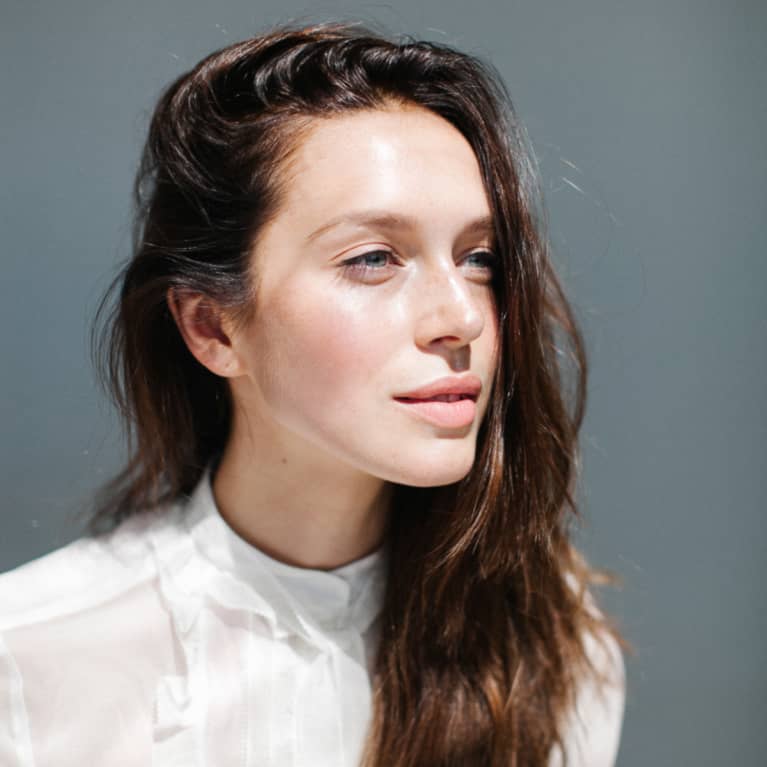 Our editors have independently chosen the products listed on this page. If you purchase something mentioned in this article, we may
earn a small commission
.
Friends with combination skin, you know the struggle: While winter brings gripes of dryness and flakes, summer is all about the oil-slick shine. Come warmer weather, my pores are perpetually congested, my T-zone a revolving door for breakouts: Once I finally get one cluster under control, up pops another crowd of zits.
After testing what seems like every oil-balancing product under the sun, I finally found the antidote for my stubborn breakouts. Not a serum, or mask, but a face wash: Tatcha's The Deep Cleanse has truly transformed my summer skin.
The cleanser that has saved my skin this summer. 
Quick factoid: I have an irrational fear of face scrubs. Logically, I know today's iterations are so different from the sandpaper options of the past, but the lingering memory of my poor, broken capillaries left me wary. Little did I know, a (gentle) face scrub would be the answer to my summertime skin woes.
See, Tatcha's Deep Cleanse is an exfoliating cleanser, one that sweeps away gunk with Japanese luffa fruit enzymes, as well as ground fibers from the fruit's husk. The teeny granules effectively break up all traces of sunscreen, oil, and dirt, yet it doesn't leave my skin stripped or irritated afterward. Technically a gel cleanser, it squeezes out a pale yellow goop, but it instantly lathers up into a creamy foam that's incredibly delicate on the skin (hat tip to the silk-derived cleansing agents), so it's gentle enough to use every day.
The formula also includes Japanese wild rose, a botanical native to East Asia that's rich in vitamins A, C, and E, to help brighten and even tone, as well as Japanese leopard lily—a flower used in Japan for centuries and beloved for reducing excess oil and promoting cell turnover. Both are ingredient headliners in the brand's cult-favorite Water Cream as well, and they do wonders to help fade hyperpigmentation, to boot.
How I use Tatcha's Deep Cleanse.
The Tatcha scrub accompanies me on my nighttime wash: After splashing my face damp, I'll massage the gel in light, circular motions to work up the product. I'll take my time, making sure to tend to my T-zone and clean the crevices of my nose, right where those pores become blocked in humid weather.
After rinsing and patting dry, I'll follow up with a niacinamide serum and moisturizer, topping it with an oil around two to three times per week, or whenever my skin feels dehydrated. I'll use the face wash daily, save for the one night a week I swipe on an exfoliating toner—you don't want to use both physical and chemical exfoliation at the same time, even with a formula that feels like silk.
I haven't used the Tatcha number in the morning yet, but I'll wager I would be met with a glowing, bright complexion. After all, as board-certified dermatologist Jessie Cheung, M.D., founder of Cheung Aesthetics and Wellness, once said about DIY face scrubs: "Physical exfoliation offers instant gratification, as dead skin cells and dirt are swept away during the treatment—it's perfect if you need an immediate glow." I find that my skin doesn't need a full-on cleanse in the morning, so I stick to a gentle cleansing balm in the a.m. (this oat milk confection from BYBI, to be exact). No matter: The glow from Deep Cleanse lasts me all night.
Tatcha's Deep Cleanse will now forever be known as my seasonal holy grail. At $38 a bottle ($62 for the jumbo-size option), it falls a bit pricey for a face wash, but I am happy to report that my skin has never looked better. As someone who has tested the works to get those summer breakouts under control, my clear skin is worth it.