How To Teach Kids Healthy Eating Habits With Creativity & Customization, From A School Dietitian

mbg Vice President of Scientific Affairs
By Ashley Jordan Ferira, Ph.D., RDN
mbg Vice President of Scientific Affairs
Ashley Jordan Ferira, Ph.D., RDN is Vice President of Scientific Affairs at mindbodygreen. She received her bachelor's degree in Biological Basis of Behavior from the University of Pennsylvania and Ph.D. in Foods and Nutrition from the University of Georgia.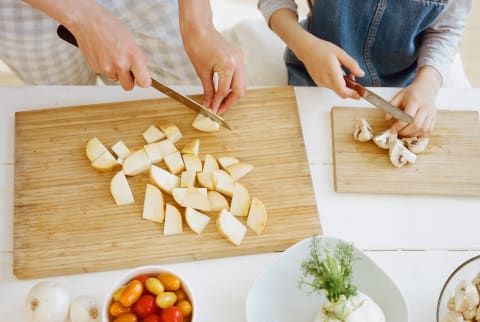 Image by Duet Postscriptum / Stocksy
March 27, 2021
It's National Nutrition Month! All month long, we're highlighting the importance of a personalized nutrition approach and celebrating R.D.s across a range of specialties—hospitals, schools, community programs, universities, private practice, industry, and beyond.
Approximately 7 billion breakfast and lunch meals are served to K–12 students in the U.S. every year through federally funded programs. The nutritional balance of those meals directly affects the health, academic performance, and future of our nation's children.
This massive responsibility (including the sheer number of meals) requires a fleet of school nutrition professionals, with registered dietitians at the helm. Jessica Keene, M.S., R.D., SNS, is one of those dietitians. A leader in school nutrition, Keene is Regional Field Manager of San Diego Unified Schools Food and Nutrition Department. She supports 10 district clusters, which oversee approximately 100 school sites, 500 employees, and 60,000 students.
As a credentialed dietitian and School Nutrition Specialist (SNS), Keene has specialized in the operation of school nutrition programs for over a decade. In addition to overseeing production, planning, ordering, and inventory—Keene has written, analyzed, and managed over 500 special diets for recipe development and 40-plus nutritious menus.
While the pandemic has temporarily shifted the format and location of school for many children—nutrition leaders, with impressive creativity and fortitude, have continued to distribute meals to those inside and outside of school.
Keene and I recently caught up to chat about her personal approach to nutrition, plus what this year's National Nutrition Month theme means to her and to the students she serves.
What does this year's National Nutrition theme "Personalize Your Plate" mean to you?
This year's National Nutrition Month theme acknowledges the myriad factors that drive our personal food preferences and needs for nutrition. With so many ways to approach healthy eating, there is no singular best approach. Allowing for flex and personalization is key for successful and sustainable outcomes.
Within our schools, we aim to plan menus that appeal to a wide range of demographics. San Diego is such a diverse city that this can present unique challenges, but through meal customization, we can provide options with broader appeal. When possible, we utilize topping bars and condiment stations to give students a chance to modify meals. Allowing students to tailor their meals to their unique preferences promotes greater student satisfaction and ensures they will receive much-needed nutrition.
Do you follow a specific dietary pattern?
I align most with Mediterranean diet principles, but honestly, I try to keep it simple and don't overthink it. When planning meals, I aim to fill half my plate with fruits and vegetables, one-fourth a high-quality protein, and the remaining portion a whole-grain or complex carb. I gravitate toward mostly plant-based proteins and try to stick with unprocessed foods as much as possible.
I also love to cook with my 4-year-old daughter, and we are always adjusting recipes to make them a little bit healthier. Whether it's adding more color (veggies and fruits), reducing the sugar, or swapping in a healthier fat, getting her involved in the meal-planning and cooking process has been key to expanding her palate and teaching hands-on, lifelong healthy eating habits.
What's your go-to nutrient-dense meal right now (breakfast, lunch, or dinner)?
A meal my daughter and I can't get enough of right now is roasted veggies with gnocchi. I always appreciate a dish that is both easy to assemble and clean up. I chop and roast a variety of vegetables (eggplant, cherry tomatoes, mushrooms, and Brussels sprouts), add the gnocchi toward the end of the roasting so it gets a little crispy, and top with skim ricotta cheese. It's an easy vegetarian dish, and the veggies pack in fiber, micronutrients, and healthy carbs.
Is there one "MVP" healthy food or meal addition you're personally loving right now?
Garlic and herb-infused olive oil. One of my favorite olive oil infusions combines rosemary and garlic. It's such an easy way to add a boost of flavor to a dish, especially roasted veggies. It's also a great way to add healthy fats and antioxidant phytonutrients!

Ashley Jordan Ferira, Ph.D., RDN
mbg Vice President of Scientific Affairs
Ashley Jordan Ferira, Ph.D., RDN is Vice President of Scientific Affairs at mindbodygreen. Ashley received her B.A. in Biological Basis of Behavior from the University of Pennsylvania (along with a double minor in Nutrition and Music) and Ph.D. in Foods and Nutrition from the University of Georgia. Her research contributions span vitamin D, cardiometabolic health, bone density, and weight management. Ferira is a nutrition scientist and dietitian with experience in nutrition product innovation and development, scientific affairs, education, communications, and SEO writing for global firms, including Nature Made, Metagenics, Three Ships, and mindbodygreen.
In addition to her mindbodygreen contributions, Ferira is published in Health, Metagenics Institute, American Family Physician, The Journal of Clinical Endocrinology & Metabolism, and Osteoporosis International. She has a passion for the translation of evidence-based science into innovative and high-quality products and information that help people lead healthier lives. She is a believer in compassionate, informed, and personalized approaches to nutrition, health care, and wellness. Ashley lives in beautiful Charleston, South Carolina, where she was born and raised. Whether savoring an orchestral performance or delectable meal at a local restaurant, you will find her enjoying Charleston's cultural and culinary arts with family and friends.