paid content
 for

This Butternut Squash Gnocchi Recipe Is Kristin Cavallari's Go-To Comfort Dish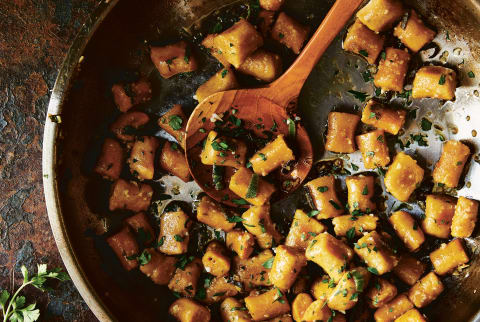 Image by Random House / mbg Contributor
October 1, 2020
This year, more than ever, we've been seeking comfort in cooking. We've returned to the simple joy of a nourishing meal, prepared and enjoyed right in one's own home. And, along the way, we've learned that comfort food can be healthy. In fact, cooking and sharing a meal with the people closest to us provides nourishment for the body, mind, and soul.
And so, it feels like Kristin Cavallari's new cookbook, True Comfort, couldn't possibly have been released at a better time. This glorious book is filled with healthified comfort food, from an Apple Pecan Dutch Baby for breakfast to an Orange Olive Oil Cake for dessert. Cavallari has included tips and tricks to put together a well-stocked kitchen that will motivate and inspire us all to cook more meals at home and live a healthier lifestyle.
Here, we're sharing Kristin's go-to comfort food recipe, and one she describes as the meal she would choose as her last on earth. It's an impressive dish to serve up to family or friends but shockingly easy to prepare. As a bonus, it makes the most of all that fall squash we're starting to see at the farmers markets. Get cooking, get cozy, and celebrate the new season.
2 pounds butternut squash, peeled, seeded, and cut into cubes
4 cups oat flour, plus more for rolling
½ cup grated manchego cheese, plus more for garnish
Pink Himalayan salt
Freshly ground black pepper
½ teaspoon dried thyme
1 egg
½ cup extra-virgin olive oil
4 cloves garlic, minced
3 teaspoons fresh lemon juice
6 fresh sage leaves, chopped
1 tablespoon chopped fresh parsley
Cover a large baking sheet with parchment paper. and set it aside.
Bring a large pot of water to a boil. Add the squash cubes and cook they are until fork-tender, 10 to 15 minutes. Drain, then place the squash in a food processor. Pulse for 2 minutes or until completely smooth.
Return the squash to the (empty) pot and cook it over medium heat for 5 minutes, stirring occasionally. You should have about 2 cups of butternut squash puree. Remove from the heat, and let it cool slightly.
In a large bowl, combine 2 cups of the oat flour with the Manchego cheese, 1 teaspoon salt, a pinch of pepper, and the thyme. Stir together. Make a well in the center of the dry ingredients, and add the egg and the squash puree to the well. Mix, using your hands, until just combined. Add the remaining 2 cups oat flour and mix until it barely sticks to your hands and resembles dough.
Dust a cutting board or other work surface with oat flour. Divide the gnocchi dough into 8 equal portions. Working with one portion at a time, roll the dough out into a ½-inch-thick rope; then cut the rope into ¾-inch-long pieces. Place the gnocchi on the prepared baking sheet and continue with the remaining dough. Set aside.
In a large sauté pan, cook the olive oil over medium heat for 5 minutes, stirring occasionally. Add the garlic, lemon juice, sage, and ½ teaspoon salt; cook for another 5 minutes. Reduce the heat to low to keep the oil mixture warm.
Bring a large pot of salted water to a boil. Gently place half of the gnocchi in the boiling water and cook until they rise to the top, 10 to 15 minutes. Remove the gnocchi with a slotted spoon, place them in the sauté pan, and fold them into the olive oil sauce, coating them completely. Repeat with the remaining gnocchi.
Garnish the gnocchi with the parsley, and serve right away.

Chloe Schneider
mbg Brand and Integrated Marketing
Chloe Schneider is the VP of Brand and Integrated Marketing at mindbodygreen. She received her degree from the University of South Wales. She has worked at many top publications and brands including Mashable and RESCU. She lives in Brooklyn, NY.