All About Mushroom Coffee: Benefits + 7 Best Brands To Buy
mbg Health & Fitness Director
By Kristine Thomason
mbg Health & Fitness Director
Kristine Thomason is the health and fitness director at mindbodygreen.
Last updated on June 30, 2022
Our editors have independently chosen the products listed on this page. If you purchase something mentioned in this article, we may
earn a small commission
.
Let me be clear: I appreciate a rich, bold, no-fuss cup of coffee as much as anyone around. That said, as health editor at mindbodygreen, I'm always on the lookout for ways to infuse my daily well-being routine with extra perks.
So when I began seeing more and more mushroom coffee products emerging, I was certainly intrigued—after all, plenty of nutritionists and functional medicine doctors recommend taking adaptogenic mushrooms for their scope of potential benefits.
To get a better sense of this mushroom moment, I chatted with experts and gave these products a try for myself.
What is mushroom coffee?
Let's back up for a second: Mushroom coffee is a mounting trend in the modern health food world—however, it certainly isn't a novel beverage. Mushrooms have been used in traditional medicinal practices and functional medicine approaches for centuries, says Ella Davar, R.D., CDN.
More recently, according to information from Four Sigmatic, mushrooms were used as a coffee substitute in Finland (where their founders are from), during World War II when coffee beans weren't available.
Now, there are more and more packaged mushroom coffee products hitting the shelves, in a variety of forms. Some contain a balanced blend of beans and mushrooms, and others include additional functional components. A few opt for tea or other energizing ingredients, in lieu of actual coffee. The common denominator? They all contain some form of ground medicinal mushrooms or extracts to contribute a host of potential health benefits.
Mushroom coffee benefits.
As mentioned, certain mushrooms have been a part of traditional medicinal practices1, such as Traditional Chinese Medicine, for many years.
"There are thousands of species of mushrooms, and their purported benefits range from supporting liver and heart health to enhancing energy and more," allergist and immunologist Heather Moday, M.D., previously told mindbodygreen.
While the benefits of mushrooms differ based on type—and research is still emerging—here are a few promising benefits to consider, from Moday and Davar:
What's more, opting for mushroom coffee may help balance out some of the unwanted side effects of caffeine, or even help you cut back on coffee, if that's one of your goals. (You can also read more about specific mushroom varieties and potential benefits here.)
As an integrative dietitian, Davar says she uses medicinal mushrooms quite often. "One of my favorite ways to have mushrooms is in a mushroom latte, mixed with plant-based milk." In other words: mushroom coffee.
Best mushroom coffee brands.
If you're interested in giving mushroom coffee a try, I've rounded up some great brands and products—I can personally vouch for all of these, plus Moday and Davar back up a number of these recs, too.
The best mushroom coffee of 2023:
The best flavored: Mud/wtr Rise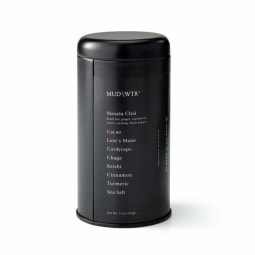 Pros:
Great flavor
Affordable
Additional beneficial ingredients
Cons:
Contains small amount of caffeine
Imagine your favorite chai latte...with the added benefit of medicinal mushrooms. That's exactly what you get with this delicious blend, which packs in organic chaga, reishi, lion's mane, and cordyceps. The founder of Mud/Wtr created this functional beverage to help reduce his coffee dependence while promoting calm and focus—so rather than coffee, it features organic black tea powder. For taste, there's also a spice blend of cinnamon, turmeric, ginger, cardamom, black pepper, nutmeg, and cloves. Davar is a fan of this brand in particular!
To drink: Blend a tablespoon of the powder with hot water or your favorite nondairy beverage.
Best creamer : Renude Chagaccino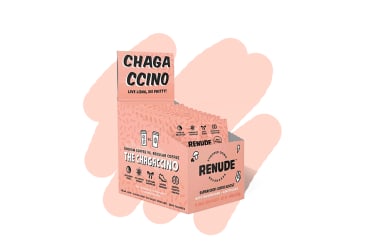 Pros:
Can be added to any drink
Portable
Forget your splash of oat milk, this creamer tastes better and does way more. Made of four simple ingredients: chaga mushrooms, cacao, cinnamon, and monk fruit, this powder turns your morning coffee into an adaptogenic latte chock full of superfoods. And the single serving pouches make it easy to bring to the office or add to a to-go coffee.
To drink: stir into coffee or drink of choice.
Advertisement
This ad is displayed using third party content and we do not control its accessibility features.
Best latte: Daily Harvest Chaga + Chocolate Latte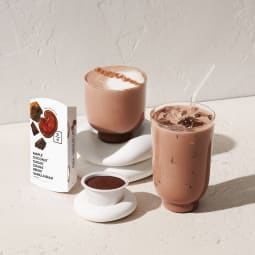 Pros:
Tastes like chocolate
Sustainable packaging
I love these little ready-to-make latte pods from Daily Harvest. This option has a mix of organic cacao, chaga mushrooms, reishi mushrooms, coconut, vanilla, and a touch of natural sweetness from maple syrup. Plus, their new latte packaging is now made from 100% home compostable and recyclable material, made from plant-based renewable fiber.
To drink: Pop the latte pod out of its container, blend with 1 cup of your favorite milk, and serve hot or cold.
Best brewed coffee dupe: Four Sigmatic Mushroom Ground Coffee With Lion's Mane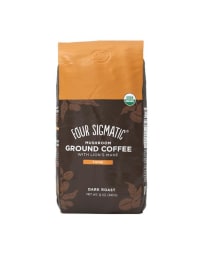 Cons:
Significant caffeine content
Four Sigmatic has a number of different mushroom coffee offerings (among other great products), but our personal pick is the ground coffee with lion's mane. Why? As Moday puts it: "I am a big fan of using lion's mane in particular, because of its far-reaching effect on the brain." The combo of organic, Fair Trade, single-origin Arabica coffee beans and lion's mane (plus chaga mushrooms) is meant to help support energy levels and alertness, without a caffeine crash.
To drink: Brew this blend like you would standard ground coffee!
Advertisement
This ad is displayed using third party content and we do not control its accessibility features.
Best caffeine free : Rasa Bold Herbal Coffee
Pros:
Organic
Caffeine free
9700 mg of adaptogens
This blend doesn't stop at the usual mushroom coffee offering of lion's main and cordyceps. It includes a blend of roots, herbs and berries to put a hunter gatherer to shame, from the ancient viking root rhodiola to the famously adaptogenic eleuthero herb and the himalayan herb shilajit. Chicory, cinnamon, and cacao top it all off for a drink that's equal parts flavorful and functional.
To drink: brew it like coffee. A french press is ideal, but all that's required is hot water and a strainer.
Best single serve : Earth & Star Cold Brew
Pros:
No prep needed
Includes L-theanine
If canned cold brew is more your speed, this mushroom coffee from Earth & Star is a fantastic option. It features lion's mane, cordyceps, reishi, and chaga. According to the brand, they use this combination because they work well together to elevate the benefits. This brew also features L-theanine, an amino acid found in green tea, which has stress-relieving properties.
To drink: Grab a can and go!
Advertisement
This ad is displayed using third party content and we do not control its accessibility features.
Best premade: Taika black coffee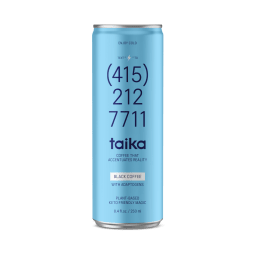 Pros
No prep required
Extra adaptogens
Using a patented blend of five adaptogenic ingredients—theanine, ashwagandha, lion's mane, cordyceps, and reishi—Taika aims to offer an easy-to-grab morning beverage with more benefits than traditional coffee. Plus, I can attest the canned coffee is pretty delicious, too.
To drink: Grab and sip!
Best iced: Califia Mushroom Coffee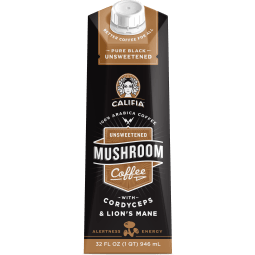 Pros:
No prep required
Ingredients are just coffee and mushrooms
Cons:
Significant caffeine content
Califia may be known for its wide variety of non dairy milk, but they also have a lovely selection of packaged coffee. I'm a fan of this mushroom cold brew coffee they added to the lineup this year, with cordyceps and lion's mane extract.
To drink: Pour and sip!
Advertisement
This ad is displayed using third party content and we do not control its accessibility features.
Consider before buying.
As with any type of nutrition supplement, it's important to speak with your health care provider before adding mushroom coffee to your regimen—particularly if you're on any medications or have a preexisting health condition. If you do experience any side effects after drinking mushroom coffee, be sure to consult with your doctor.
What's more, while none of the products on this list contain refined added sugars or artificial ingredients, some options on the market do—so we recommend eyeing the label before buying any premade mushroom coffee.
The takeaway.
Mushroom coffee is a beverage made from adaptogenic mushrooms, either in powdered form or via an extract. Sometimes the drink contains cold brew or ground coffee, while other times this beverage can simply feature mushrooms and other functional ingredients. This can be a great option if you're looking to get more benefits out of your morning cup of coffee or even cut back on caffeine. Just be sure to speak to your health care provider if you're on any medications or have an existing health condition, before giving these earthy beverages a try.
Want to turn your passion for wellbeing into a fulfilling career? Become a Certified Health Coach! Learn more here.