The Solution That Ended My 20-Year Struggle With Everyday Immunity*

mbg Co-Founder & Co-CEO
By Colleen Wachob
mbg Co-Founder & Co-CEO
Colleen Wachob is Co-Founder and Co-CEO at mindbodygreen.

Expert review by
Ashley Jordan Ferira, Ph.D., RDN
mbg Vice President of Scientific Affairs
Ashley Jordan Ferira, Ph.D., RDN is Vice President of Scientific Affairs at mindbodygreen. She received her bachelor's degree in Biological Basis of Behavior from the University of Pennsylvania and Ph.D. in Foods and Nutrition from the University of Georgia.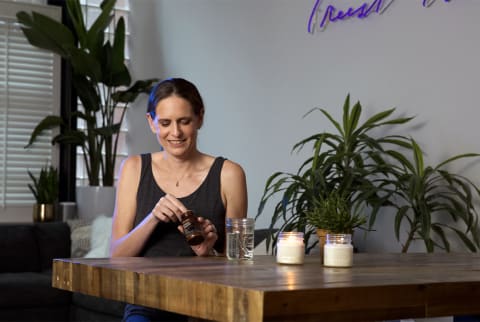 June 22, 2022
In my 20s and 30s, I would get sick at least a few times a year. Like clockwork, a cold would knock me out for a few days. I used to pop a couple of fizzy packs with immune-centric ingredients when I started to feel awful—but by then, it was too little, too late. I didn't know I was missing some key, daily immune support tools.
Now that I'm in my 40s, our two little girls require very active parenting, and I've needed to make a lot of changes to ensure I'm always feeling my best. That's why now, I'm all about proactive daily immune support. I can't wait until I'm feeling worn-out and burned out before taking action. Instead, I believe in making consistent, intentional daily choices, which, brick by brick, help lay the foundation for a healthier immune system.
Advertisement
This ad is displayed using third party content and we do not control its accessibility features.
How I'm being more proactive about my immune health.
For one, as someone who has struggled with sleep for over 20 years, I'm very thoughtful about sleep fitness. My night routine, which is more sacred than my morning routine, involves the key pillars of sleep hygiene: My bedroom temperature is set at 67 degrees, I use blackout shades, and I'm very intentional about electronic shutdown every night.
I also try to front-load my healthy habits. For example, I stack my low-glycemic veggie intake and hydration at the beginning of the day (I drink three glasses before even leaving the house, to be exact).
What's more, I make time for experiences that fuel my soul and promote joy. For me, that looks like swimming with my daughter at the local pool before work in warmer months and sledding in the park during colder months.
While each of these daily practices plays an important role in my well-being routine, I know they aren't quite enough to serve as an immunity shield. I'm also aware that my immune system has been artificially protected over the past year since I didn't see many people or do much traveling.
That's where mindbodygreen immune support+ comes into play. This product has been years in the making—I have personally been taking it for over six months, and I'm feeling my healthiest.*
My review of immune support+.
In this supplement offering, mindbodygreen combined the research-backed, foundational staples of immune support (think vitamin C, vitamin D, and zinc) with emerging ingredients recommended by my own functional medicine doctors (quercetin phytosome and Wellmune® beta-glucan). It's next-level immune support.*
Vitamin C, vitamin D3, and zinc bisglycinate are an immunity trifecta, with antioxidant and immunomodulatory actions in the body.*
Vitamin C is an essential nutrient, meaning our bodies can't produce it naturally, so we need it from other sources. As I've learned from lab work with my functional medicine doctor, I need some help with the absorption of this micronutrient—luckily, immune support+ uses a highly absorbed, water-soluble form of vitamin C.
Another important ingredient, vitamin D3, is an essential fat-soluble nutrient and versatile immunomodulator that we need daily—whether you are getting sunshine or not. And zinc bisglycinate is a high-quality, gentle, and bioavailable form of zinc (another essential micronutrient) to help protect our immune cells and their critical daily functions.*
What about quercetin phytosome? We believe it's superior because this unique form, derived from Japanese pagoda tree flowers, enhances bioavailability. It's a plant-based powerhouse that has antiviral and anti-inflammatory properties, promoting a balanced immune response.* I definitely need more of that.
This supplement also features beta-glucan, a plant-based fiber thought to "train" the body's innate immune cells to mount future responses.* After spending too much time away from germs over the past year, my immune system needs to get back to training—and this can certainly help.*
Being intentional about sleep, food, and joy are the pillars of wellness. Adding immune support+ is the daily shield to strengthen my body's natural defenses.* I'm investing in my everyday immune health today to be ready for tomorrow.*
If you are pregnant, breastfeeding, or taking medications, consult with your doctor before starting a supplement routine. It is always optimal to consult with a health care provider when considering what supplements are right for you.
Advertisement
This ad is displayed using third party content and we do not control its accessibility features.

Colleen Wachob
mbg Co-Founder & Co-CEO
Colleen Wachob is Co-Founder and Co-CEO at mindbodygreen. She graduated from Stanford University with degrees in international relations and Spanish, and spent 10 years working at Fortune 500 companies including Gap, Walmart, and Amazon. Wachob lives in Miami, Florida with her husband, mbg Founder and Co-CEO Jason Wachob and their two daughters, Ellie and Grace.