Close Banner
Advertisement
This ad is displayed using third party content and we do not control its accessibility features.
If You're Dealing With Dull Skin, You'll Want To Load Up On This Ingredient

Beauty & Health Editor
By Jamie Schneider
Beauty & Health Editor
Jamie Schneider is the Beauty Editor at mindbodygreen. She has a B.A. in Organizational Studies and English from the University of Michigan, and her work has appeared in Coveteur, The Chill Times, and Wyld Skincare.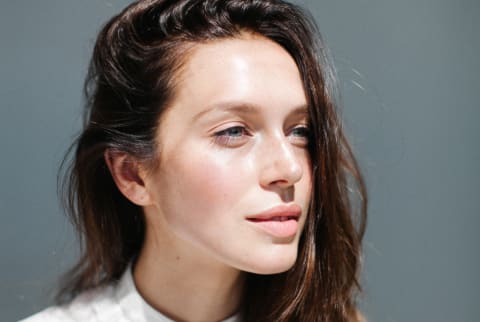 Image by Nastia Vesna / Stocksy
We carefully vet all products and services featured on mindbodygreen using our
commerce guidelines.
Our selections are never influenced by the commissions earned from our links.
As someone who deals with stubborn dark spots post-breakout and wakes up with a dull, sallow complexion every time I take more than three sips of a sugary cocktail, I tend to gravitate toward brightening formulas in my skin care lineup. Seriously: Any product that promises to even tone or provide a general glow is calling my name.
And while I'm a loyal fan of classic skin-brighteners (vitamins C and E, niacinamide, and the like), there's one tried-and-true ingredient that keeps popping up in more and more formulas of late—and I can't get enough. If you haven't yet tried pomegranate extract to even out your complexion, allow me to explain the wow-worthy reasons why you should.
How pomegranate can help brighten skin.
Pomegranate fruit is naturally brimming with polyphenols—aka, powerful phytonutrient antioxidants that help combat oxidative stress in the skin, thus evening out tone when used topically. "Pomegranate seed oil has both strong antioxidant and anti-inflammatory properties, which may make it useful in helping decrease signs of aging such as wrinkles and dark spots," board-certified dermatologist Raechele Cochran Gathers, M.D., tells mbg about the ingredient. "And, in one preclinical study [using fish embryos], a compound with pomegranate seed oil was shown to improve the growth of skin cells and improve skin hydration and elasticity." That said, it's a wonderful addition to hydrating face creams, like this Pomegranate Moisturizer with Squalane from APTO Skincare.
However, if you're familiar with the power of polyphenols, you know how beneficial it is to ingest them, too: Pomegranate polyphenols, in particular, help produce a gut metabolite called urolithin A1 in the gut, which has been associated with healthy aging and mitochondrial health2.* Pomegranate's antioxidants can also increase skin's resilience3 against UV rays, according to research; a double-blind, placebo-controlled clinical trial in healthy women even found that taking pomegranate extract orally could help with common sun-induced pigmentation (i.e., photoprotection from the stress of UV rays on our skin).* So why not double down on pomegranate's skin-brightening benefits?
While there is no recommended dosage for pomegranate extract at this time (since it's not an essential vitamin or mineral with a daily nutritional requirement), experts generally consider 100 milligrams or higher a clinically meaningful amount, given the latest research. This is precisely why mbg included 200 milligrams of 100% pomegranate whole fruit extract (with an impressive 60% polyphenols, mind you) in the cellular beauty+ supplement, along with phytoceramides to support a healthy skin barrier structure; astaxanthin to preserve a healthy collagen layer and promote skin hydration; and ubiquinol CoQ10 to promote skin cell "cleanup" (aka, getting rid of debris) and actively support cellular rejuvenation.* That way, you can get a concentrated dose of those powerhouse polyphenols, along with some multidimensional skin care at the cellular level—and hydrated, supple skin tends to appear more luminescent.*
The takeaway. 
Antioxidants are top-notch for brightening the skin and evening out tone, and pomegranate is chock-full of those complexion-enhancing compounds.* Plus, because it's so gentle and hydrating in topicals, it's perfect for any skin type—even those who may be sensitive to other potent skin-brighteners. If you haven't yet tried pampering your skin with pomegranate, consider this your sign to hop on board.
If you are pregnant, breastfeeding, or taking medications, consult with your doctor before starting a supplement routine. It is always optimal to consult with a health care provider when considering what supplements are right for you.

Jamie Schneider
Beauty & Health Editor
Jamie Schneider is the Beauty Editor at mindbodygreen. She has a B.A. in Organizational Studies and English from the University of Michigan, and her work has appeared in Coveteur, The Chill Times, and more. In her role at mbg, she reports on everything from the top beauty industry trends, to the gut-skin connection and the microbiome, to the latest expert makeup hacks. She currently lives in Brooklyn, New York.